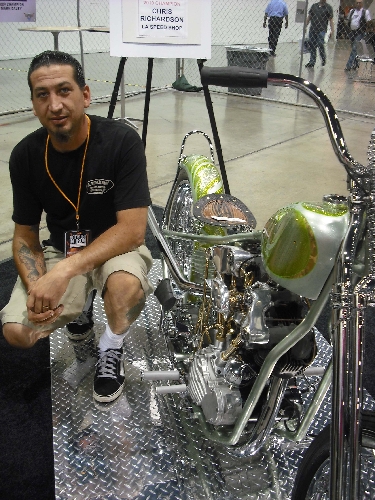 It is the end of summer for motorcycle riders around the country, except in Las Vegas. Here in the Southwest we can enjoy riding our motorcycles for a while longer before being chased indoors by the harsh weather and poor riding conditions.
That usually means it is time for a party — a celebration of the past riding season and an opportunity to visit with old friends and make new ones.
At least that's how it's been for the past 10 years at the Las Vegas Bikefest, and this year was no different. With about 30,000 bikers and motorcycle enthusiasts from across the country cruising into town Sept. 30 to Oct. 3, it was time to relax and enjoy.
This year was just as grand and over the top as ever, and the event was everything it was built up to be.
The crown jewel of the event for the past six years has been the Artistry in Iron Master Builders' Competition.
Consisting of 20 of the top custom-motorcycle builders showcasing their dream cycles, Artistry in Iron is considered one of the premier contests in the world of custom motorcycle building.
This year, when the voting was done and the ballots counted, the winner was Chris Richardson of LA Speed Shop in Alhambra, Calif.
Richardson, who started out as a 5- or 6-year-old in his father's auto workshop sorting bolts and screws, said, "My dad always kept these coffee cans of screws and nuts and he would dump them out on the floor for me to sort. I don't know if he was trying to teach me something or just keep me out of his way."
While hanging out with reality TV stars Rick and Corey Harrison from the "Pawn Stars" TV show, Richardson appeared to be overwhelmed by all of the attention. "I built this in about five weeks — granted there were some 24-hour days in there — and I even got some of the parts back on Wednesday, installed them on the bike and slept on the way here to make the move in time."
Richardson isn't totally alone in his creations. He was accompanied by his wife of 11 years, Fiona, and daughters Faye and Bella, all of whom seemed a lot more comfortable with dad's fame than he did.
"This is all freaky to me," the artist said, but it's clear Richardson is no beginner. With magazines such as Easy Rider, Iron Horse and Cycle Source as just some of the major motorcycle publications to showcase his work, Richardson is truly a respected and accomplished builder.
Richardson has had his current shop for four years but has been building bikes for more than 15 years and custom cars even longer. Fortunately his home is just a short distance from his shop, and his wife and daughters are able to spend a lot of time there so the girls don't miss out on the creativity and have already shown interests in following in dad's footsteps.
"I keep a can of screws and nuts and bolts nearby, and Bella can already fetch tools and knows her wrench sizes," Richardson said, laughing. Fiona was all smiles as Richardson and Bella discussed the custom-built bike they will enter in the Nationals at Pomona this year. The entry might be a little different than any of the others because it's in the bicycle division.
Harry Schwartz, president of Full Throttle Events, one of Las Vegas Bikefest's partners, said Bikefest is "a celebration of the culture and lifestyle surrounding motorcycling."
The Richardson family is proof that the culture is unique and constantly evolving and you never know where the next master builder will come from. Like Fiona says, "Just because they are girls they're not getting left out."