Bill Clinton in North Las Vegas for Democratic campaign event
October 20, 2016 - 5:31 pm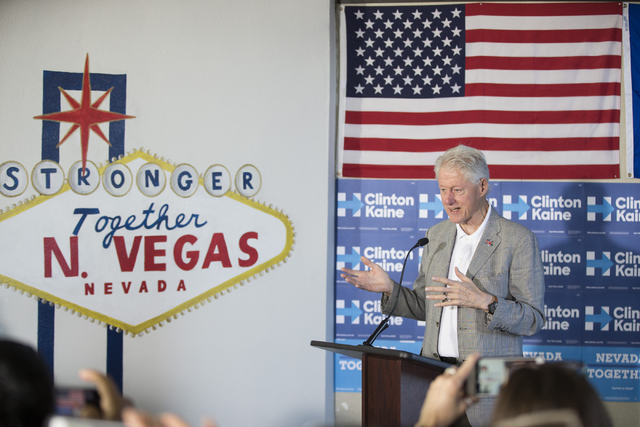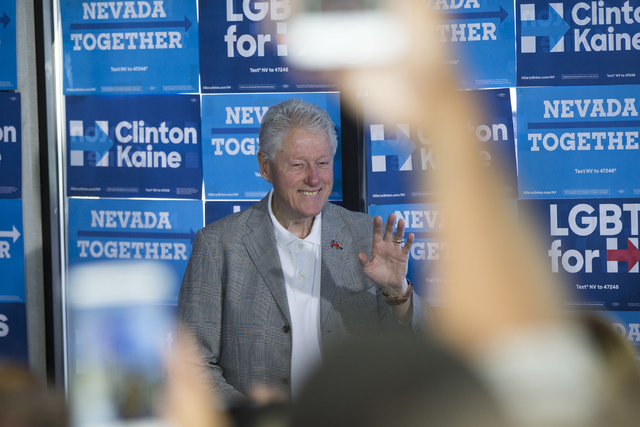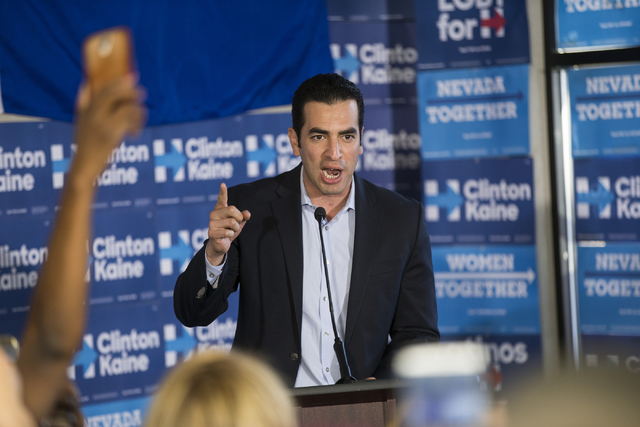 Former President Bill Clinton made an appearance at a field office of the Nevada State Democratic Party for a canvass kickoff event in North Las Vegas on Thursday.
His visit came on the heels of Wednesday night's debate between his wife, Democratic presidential nominee Hillary Clinton, and Republican nominee Donald Trump in Las Vegas.
Clinton made a reference to Trump's comment that he would accept the results of the election if he won on Thursday. The real estate mogul drew attention for not directly answering a question during the debate about whether he would accept the outcome of the election, a tradition in U.S. presidential races.
Winning is about more than one person winning constantly, Clinton said.
"We'd all like it if life were like that wouldn't we?" Clinton said. "If we won every minute of every day. The truth is we don't win every minute of every day. What we want to do is live in a free and open country where there's equal opportunity, where people will give you a hand up if you fall down and where we can all win together. That's what we really want and that's what's at stake in this election."
Clinton said it's important to plan for future generations.
"America is supposed to be about tomorrow," Clinton said to the audience of about 70 canvassing volunteers packed into the office.
Along the way, he mentioned "Forever Young," a Bob Dylan song.
"Be positive and if you run into some of these name-callers and angry people, do not respond in kind," Clinton said. "That will not keep you forever young. What will keep you forever young is just keeping on keeping on."
Clinton made a passing reference to the singer's recent Nobel Prize for Literature.
"You've got to be my age probably, almost to fully appreciate the meaning of Bob Dylan winning the Nobel Prize," the white-haired 70-year-old former president said.
He said Hillary Clinton's theme of "stronger together" is more than a campaign slogan.
"Empowerment works a heck of a lot better than resentment and you can win a lot of elections on constant conflict, but you can't get anything done without cooperation, and in a world where we can't get away from each other, bridges work better than walls," Clinton said.
Clinton was introduced to the audience by state Sen. Ruben Kihuen, who is running on the Democratic ticket for the 4th Congressional District seat against incumbent U.S. Rep. Cresent Hardy, R-Nev.
Contact Ben Botkin at bbotkin@reviewjournal.com or 702-387-2904. Follow @BenBotkin1 on Twitter.
Visit our election page for full coverage of the 2016 debate.