Blind, visually impaired skaters enjoy private session at Downtown Summerlin
February 5, 2016 - 4:00 pm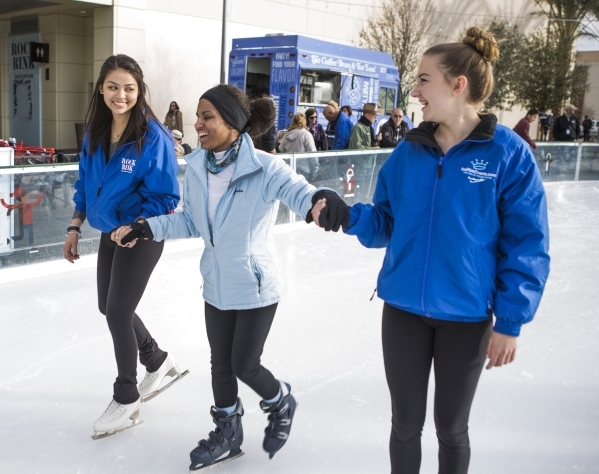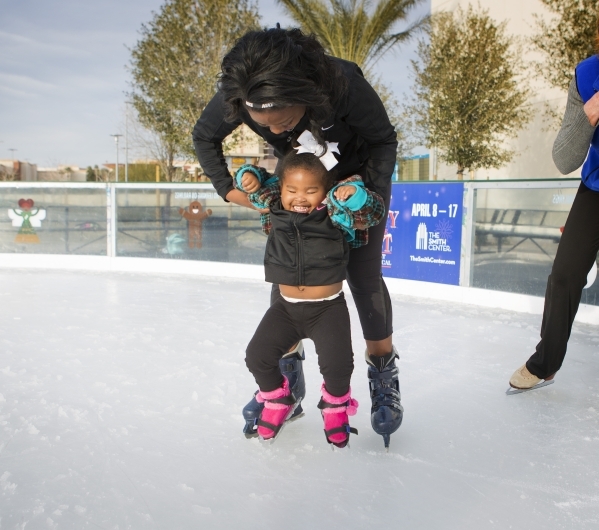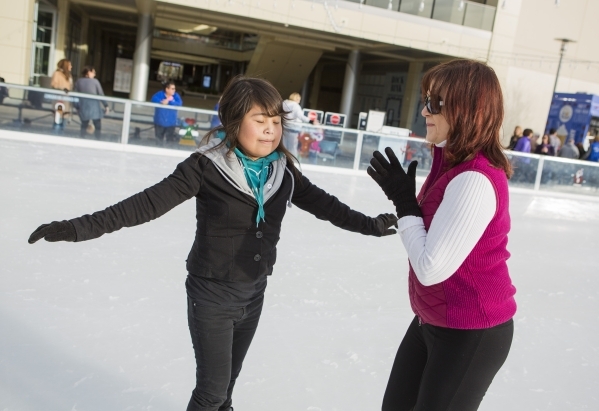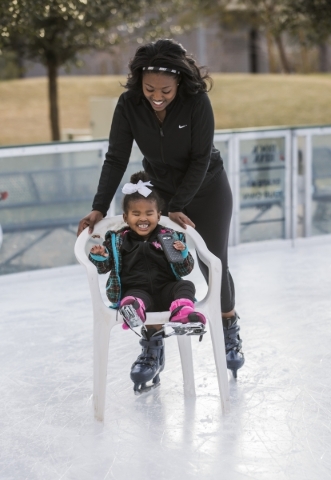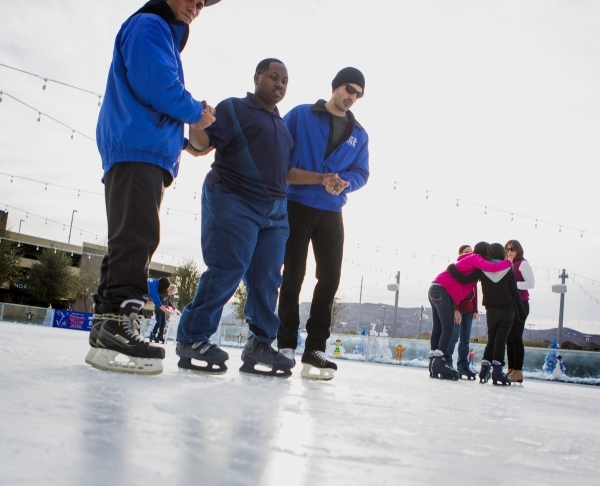 Before the Rock Rink at Downtown Summerlin was dismantled and taken away for the season, it hosted some special visitors: Sixteen visually impaired students from the Clark County School District and the National Association of Blind Students, who visited Jan. 13 for a special skating session.
The youngest skater was 2½, and the oldest were college students in their mid-20s. The group was assisted by 20 helpers, all of them volunteers.
Linda Maneen, a volunteer with the school district, said the visually impaired students have some type of specialty outing each month but that ice skating had never been one of the choices before.
"This helps them understand that they can do something on their own," she said, "that their parents don't necessarily have to (be there)."
Not everything went as planned. When paratransit broke down on the way to Downtown Summerlin, 1980 Festival Plaza Drive, a teacher jumped in her car to pick up the stranded students so they didn't miss out. Parents brought other students, and they trickled in.
Abigail Belangel, 15, from East Career & Technical Academy, 6705 Vegas Valley Drive, has some vision, most of it about 3 feet in front of her.
"The rest is shadow," she said.
She said she had no hesitation about hitting the ice.
"I started skating at 12," she said as she pulled on her skates. "I really liked it. It was fun and … I only fell once."
Likewise, Niki White, 24, a UNLV graduate, has skated a few times before.
"I'm excited, but I'm preparing to fall," she said, laughing. "It can be tricky to do outdoor things as a blind person, which is why this is so cool."
She acknowledged that Rock Rink employees would be there to help her but said she would likely forego their help after a little while.
"Once I'm in my comfort zone with anything," she said, "then anything is fair game, and I say, 'Let me go.' "
Aarius White, 25, had never ice skated but said he was eager to hit the ice.
"It's like I'm 50 percent excited and 50 percent nervous," he said.
There was no music playing at the skating rink on this day. Voices echoed off the walls as friends called to one another. Smiles were spontaneous.
The bright sun prompted many to don sunglasses. Shoppers watched from the upper deck.
Each visually impaired skater had a guide on either side of them. Some chose to push a chair ahead of themselves, while others chose to hold the hands of the two guides. A couple opted to be brave and asked that their guides merely skate near them.
Guides gave encouragement and had tips for the skaters: "One thing about hanging onto the wall, the rink is slushier close to the edge"; "Push off and let your blade glide"; and "Try not to lean, but keep your weight over your feet."
Robin Lamb watched her daughter, Carley, 15, as she took to the ice. Carley's sight issues are the result of being born 12 weeks premature. She has no sight in her right eye and "decent" sight in her left. Still, it's not enough to get a driver's license.
"She was only 1 pound, 14 ounces," her mother said as she watched. "I'm thrilled she's come this far. She's very active, very social. She roller skates, ice skates, bike rides, goes swimming … she makes me feel so proud."
Valerie Abraham, ice manager for Rock Rink, run by Ice Rink Events, arranged for the special outing.
"I'm already involved with the blind community," she said. "I do audio descriptions for The Smith Center's Broadway series. … I thought the kids would like this."
Abraham said she hopes to repeat the event next season.
Rock Rink closed for the season on Jan. 18.
— To reach Summerlin Area View reporter Jan Hogan, email jhogan@viewnews.com or call 702-387-2949.