BMW unveils all-electric i3
January 30, 2014 - 1:45 pm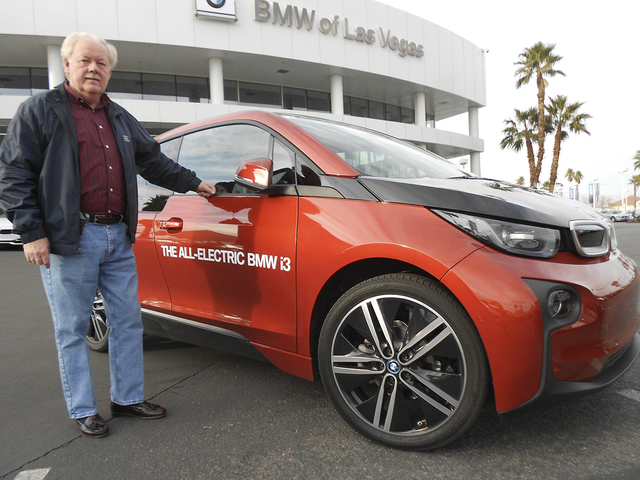 BMW of Las Vegas took a step toward green energy Jan. 11 with the introduction of the BMW i3 electric vehicle at 6900 W. Sahara Ave. It will be available for sale in the spring. It comes with a combination of power, sportiness, exceptional handling, a fuel mileage rating of about $3 worth of electricity and 100-mile range.
The i3's acceleration is quick, steady and its power plant is smooth and consistent, according to company officials.
BMW of Las Vegas General Manager Shane O'Hanrahan said the i3 drew a rave response during the International CES at the Las Vegas Convention Center earlier this month.
Former state Sen. Mike Schneider, a leader in green technology when he served with the Legislature in Carson City from 1992-2012, attended the event.
"I'm impressed," Schneider said. "It definitely has great power and what I really like about it is that it's very quiet and it's very quick. The i3 has precision handling and a high-quality fit-and-finish."
Schneider said that government regulation is helping move technology to another level.
"Now cars are on their way to getting 50 miles to the gallon. The i3 has no carbon footprint so it's not burning gas or using oil. You could charge that car off solar and be totally off the grid," Schneider said.
He said he felt the i3 was perfectly suited for young professionals along with seniors.
"This is a car that will never have any maintenance," Schneider said. "You don't have to worry about changing the oil or having it overheat. The i3 is the perfect vehicle because it requires so little upkeep, it is fun to drive and it costs so little to operate."
Dealership M Sport certified client adviser Maurice "Moe" Rosga was so impressed with the i3 that he bought one. He will take ownership of one of the first i3s in Las Vegas in April.
"I drove the vehicle and I was very surprised with the performance," said Rosga, a native of Kansas City, Mo.
"In addition, when you buy the car, you get a federal tax credit of $7,500. Then, when you consider that it will cost about $10 to $15 in energy costs to charge it, it's a slam dunk."
Chris Uhles is selling his Mini Countryman John Cooper Works to buy the i3 BEB (battery electric vehicle).
"I bought the car because it's electric and it's a BMW," said Uhles, who is assistant vice president at PRA Location Services. "It's the perfect synergy of all things that I like with unique styling, BMW quality and electrification."
For more information, call 702-871-1010 or visit www.BMWVegas.com. The dealership specializes in new BMW vehicle sales and service for the greater Las Vegas area, Boulder City, Jean, North Las Vegas and Indian Springs.