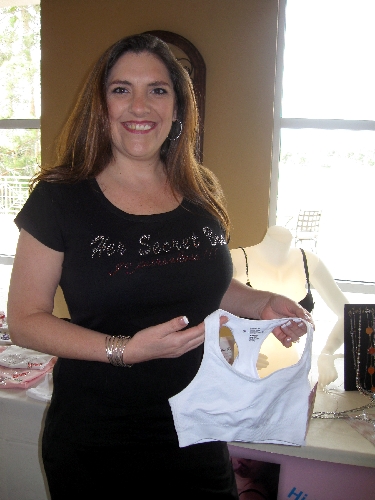 Sheila Lombard's secret is for every woman, and so is Her Secret Bra.
The North Las Vegas mortgage lender and bartender-turned-entrepreneur is busting out with her new pair of brassieres lined with three hidden pockets.
Lombard's product invites bra wearers to "Go Purseless" — also her unofficial slogan — and keep credit cards, IDs, a key, makeup or more safe and secure in the strategically placed pockets.
The two brassieres for sale are a princess-cut sports bra and black plunge bra with a pocket in the left cup and in each strap under the armpit.
"Every girl puts stuff in their bra," Lombard said. "There have been so many times myself or my friends go someplace where we don't want to wear a purse. I would have my husband carry my stuff, and I'd end up forgetting my credit card with him later."
Research reflected that a customized bra with hidden pockets didn't exist in the market, and Lombard said she read up on money belts or over-the-neck passport pockets being stolen abroad. She took matters into her own hands.
Lombard used brassieres in her own closet as she worked on a prototype. She started the patent and manufacturing processes in 2008, and it wasn't until August 2011 when she had Her Secret Bra ready for sale.
"My big thing was I wanted a high-quality product and something that was going to be a great finished product," she said.
Lombard designed Her Secret Bra to eliminate common brassiere woes.
"A lot of sports bras are uncomfortable. They are so tight you need two people to get it on or off," Lombard said. "(Her Secret Bra) gives the support without the pancake."
The black plunge bra's 85 percent nylon and 15 percent spandex make comfortable fits for sizes 34B to 42D. The sports bra is a blend of 93 percent nylon and 7 percent spandex.
Client Anita Caskie purchased the sports bra and black plunge bra sight unseen but was happy with the result.
"I can't buy a bra off the rack," she said. "These had all the elements I like."
The fabric, sizing and pockets sold her, she said.
"If the sports bra came in every color, I'd buy it," Caskie said.
Becky Poort, Lombard's friend and client, purchased the sports bra for her three soccer-playing daughters.
"It removes moisture away from their skin when they sweat, and it (rests) up a little higher," she said.
Among herself and her daughters, the family owns eight Her Secret Bras, Poort said. She has been a supporter of the product "since concept," she said.
"Sheila's taking the initiative to do it herself," Poort said. "She's one of those people who doesn't understand the word 'no.' "
Casino employees have purchased Her Secret Bra, too. Although they can't carry purses, they must have their ID card on their person, Lombard said. Many had put their cards in their pantyhose.
Lombard shares her uplifting experience with local community groups and service organizations such as a local diabetes foundation. Insulin equipment fits in the pockets, she said.
When she attends fundraising events, such as sports tournaments, a percentage of bra sales is given to the groups, she said.
"I'm super excited to be in Las Vegas, and I'm always looking for local support," she said. "I'm always looking at helping the local community any way I can."
For more information, visit hersecretbra.com/, email sheila@hersecretbra.com or call 806-6096.
Contact Centennial and North Las Vegas View reporter Maggie Lillis at mlillis@viewnews.com or 477-3839.