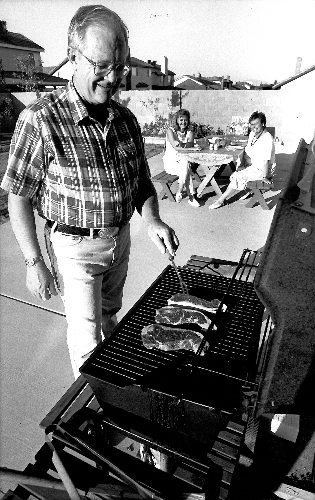 If you follow Tropicana Avenue east, past Boulder Highway near Wetlands Park Lane, it becomes Broadbent Boulevard. The transition is subtle. The road curves from due east to southwest, changing names again when it crosses Boulder Highway. The road is decidedly bent, and at five lanes in places, it is broad. The name, however, is not simply descriptive. The boulevard was named to honor Robert N. Broadbent.
Broadbent Boulevard passes by Sam Boyd Stadium. As a Clark County commissioner for the district it was in at the time, Broadbent was one of the forces who pushed the project through. It was only one of many major things in which he had a hand in Southern Nevada.
Broadbent was born in Ely in 1926. His father, N.E. "Broadie" Broadbent, served 16 years as Ely's mayor and was on the Nevada Board of Regents and the state pharmacy board. Robert Broadbent initially followed his father's footsteps into pharmacology but not politics, working as a pharmacist in Boulder City.
In 1949 the Bureau of Reclamation and the federal government began pulling out of Boulder City. In 1954, with little warning, the bureau announced that the Boulder City Hospital would be closed. Residents wanting to keep it open had two weeks to raise $15,000 to cover operating expenses and maintenance.
Broadbent helped organize local service groups to raise money to save the hospital.
In 1960, when Boulder City was incorporated, Broadbent was elected to the city's first five-member council and appointed by the council as the first mayor. He served on the council until 1968, when he was elected to the Clark County Commission seat that then included Boulder City, Henderson and North Las Vegas. He held that position for 12 years.
As a commissioner, he was instrumental in taking the first hard look at Frank "Lefty" Rosenthal, which led to the mob figure's inclusion in the Nevada "Black Book," a short list of people who are banned from casino entry.
"He was a Republican before it was popular in Nevada," said Michael Green, a professor at the College of Southern Nevada. "When (Ronald) Reagan came into office, a lot of conservative Democrats became Republican and a lot of rural Nevada did, as well. Broadbent had always been one."
During the Reagan administration, Broadbent became commissioner of the Bureau of Reclamation, holding that position at a pivotal moment — 50-year contracts concerning Hoover Dam were renegotiated, leading to more water and cheaper power for Nevada.
In 1986 he became Clark County aviation director and oversaw a $400 million expansion project at McCarran International Airport, which led to the modernization of the facility, making it one of the largest and busiest airports in the world.
"He could see both the big picture and the details," said Mark Hall-Patton, director of Clark County Museums, including the Howard W. Cannon Aviation Museum at McCarran, North Las Vegas Airport and Henderson Executive Airport. "I was told about a tour he was taking through a new terminal, and he kept pointing out lights that were out and that sort of thing. Nothing got by him."
In his final years, Broadbent worked on the Las Vegas Monorail Project. He died Aug. 9, 2003, almost a year before the maiden voyage of the monorail.
Bruce Woodbury, fellow Boulder City resident and Broadbent's successor on the Clark County Commission, suggested that the monorail be named the Robert N. Broadbent Las Vegas Monorail as one last tip of the hat to a man who spent more than 40 years in public service.
"Whether he would find that an honor these days is an interesting question," said Green. "Another interesting question is if he was still around, would the monorail have been continued on to the airport as he'd intended?"
Green contends that it probably would have, as Broadbent was a deal maker who made things happen. Green believes the project would have been much more successful if Broadbent had been able to see it through .
"I'm sure he left this world with a lot of things he'd still hoped to do," Hall-Patton said. "He was the sort of person who was happiest when he was getting something done."
Contact Sunrise/Whitney View reporter F. Andrew Taylor at ataylor@viewnews.com or 380-4532.