Car show to confirm marque's 109-year pedigree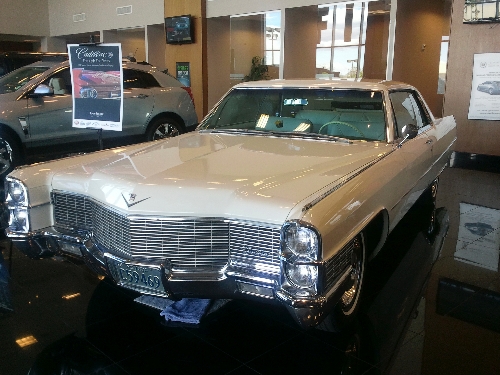 Automotive historians may argue Buick is the oldest American manufacturer, but now that General Motors has ceased production of the Oldsmobile marque, Cadillac moves from being the third oldest up to the distinction of being the second.
To celebrate this ranking, as well as its 109 years of automotive excellence and success, the sixth annual Cadillac Through the Years event will be held Sunday from 10 a.m. to 5 p.m. in Town Square Park, 6605 Las Vegas Blvd. South, between the Las Vegas Beltway and Sunset Boulevard, where organizers are expecting more than 60 classic vehicles. The show is free and open to the public, and will include live music, Cadillac art exhibits, balloon art by George McClean of the Big Balloon, and an event-long drawing, that includes the grand prize of a classic Cadillac-logoed jacket.
Hosted by the Las Vegas Cadillac & LaSalle Club, Findlay Cadillac, Town Square and Miller Lite, the car show will include a streamlined 1961 Cadillac convertible that is celebrating its 50th anniversary, as well as the West Coast debut of the 2012 Cadillac CTS Sports Coupe. Findlay also will display the 2011 Cadillac Escalade Hybrid and the supercharged 2012 Cadillac CTS-V.
"Cadillac is an art form like no other," said Colin Christie, Las Vegas Cadillac & LaSalle Club president. "It's a special vehicle for everybody and we'll have vehicles from every decade represented, but primarily the classics."
Christie's 1917 Type 55 Phaeton may be one of the oldest showgoers will see, but he's working on a 1903 Cadillac he hopes to have ready for next year's show.
"Most of the vehicles on display are as they came from the dealership," Christie explained. "There's not much modification. Some are original, some are restored. My advice is if you have an original car, just take care of it."
The Point 97.1 FM will provide entertainment throughout the day that will include teen singing sensation LeAyre Dante, who will open the car show with her rendition of "The Star-Spangled Banner." Noted pianist Woody Woods will play the Lowry show organ and recording artist Lynn Peterson will also perform. Also on hand will be Fred Schultz, the founder and CEO of Positively Kids, Southern Nevada's central resource center for medically dependent children and their families.
While at the show, attendees will have the opportunity to vote for their favorite vintage Cadillac and Best in Show. An art auction, featuring work created by students from the Coral Academy of Sciences in Las Vegas, will be auctioned with proceeds going to Positively Kids and the students' school. From the 80 original entries, members of the Las Vegas Cadillac & LaSalle Club will select 20 pieces of which the top three will be introduced on air by The Point. The winning three paintings will be on exhibit in the Findlay Cadillac showroom all next week.
More than 20,000 visitors attended the show last year and the event draws car lovers from all over the country.
For more information, please call 269-3090 or go to www.townsquare
lasvegas.com. Findlay Cadillac, 993 Autoshow Drive, Henderson, can be reached at 558-2600 or by visiting www.findlaycadillac.com.