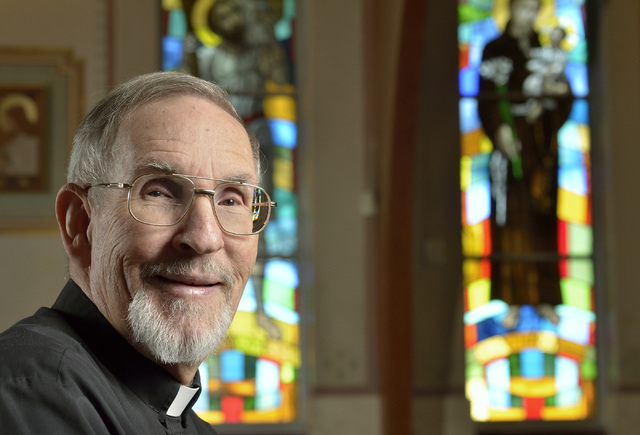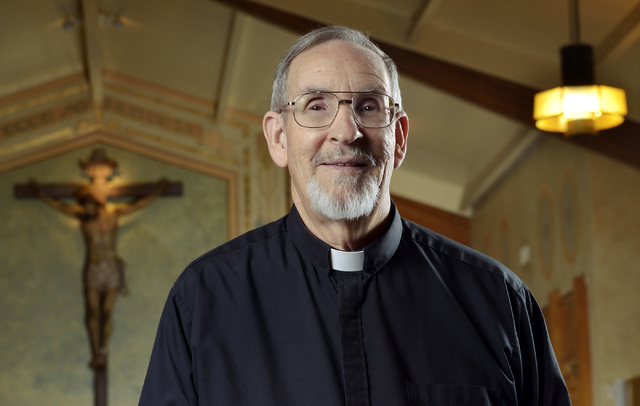 For much of his time as a Catholic priest, the Rev. Max Oliva focused his ministry on what would be considered conventional areas, such as a teaching, poor neighborhoods in Tijuana or a native reservation in the often-frigid plains of the Canadian province of Alberta.
In 2002, however, he changed tack by focusing on the workplace, first seeking to enhance spirituality on the job and then corporate ethics. To this day, he said, people are intrigued by the unusual sight of a priest working in the business sphere instead of at a parish level.
As he marks his 50th anniversary of entering the Jesuit order in the Catholic church from his Las Vegas base, he finds interest in his message.
"I think there is a hunger for something spiritual because this is a very materialistic town," he said. "Someone told me that fantasy is the base of culture in Las Vegas, but I find a lot of beauty here."
Oliva is also a regular Las Vegas Business Press columnist.
A native of San Francisco, the 74-year-old Oliva's family roots were planted deep in business. In fact, he had offers after college from three companies and appeared headed for the food brokerage owned by his father.
While working in traveling sales for a different food company in San Jose, Calif., he decided he wanted to enter the priesthood. Until then, his only contact with the Jesuits had been in high school and college.
That led to a different 50th anniversary, his introduction to Las Vegas. Shortly before he joined the Jesuits on Oct. 10, 1963 — his ordination as a priest came nine years later — his father took him to Las Vegas to catch a few shows, play blackjack for the first time and soak in the city's attractions.
Oliva came back to live full time in 2011 after a couple of years of commuting between here and San Jose to lay the groundwork for his ministry. Coming here from the area around Calgary, with an economy heavily dependent on oil and gas, required an adjustment.
"There is a different mindset here, a different point of view," he said. "People here are skeptical of outsiders, of a priest who is not a parish priest."
Moreover, his attempts to find interest for his work on the Strip have gone nowhere. "The only way I connect is through people who work there and come to see me individually," he said.
Oliva took up the corporate ministry at a time scandal was the order of the day at places like Enron. In Calgary, he saw "a lot of changes in the people I worked with." His vehicle there was what he called commuter retreats, where people would meet with him for 45 minutes or so between the office and home.
In Las Vegas, the commuter retreat concept has not caught on. Still, he said, "There are lots of problems here, but also signs of hope, signs of light. I tend to rejoice in small victories and not look for the huge ones."
Contact reporter Tim O'Reiley at toreiley@reviewjournal or at 702-387-5290.