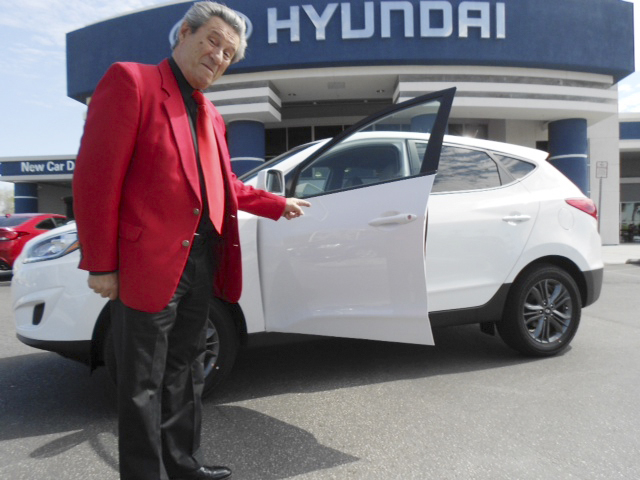 Sammy Liguori is a fun-loving native of Long Island, N.Y., who also performs as several noted actors such as Robert DeNiro as Sam Rosenthal in the movie "Casino," Peter Falk as Columbo, Ed Sullivan, the mouse Topo Gigeo, Walter Brennan, Gary Cooper, Marlon Brando, Archie and Edith Bunker and Joe Pesci.
Liguori, who was born in Maspeth, Queens and raised in Williamsburg, Brooklyn, may also be one of the most renowned customers at Centennial Hyundai considering that he recently purchased a 2014 Tucson from the dealership.
"I bought the Hyundai Tucson because the warranty is the best in the market," said Liguori, who has lived in Las Vegas for 20 years. "Everyone told me that nobody else could match the warranty of the Hyundai — and they were right.
"I loved the car as soon as I test drove it."
Liguori praised the vehicle's many amenities.
"I like everything about the Tucson, he said. "I have never driven a car that rides like this and it shifts so smoothly. From front to back, it's perfect in every way including the fact that it has a wonderful interior."
Liguori has driven his share of vehicles in the past several years including Cadillac limousines for all occasions. In addition, he has also driven a Lincoln Town Car along with many other luxury vehicles.
A veteran of the Korean War, Liguori is planning to take his wife of 42 years, Aggie, on trips to Sedona, Ariz., and Southern California, along with other locations.
"We should get excellent gas mileage with the Tucson," said Liguori, whose vehicle gets an estimated 28 miles to the gallon on the highway. "Aggie just said she'd like to go to Zion National Park in southern Utah."
Heavily involved in Sun City as a volunteer driver for the community, Liguori patrols for Sun City security Friday morning and also serves as a volunteer at Mountainview Hospital where he visits patients on Thursdays.
In 2001, he became involved with Ronald McDonald House where he worked as a handyman and cooking once a month for 12 years before retiring from cooking this year.
"They might call me back for help," Liguori said. "I'll climb into the Tucson and go to work for them."
Liguori also praised his sales agent T.J. Saunders.
"He was top notch," Liguori said. "We negotiated for some time and he was very patient. He let us make our own decision and we told him 'We want the car."
Each new Hyundai comes with a 10-year, 100,000-power train warranty along with a five-year, 60,000 mile bumper-to-bumper warranty, which is considered the best warranty package in the country.
Centennial Hyundai is part of a locally owned operation that also includes Planet Hyundai Sahara at 7150 W. Sahara Ave. and Planet Hyundai Used Car Superstore at 7100 W. Sahara Ave. For more information, visit www.planetlv.com or call 702-938-1400 (Sahara); or 702-483-2200 (Centennial). Visit the Centennial website at www.centennialhyundailasvegas.com.