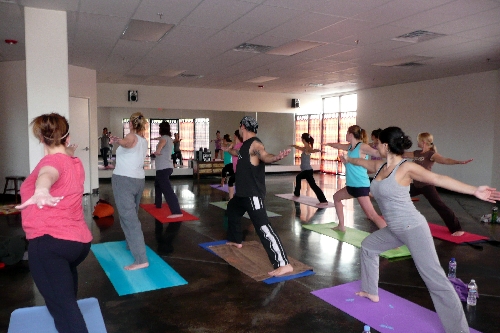 WARD 6 VOTING UNDER WAY
IN RECALL ELECTION
The city of Las Vegas' special recall election involving City Councilman Steve Ross, Ward 6, is planned today.
Registered voters can cast ballots from 7 a.m. to 7 p.m. at three Centennial Hills locations: a Centennial Plaza trailer at Centennial Center Boulevard and Tropical Parkway; Albertsons at 4850 W. Craig Road; and the Centennial Hills Community Center, 6601 N. Buffalo Drive.
For more information, call the city clerk's office at 229-6311 or visit tinyurl.com/7x2se9o.
KIDS' CRAFTS PLANNED AT LIBRARY
Teens can learn how to create a wallet, a rose and other crafts out of duct tape at 4 p.m. Feb. 7 at the Centennial Hills Library, 6711 N. Buffalo Drive.
The event is free and space is limited. Passes will be given out a half-hour before the program starts.
For more information, call 507-6100.
MASTER YOUR SUDOKU AND BRIDGE
SKILLS AT ACTIVE ADULT CENTER
Two new regular activities have been added to the roster at the Centennial Hills Active Adult Center, 6601 N. Buffalo Drive.
Center members are invited for sudoku at 10 a.m. Mondays and bridge lessons from 2-3 p.m. Mondays. The annual membership fee for the center is $2 per year for seniors 50 or older.
For more information, call 229-1702.
KIDS' FITNESS AND HEALTHY EATING
EVENT PLANNED SUNDAY
Whole Foods Market in Town Square, 6689 Las Vegas Blvd. South, plans to host its Kids Fit Club from 3 to 5 p.m. Sunday.
The class is free and features sessions on healthy food options and fitness. For more information, call 589-7711 or visit mytownsquarelasvegas.com.
SPRINGS PRESERVE ROLLS OUT BICYCLE RENTALS ON WEEKENDS, SCHOOL HOLIDAYS
The Springs Preserve, 333 S. Valley View Blvd., has launched a bicycle rental program to take place from 10 a.m. to 6 p.m. or dusk every weekend and Clark County school holidays.
Members receive early 8 a.m. admission. Those interested can bike the 2.2-mile Exploration Loop Trail for $8 per hour and $4 each additional half-hour, with a members discount at $6 per hour and $3 per half hour.
For more information, call 822-770 or visit springspreserve.org.
United Way approves funding allocations to local organizations
The United Way of Southern Nevada's Immediate Needs Council approved the allocation of $1 million to 12 local agencies providing rent and nutritional assistance.
The funding distribution is a part of the nonprofit group's mission to ensure families in need receive support so they can work toward becoming financially independent.
Catholic Charities of Southern Nevada was allotted the largest amount, receiving $355,178 for its food pantry services.
HELP of Southern Nevada received $165,864, and Lutheran Social Services of Nevada obtained $103,119 for food and rent assistance.
The Salvation Army Clark County received $159,825 for food services.
Other agencies receiving financial aid include: the American Red Cross Southern Nevada Chapter, the Las Vegas Area Council Boy Scouts of America, the Boys & Girls Clubs of Las Vegas, Emergency Aid of Boulder City, HopeLink, the Jewish Family Service Agency, The Shade Tree and the United Labor Agency of Nevada.
For more information about the United Way's Immediate Needs initiatives, visit uwsn.org or call
892-2300.
LEARN ABOUT TREE CARE AT UPCOMING WORKSHOPS AND SEMINARS
The University of Nevada Cooperative Extension plans to host two tree care seminars and workshops — one in English on Friday and one in Spanish on Feb. 10 — at its Lifelong Learning Center, 8050 Paradise Road. Both are slated for 7 a.m. to 3:30 p.m., with early registration to begin at 6:30 a.m.
For more information on the English seminar, contact 'Chelle Reed at 257-5536 or reedc@unce.unr.edu. For more information on the Spanish seminar, contact Martha Barajas at 257-5522 or barajasm@unce.unr.edu.
BUSES TO BE ON SATURDAY SCHEDULE
ON PRESIDENTS DAY
The Regional Transportation Commission of Southern Nevada is to operate on Saturday transit system schedule on Presidents Day, Feb. 20, due to traditionally lower ridership and less traffic.
Schedules for all commission transit routes are available at rtcsouthernnevada.com.
For more information, call 228-7433.
COUNTY COMMISSIONERS TO MEET
The Clark County Commission is slated to host a regular meeting at
9:15 a.m. Feb. 7 at the Clark County Government Center, 500 S. Grand Central Parkway.
Various areas in Centennial Hills fall within Clark County jurisdiction. The public is welcome to the board's meetings at 9:15 a.m. the first and third Tuesday of each month.
For more information or to view an agenda, visit clarkcountynv.gov.
WALK AROUND NEVADA
WITHOUT LEAVING TOWN
The Southern Nevada Health District offers the Walk Around Nevada program, which helps participants track their physical activity online as they trek around the state and clock in 1,442 miles.
Anyone can sign up for this free online program. Track mileage online via a red line that marks your tour of the state. It also offers tips about staying hydrated, stretching and hiking basics.
For information on any health district online programs, visit gethealthyclark
county.org.
EXHIBIT TO PIT 'BUTTER VS. MARGARINE'
The Las Vegas Natural History Museum, 900 Las Vegas Blvd. North, plans to feature "Butter vs. Margarine" as part of its "food fight" series at 11:15 a.m. and 1:15 p.m. Saturday and at 1:15 p.m. Sunday.
Admission to the museum is $10 for adults, $8 for students, seniors and military personnel and $5 for children ages 3 to 11. For more information, call 384-3466 or visit lvnhm.org.