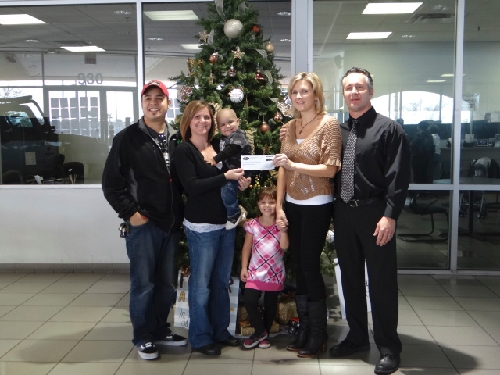 The numbers are in; General Manager Gary Brewer and his sales team at Chapman Chrysler Jeep sold 23 cars Dec. 8 during its special event to help 21-month-old Elliott Ortega, who is battling stage four hepatoblastoma, and his family.
With a donation from Chapman of $50 per vehicle sold, along with an additional donation of $50 from Robert and Evangeline Thompson, the parents of a Chapman Chrysler Jeep employee, the event raised $1,200 for the family.
Additionally, Chapman is donating $1, to as much as $1,000, for every "like" on its Facebook page through December. According to the dealership, their page saw a jump from 645 to 900 in just a few days. With 921 likes to date, that means an additional $274 for the family.
"It's amazing how people come together to help a child," Brewer said. "Even through 'likes' on Facebook, people feel a part of something and like they're able to support in some way. We're excited to work together to help lessen the financial burden of this family and help little Elliott."
Other community partners are also joining in to help the Ortega family. John Koutsulis and his team at Department of Motor Vehicles license service is pledging $10 per car registered at the Henderson location throughout the month of December.
Elliott was diagnosed with the rare form of liver cancer in September during a routine checkup. Because of the size of the tumor and 90 percent of his liver being involved, the only way to remove the cancer was a liver transplant. After 12 weeks of chemotherapy to reduce the size of the tumor so doctors could operate, Elliott received his transplant in November. However, he has at least six more weeks of chemotherapy treatments.
The long-term financial aspect is unknown, but the estimated cost of medication for Elliott is $2,000 per month, and each year the Ortegas will have to meet an $8,000 deductible before they are fully covered.
For additional information on Elliott Ortega's journey, visit his Facebook page, www.facebook.com/ElliottsLiver
Transplant.
Chapman Chrysler Jeep sells and services the complete line of Chrysler and Jeep vehicles at Valley Automall in Henderson. It can be reached at 888-207-1687 or online at www.chapmanchryslerjeep.com.
Chapman Dodge Chrysler Jeep Ram is at 3175 E. Sahara Ave. at Mojave Road. The dealership can be reached at 702-457-1061 or by visiting the website at www.vegasdcj.com.
Chapman Value Center sells and services new and used vehicles. It is on Boulder Highway just south of Sahara Avenue. The dealership can be reached at 888-299-0170 and www.chapmanvaluecenter.com.
All dealerships are open for sales from 8 a.m. to 9 p.m. Monday through Saturday. Parts and service are open from 7 a.m. to 6 p.m. Monday through Friday and 8 a.m. to 2 p.m. Saturday.