City burns bright during holiday season
December 3, 2014 - 8:00 am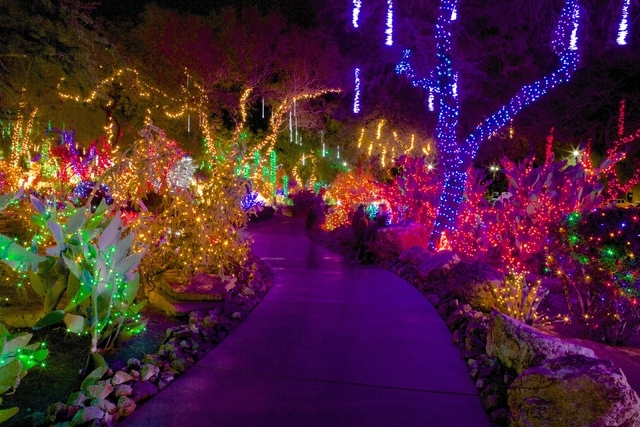 Las Vegas is known as the "City of Lights" for its flashy Strip corridor. But come December, residents and visitors can see the best displays of lights off-Strip.
Ethel M Holiday Cactus Garden
There is no better place to celebrate Christmas than the middle of the Mojave Desert when you have something as spectacular as the 3-acre Holiday Cactus Garden at Ethel M Chocolates factory at 2 Cactus Garden Drive in Henderson. Every year, a crew works tirelessly to string lights on, around and through more than 10,000 desert plants — from the Texas prickly pear to the tall, spindly ocotillo. The result is a light display as sweet and decadent as a chocolate buttercream.
There is no charge to wander the garden, which will be open 5 to 10 p.m. seven days a week through Jan. 1. Local choirs will perform at the garden throughout the holiday season, and Santa will drop by on select evenings through Dec. 23.
Glittering Lights
"Glittering Lights" is the largest drive-thru light show in the Western United States, winding its way along nearly 3 miles of track at Las Vegas Motor Speedway. The show, which runs through Jan. 4, includes more than 2 million light-emitting diode lights, and hundreds of animated and sparkling displays.
New this year are a 60-foot Reindeer Hotel display, Santa's Safari and Santa's Monster Truck. Event organizers also have brought back the live nativity scene, which will take place on designated nights throughout December.
Tickets are $20 per vehicle and the show is open 5:30 to 9 p.m. Sunday through Thursday and 5:30 to 10 p.m. Fridays, Saturdays and holidays. A portion of the ticket sales go toward the Speedway Children's Charities, a nonprofit that aids causes throughout the valley. Tickets can be purchased online at glitteringlightslasvegas.com, any Walgreens or at the entrance to the event.
Magical Forest
Every year, the Magical Forest at Opportunity Village is a highly anticipated holiday attraction. It includes hundreds of light-strewn trees and attractions such as the Snowflake Mountain Slide, Forest Express train and Cheyenne's Enchanted Carousel. There is, essentially, something to spark the wonder of Christmas in nearly everyone, whether 6 or 60.
What is even better is that all proceeds from the attraction go to Opportunity Village, which has been serving valley residents who have intellectual disabilities since 1954.
The Magical Forest, 6300 W. Oakey Blvd., is open through Jan. 4. The hours are 5:30 to 9 p.m. Sunday through Thursday and 5:30 to 10 p.m. Friday and Saturday. General admission is $11 for adults, $9 for children ages 3 to 12.
Mystic Falls
Sam's Town is celebrating its 20th year of transforming the popular pioneer-themed Mystic Falls Park into a holiday winter wonderland, including trees covered in twinkling white lights and lighted sculpture polar bears. The indoor attraction also will include its 15-minute laser light show, taking place hourly between 5 and 10 p.m.
Other highlights include indoor snow, a bounty of poinsettias, wreaths and streams of garland throughout the attraction. Also, Cowboy Santa will be in the park's gazebo at designated times Thursdays through Sundays.
Bellagio Conservatory
A 42-foot-tall holiday tree strewn with 7,000 white lights is the centerpiece of the Bellagio's holiday display inside its conservatory and botanical gardens this season. Other highlights include a 13-foot-tall snow globe that visitors can walk through, four chocolate houses created by the hotel's executive pastry team, a mother cub whose "fur" is adorned with 12,000 white carnations and as many as 28,000 poinsettias.
This year's display will run through Jan. 4 and is free and open to the public.
Holiday homes
Sometimes the best holiday-light displays are found closer to home. The Henderson Beautification Commission is again sponsoring its seasonal Outdoor Holiday Decorating Contest; entries were accepted through Dec. 1. This year's categories are: patriotic, children's, best holiday, most innovative, Griswold (as in the movie "National Lampoon's Christmas Vacation") and best decorated street/neighborhood.
Winners will be announced at 6 p.m. Dec. 12 at the city's annual WinterFest in the Henderson Events Plaza. The city will then post a map on its website, cityofhenderson.com, and on Facebook, listing the locations of all the entries so residents can take their own self-guided light tours.
Electrical Parades
An excellent way to enjoy festive holiday lights is to sit in a folding chair, cup of hot chocolate in hand, and watch pageantry "float" by. Both Henderson and Boulder City offer electrical nighttime parades, while the Lake Mead Boat Owners Association sponsors a boat parade with dozens of crafts in all sizes.
Santa's Electrical Night Parade in downtown Boulder City takes place at 4:30 p.m. Saturday.
Following the event is the 38th annual Christmas Parade of Lights at Lake Mead. Beginning at 6:30 p.m., boats will launch from Lake Mead Marina and Las Vegas Boat Harbor, cruise past Boulder Beach, then head back to the marinas where folks can see the crafts up close.
Henderson's Evening Light Parade is slated for 5 p.m. Dec. 13, and rolls along Water Street, from Ocean Avenue to Victory Road. The theme of this year's event is "A Fairy Tale Christmas."
Neon Museum
Pop culture enthusiasts and history buffs can celebrate Christmas by heading to the Neon Museum Boneyard. Now through Jan. 1, the boneyard's more than 150 vintage signs will be illuminated by spotlights in holiday colors such as red, green, gold, blue and white. Visitors also will be able to see the recently restored and electrified Jerry's Nugget and Liberace Museum signs.
Night tours of the Neon boneyard are $25 for general admission; and $22 for seniors, students, active military, veterans and Nevada residents.
From 3 to 5 p.m. Dec. 13, the museum will host its second annual "December to Remember" ornament-making event Afterward, there will be hot chocolate and caroling by the Las Vegas Academy Choir. The event is free and open to the public.