CLARK COUNTY COMMISSION DISTRICT E
October 16, 2010 - 11:00 pm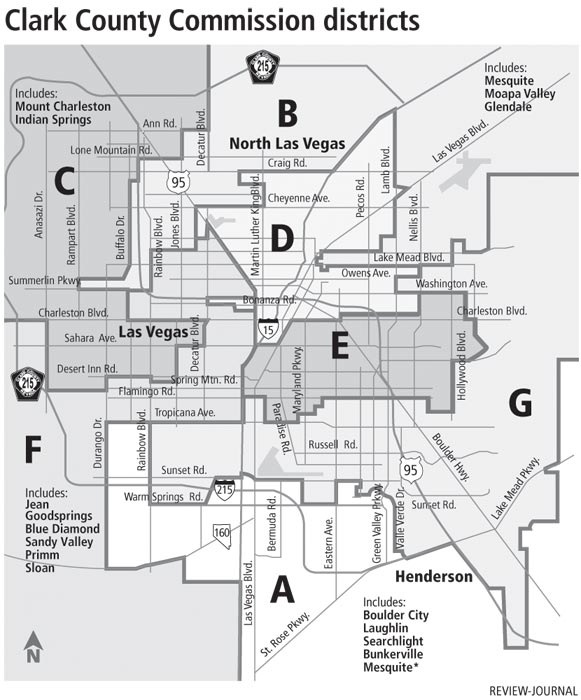 Clark County Commission's District E race pits an established incumbent against a political unknown.
Commissioner Chris Giunchigliani, who seeks a second four-year term, has the added advantage of being a Democrat in a heavily blue district. About 54 percent of voters are registered as Democrats, 25 percent are Republicans and 21 percent are in other categories.
Her opponent, Republican Ben Boarman, faces a formidable task. His sole political experience is serving on the Republican Central Committee in Sonoma County, Calif.
Giunchigliani, a teacher-turned-politician, served eight terms as an assemblywoman before winning a hard-fought 2006 commission race. She said she did everything she promised, such as enhancing and protecting residential areas.
"I stood up for neighborhoods and didn't just roll over for developers," Giunchigliani said.
She said she helped set up five neighborhood pride zones where deteriorated street signs, crosswalks and roads were fixed and trash was hauled away. She also got funding to repave roads.
Giunchigliani spearheaded a code that requires dogs and cats to be sterilized. She also pushed for an ethics code change requiring a year's "cooling off period" before a commissioner leaving office can join regional entities such as the Water Reclamation District.
An unabashed labor advocate, she said the best way to win cost-cutting concessions from unions is to work with them respectfully.
"You look for win-wins," Giunchigliani said. "They (employees) know where things can get cut. We have to rely on that input from the working people in those departments."
The county also must work with state lawmakers next year as they look to local governments to help them balance a projected $3 billion shortfall, she said.
Boarman described himself as a far-right Republican with "a lot of great ideas."
"I would like to try them out," he said.
He is married, has a 3-year-old daughter, and is running his campaign with his own money.
Boarman said the budget is his No. 1 priority. He said he would not raise taxes, ever, because that would encourage the county to expand. Instead, he said he would look at things that could be cut, such as employee compensation.
"There are a lot of overpaid people in our county," Boarman said. "It comes down to 'lose your job or have your salary reduced.' "
Also, the Fire Department should be privatized to trim labor costs, he said.
Boarman contends that Giunchigliani is "pushing the general liberal agenda" without doing much for the county. One example is her ties to animal rights groups that seek to curtail pet owners' rights, he said.
Boarman said he would recruit more small- and medium-sized businesses to the county, and he would use county liaisons as little as possible so he could deal with constituents directly.
"I listen to people," he said. "I want to hear what they have to say."
Contact reporter Scott Wyland at swyland@review journal.com or 702-455-4519.
2010 GENERAL ELECTION VOTER GUIDE
CLARK COUNTY COMMISSION DUTIES
Seven Clark County commissioners are elected to four-year terms as policymakers for unincorporated areas of the county. They approve the county's budget. The County Commission serves as the board of directors for the Las Vegas Valley Water District and the boards for University Medical Center, Clark County Liquor and Gaming Licensing, the Clark County Water Reclamation District, the Big Bend Water District, the Kyle Canyon Water District and the Mount Charleston Fire Protection District. Commissioners will be paid $80,008 per year in 2011, plus, after four years of service, longevity pay of 2 percent for each year they have served.
NOT PICTURED
Name: Ben Boarman
Party: Republican
Age: 24
Occupation: Security guard