CLARK COUNTY SCHOOL BOARD DISTRICT G
October 16, 2010 - 11:00 pm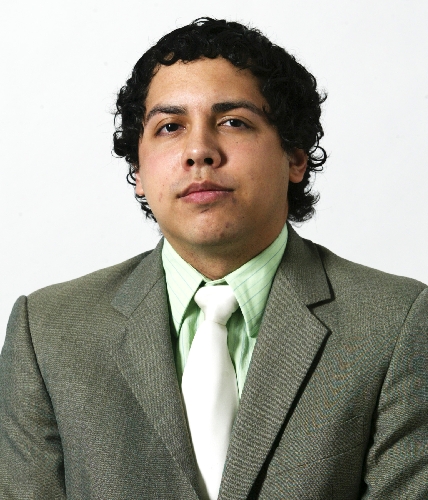 Many politicians rail against the state's low graduation rate, but James Brooks knows many of the dropouts by name and even what kinds of pets they own.
The 20-year-old candidate for the Clark County School Board said his heart breaks for youngsters not living up to their potential, especially those with unplanned pregnancies.
"These are kids who could have easily gone to college, but instead they're probably at home with a kid and probably a cat. I say that because most of them I know do have a cat," Brooks said.
Brooks is not satisfied with the solutions proposed for increasing the graduation rate, such as providing more technical schools to engage students' interest.
"I realize they're promoted as the panaceas of education: If we have more of these, things will blossom. But I don't see that as the case. I think they're waste of money," Brooks said. "Right now, you're getting liberal arts education destroyed by the (career and technical academies). We're at the crossroads: Are we going to have a liberal arts education or career education?"
If elected, Brooks promises more lively debate on the board, saying it's disheartening to see so many 7-0 or 6-1 board votes.
He views his opponent, Erin Cranor, as a continuation of the old guard, a "Sheila Moulton 2.0," referring to the term-limited member leaving the board.
Cranor, a member of the district's school zoning committee and a parent, said she has been preparing for the School Board for a long time.
Cranor is twice her opponent's age but is not taking the election for granted. Because the board is a "down ticket" race lacking in exposure, Cranor said she has been trying to meet as many voters as possible.
Cranor said voters have told her that they are generally happy with the district's reforms and course of direction, but want to pick up the pace.
The feeling is "let's change the large ship that is the school district into a clipper," Cranor said. "Let's make it efficient. I've seen people who are happy to see reforms start, and the feeling I'm getting is 'let's the take momentum now and really move on it.' "
Her idea for improving the graduation rate is to allow for more interaction between students and staff, getting administrative and technical employees involved.
"We have talent right now that's not in contact with students. They're doing other jobs," she said.
Cranor also emphasizes communication and transparency to solve problems such as the financial crisis.
She said she is hopeful about the future.
Nevada is "a place where we do have great people and minds who do want to make this a great place to be a kid," she said.
Contact reporter James Haug at jhaug@reviewjournal.com or 702-374-7197.
2010 GENERAL ELECTION VOTER GUIDE
SCHOOL BOARD DUTIES
The Clark County School Board develops policies that govern the school system, oversees an operating budget of more than $2 billion and appoints and reviews the performance of the superintendent. The School Board has seven members who are elected to four-year terms. Trustees are paid $750 a month.