October 16, 2010 - 11:00 pm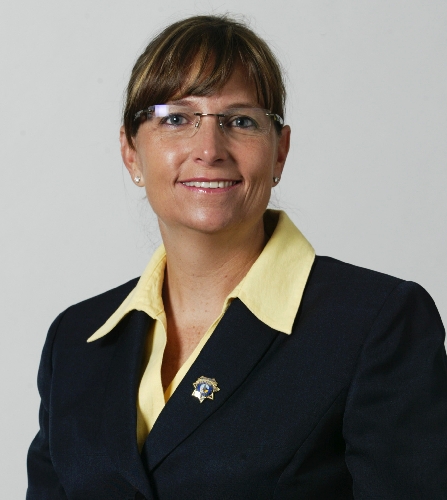 The Clark County sheriff race began as an election about how the county's next top law enforcement officer would handle budget shortfalls. Candidates spoke of "tightening belts" and "cutting the fat."
While the budget remains an issue, the nonpartisan race has now shifted to which candidate can more clearly explain to voters about office- involved shootings and coroner's inquests.
It's the second time Sheriff Doug Gillespie and Officer Laurie P. Bisch have run against each other. Gillespie defeated Bisch in the race to replace Sheriff Bill Young in 2006.
The two candidates have repositioned the focus of their campaigns for the Nov. 2 general election from coping with departmental money woes to debating about how police responded to Erik Scott and Trevon Cole — two controversial but unrelated cases in which officers shot and killed Las Vegas men.
Gillespie said voters want their next sheriff to answer questions about training policies and procedures; use of deadly force; and department investigations into officers' actions, among other community issues, in light of the two high-profile cases.
"As these issues come up, it's important that whoever is in my position is transparent and willing to take a hard look at how they're doing business and see if there are ways to improve," said Gillespie, who is seeking his second four-year term. "I believe I've done that."
Bisch said the department is under increased public scrutiny and needs to rebuild trust within the community, which is "afraid of Metro."
She added that voters have expressed concern to her about the number of officer involved shootings. There have been more than 20 this year.
"We need to bring back professionalism and accountability within our police department. The community is nervous about our police right now. They want one they're proud of, not afraid of," Bisch said.
"I believe the leadership is a key component to all of this. It starts at the top. The message has to be relayed from the top down. We've had a lot of unfavorable incidents happen within the last year and a half that woke up the community."
That includes the shootings, inquests and officer-involved fatal accidents, she added.
Gillespie and Bisch defeated four other challengers in June's primary election, collecting 70 percent and 15 percent of the votes, respectively. In a Las Vegas Review-Journal/8NewsNow poll last month , three in five Clark County voters indicated they supported Gillespie over Bisch.
In reports filed through June 1, Gillespie had a clear lead in donations, having raised $192,488 compared with Bisch's $29,300. Both candidates will report updated campaign contributions and expenses Oct. 26.
The candidates acknowledged that budgetary issues have recently plagued the department. A police budget that was as high as $549 million a few years ago will be closer to $512 million in the next fiscal year. About 89 percent of the budget is salary and benefits.
"We've reduced capital expenditures, but you can only put off those expenses for so long," Gillespie said. "We have to keep moving forward on technology projects and money for the (vehicle) fleet."
The department will examine contracts, overtime hours, retirement packages and vacant positions to save money, Gillespie added.
During the primary, Bisch said she would focus on cutting take-home vehicles that add insurance and fuel costs. She blasted Gillespie for using resources to build a new police headquarters.
To cope with costs, Gillespie said he has helped develop task forces with other local law enforcement agencies, including the North Las Vegas and Henderson police departments, to share resources in training, information sharing and leadership development.
"Our volume of work is not decreasing. Our calls for service are up. Overall crime is down, but our jail population is increasing," Gillespie said. "We're not seeing a reduction in work demand, and that definitely will be part of the conversation as we move forward."
Contact Kristi Jourdan at kjourdan@reviewjournal.com or 702-383-0279.
2010 GENERAL ELECTION VOTER GUIDE
SHERIFF DUTIES
The Clark County sheriff is the county's chief law enforcement officer. The sheriff is responsible for the operation and policies of the Metropolitan Police Department and the Clark County Detention Center. The Police Department's jurisdiction comprises the city of Las Vegas and unincorporated Clark County. The sheriff serves a four-year term and receives an annual salary of $156,983 as dictated by state law. All Clark County voters, including North Las Vegas, Henderson and Boulder City who have their own police agencies, vote in this race.