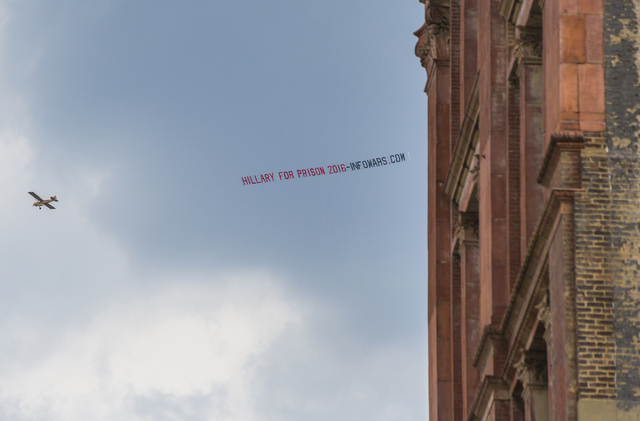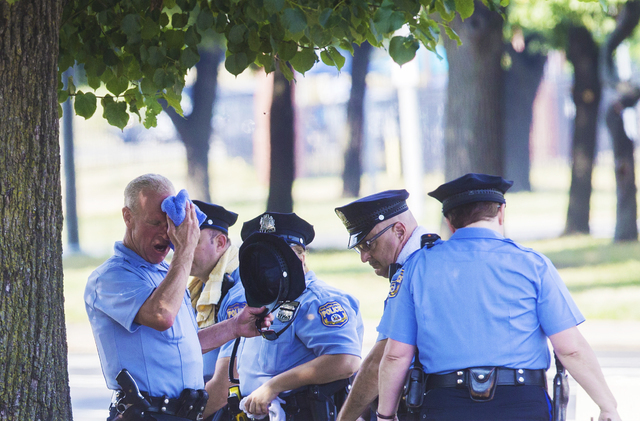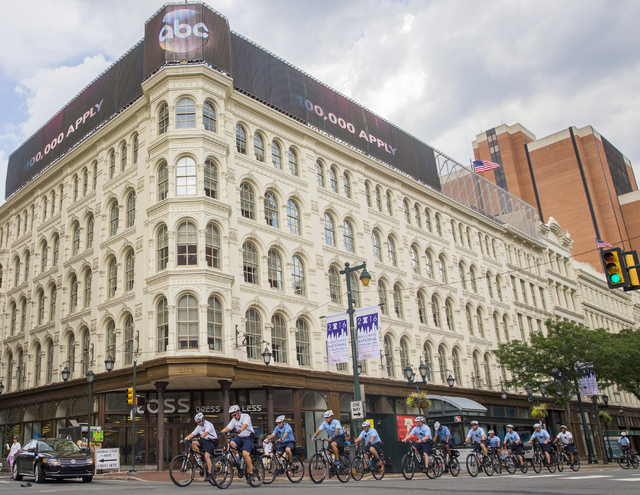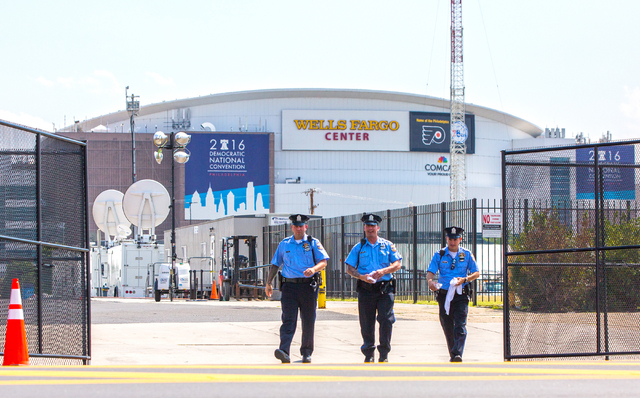 PHILADELPHIA — It's Hillary Clinton's turn to lay out her case to the nation's voters.
She'll be the first female candidate to be nominated by a major U.S. political party for the presidency, a goal that eluded her in 2008 when Barack Obama was nominated.
The Democratic National Convention starts Monday in Philadelphia, ending on Thursday night with Clinton's acceptance speech.
CLINTON'S TURN
It's a chance for Clinton to offer voters a contrast to Donald Trump, who gave his acceptance speech Thursday at the Republican National Convention in Cleveland.
She got an early start Saturday, as the Clinton-Kaine ticket debuted at a Miami rally in the nation's largest and most competitive battleground state. Clinton's newly minted vice president pick, U.S. Sen. and former Virginia Gov. Tim Kaine, introduced himself to a national audience in English and Spanish, sharing the experiences that shaped a life of public service.
Clinton called Kaine "everything Donald Trump and Mike Pence are not," someone who has fought discrimination and worked to expand opportunities for those he served, and a "progressive who wants to get things done."
NEVADA IS REPRESENTED
At Monday's convention, the Silver State will be well-represented. The Nevada State Democratic Party is sending 43 voting delegates: 35 delegates and eight unpledged superdelegates who are party leaders or elected officials and unbound, meaning they are free to vote for whom they wish. Among the 35 delegates, 20 are pledged to Clinton and 15 are pledged to U.S. Sen. Bernie Sanders, I-Vt.
"We'll continue to talk about the issues that are important to America," said Roberta Lange, chairwoman of the Nevada State Democratic Party. "We'll continue to do everything we can to defeat Donald Trump and elect Democrats up and down the ticket."
For Nevadans, it's a chance to show that the Democrats can unite after a fractured state convention.
Clinton did well in Nevada, winning the early voting state's Democratic caucus in February over Sanders. Both sides clashed at a chaotic state convention in May, as Sanders' supporters cried foul over how delegates were seated at the state convention, the precursor to the national convention that determines the allotment of delegates for each candidate. Party officials have said rules were followed and delegates from both sides were turned away because they weren't qualified to be seated.
Since then, Sanders has endorsed the former secretary of state, a move aimed at shoring up unity that Democrats need to win the November election.
NEVADA CONNECTIONS
The Democratic National Convention speaker lineup includes people with ties to Nevada.
The list includes U.S. Senate Minority Leader Harry Reid, D-Nev.; state Sen. Pat Spearman, D-Las Vegas; and state Sen. Ruben Kihuen, who is running on the Democratic ticket for Congress against U.S. Rep. Cresent Hardy, R-Nev., in the 4th Congressional District.
It's not just elected officials. Nevada immigration advocate Astrid Silva will speak Monday night. Sanders and first lady Michelle Obama are speaking that night, too.
Silva's immigration advocacy has been in the national spotlight before. In 2014, President Obama gave a nationally televised speech in which he pointed to Silva as an example of someone who could be affected by reforms and signed an executive order on an immigration plan. She was brought to the U.S. by her parents at the age of 4 as an undocumented immigrant.
In an interview with the Las Vegas Review-Journal last week, Silva said her speaking slot at the convention was an opportunity for her to represent the undocumented community and Nevada.
"It's a state that really matters," said Silva, organizing director for PLAN Action, the political arm of the Progressive Leadership Alliance of Nevada.
Silva added that she hoped attendees would "understand how important we are when we come together."
She said she wanted families like hers that are undocumented to be "really seen as human beings."
DELEGATE PERSPECTIVES
Adriana Martinez, a district-level delegate from Las Vegas, is a former chairwoman of the state party and a superdelegate in 2004. For Martinez, like other Clinton supporters, memories of the former U.S. senator from New York's 2008 effort to get the Democratic nod are fresh.
"This is going to be quite the experience for me," she said. "It's emotional because I was with Hillary Clinton in 2008, and I worked making phone calls and walking door-to-door in 2008.
"This is something that is going to be a very emotional time and a proud moment for all of us."
U.S. Rep. Dina Titus, D-Nev., is a superdelegate supporting Clinton.
In a statement, Titus said Clinton "will undoubtedly give our nation the best opportunity to raise wages for the middle class, protect workers' rights, and shield our friends, neighbors, brothers, and sisters from discrimination of all kinds."
Titus also said Clinton has made immigration reform a priority and has the experience needed to work effectively with other nations.
"As the Republican convention and primary cycle proved, Donald Trump has very different priorities," Titus said, calling Trump a "dangerous ringmaster for a reckless media circus."
"I look forward to nominating Hillary Clinton, defeating Donald Trump, and moving our country forward," she said.
Sanders' delegates said it's important for backers of the Vermont senator to support Clinton in the election.
"At the end of the day, hopefully, we'll be much more united than we are today," said Tick Segerblom, a Democratic state senator from Nevada who has supported Sanders.
Segerblom said he anticipates the national convention uniting Sanders' supporters with Clinton's campaign.
"In Nevada, we've got some dynamics because of the way the state convention went down," Segerblom said.
"But I do think by the end of the convention, most Bernie Sanders' supporters will be on board in Nevada. They appreciate the fact that Trump is bad news."
Alexis Salt, a district-level delegate from Las Vegas who supports Sanders, is a middle school teacher.
"I think what Bernie Sanders did was he gave us a platform where people will listen to us now as opposed to a year ago," she said.
"I think a lot of Bernie Sanders' supporters are waiting to see how Bernie and his delegates are treated at the convention," she said. "If we're treated with respect, if we're listened to, I think that will go a long way in kind of healing those sort of divides."
Delegates bound to Clinton welcome Sanders' recent endorsement of her, when he said he'd do everything possible to help her defeat Trump.
Before his endorsement, Democrats fretted he would damage Clinton by staying in a race he couldn't win, unlike all of Trump's opponents who dropped out.
"It sure has taken the weight off because he continued to say he was going to take this all the way to the convention," Martinez said.
"I'm very excited that Senator Sanders decided to endorse her and ask for his supporters to coalesce behind her," Martinez said.
In 2008, her 5-year-old niece saw former President Bill Clinton on television and said, 'Look, that's Hillary Clinton's husband.'
"To me, that was such a moment for me because here's a 5-year-old who sees it in new eyes."
Nevada delegate Carissa Snedeker of Sparks said, "I'm working side by side with Bernie Sanders' supporters now and it's exciting. I'm looking forward to the week and superexcited to be rubbing shoulders with Democrats."
Review-Journal writer Alexander S. Corey and the Los Angeles Times contributed to this report. Contact Ben Botkin at bbotkin@reviewjournal.com. Find @BenBotkin1 on Twitter.