'Compleat' set to take audiences through complete range of human emotion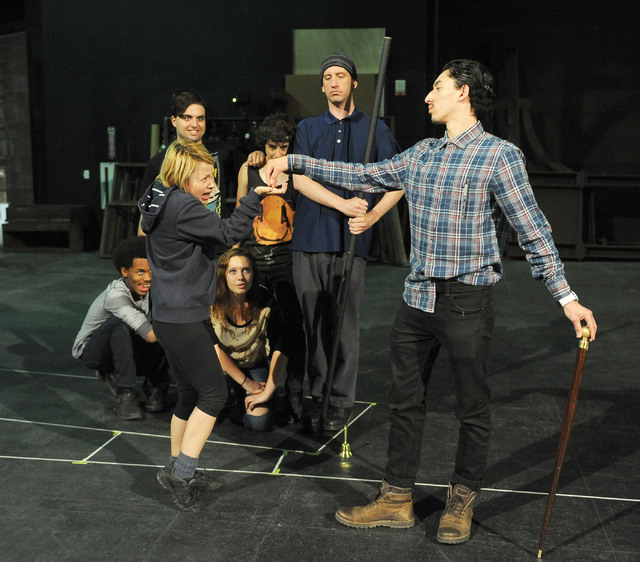 A cast of 19, made up through a collaboration of students from the College of Southern Nevada, UNLV and professional actors, is set to run audiences through the gamut of human emotion this month.
The play, "Compleat Female Stage Beauty," by Jeffrey Hatcher, centers on a performer named Edward Kynaston, a famous portrayer of female roles in London. He became well known for his roles as Ophelia, Cleopatra and Desdemona.
"It is a highly dramatic story," said Ann-Marie Pereth, director of the play. "Basically, it's about a man who is at the top of his game. He has a lot of confidence, but he loses all of that (when the king rewrites the law). He has to figure out what it means to be a man in a new political system. There is a lot of conflict. That's what drew me to the story."
The Nicholas J. Horn Theatre at the College of Southern Nevada, 3200 E. Cheyenne Ave., is scheduled to host "Compleat Female Stage Beauty" at 7:30 p.m. April 18, 19, 25 and 26 and at 2 p.m. April 20 and 27.
Josh Nadler, 21, a senior at UNLV, will be playing Kynaston, a performer who gained recognition during a time period when King Charles II outlawed women from performing roles on stage.
"I've played various roles at UNLV, but I'm usually cast as a comedic sidekick," Nadler said. "This role offers more depth and substance. As humans, we identify ourselves with our jobs and careers, but what happens when that's gone? This gives rise to some of the emotional and dark moments that Kynaston struggles with."
Nadler added that the costumes are lavish and extravagant to appropriately represent the time period.
Kynaston's world crumbles when an unknown actress named Margaret Hughes plays Desdemona one night in an illegal theater. Instead of stopping the show, King Charles II changes the law to allow women to act.
It is then that Kynaston loses his status, his livelihood, his lover and his sense of self.
Nicole Unger, 24, plays Hughes, who is also experiencing similar struggles. Unger added that Pereth has helped actors push beyond their comfort zones.
"This play requires us to become very vulnerable and bring our walls down," Unger said. "Ann-Marie is great at communication with us, and she's not shy about telling us what she expects."
Pereth said the cast is made up of professional, semiprofessional and student actors. Actors have been practicing six days a week for four hours a day to prepare for opening night.
Dennis Kreger, 32, plays Thomas Betterton, a famous actor in England.
"I fell in love with this play," Kreger said. "It's part comedy and drama, and it's intended more for mature audiences since it deals with (complex) issues."
In order to keep the performance as authentic as it was during the 1660s, Erickson Magno, 20, creates sound effects while playing multiple roles.
Cynthia Vodovoz, 33, who plays Maria, a seamstress, said the play also offers audiences a look into the history and realm of theater.
"It puts a human face in history, since a lot of the characters are based on real people," Vodovoz said. "People also have a chance to see the world of theater come alive in this play."
Community actor Ken Kucan,who plays the documentarian Samuel Pepys, added that Hatcher is a good writer who gives a feel for the era. He also said that the play is going to be unlike anything that has been performed at CSN.
"The play is so universal and so relatable. It deals with issues that we all deal with as human beings, like identity, gender, loss, relationships and love," Pereth said. "It's the perfect storm of dealing with multiple issues."
Tickets are $12 for adults and $10 for seniors and students.
For more information, call 702-651-5483.
Contact North View reporter Sandy Lopez at slopez@viewnews.com or 702-383-4686. Find her on Twitter: @JournalismSandy.