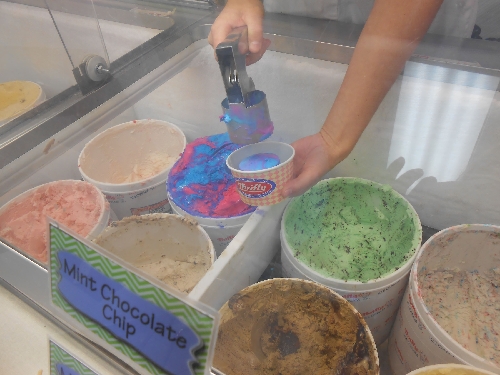 Sweet Addiction, Cookies & Ice Cream has a tongue-in-cheek way of promoting itself. Its T-shirts proclaim, "I'm an addict" on the front and list the shop on the back.
"And our loyalty card needs 12 punches," said co-owner Marissa Comastro Creighton. "It's a 12-step program. Get it?"
The T-shirts have prompted shocked reactions from those who see only the "I'm an addict" side. It has caused Comastro Creighton to undertake creative contortions so they can read the entire message.
"It starts a conversation, for sure," she said.
Comastro Creighton and her husband, Randy Creighton, opened Sweet Addiction in mid-July at 5165 S. Fort Apache Road, Suite 160. They don the T-shirts every chance they get to help promote it.
One time, Creighton received an entirely different reaction from a woman. She hurried over to reassure him that everything would be all right.
"We were out marketing at the ArtWalk festival in Summerlin, and a woman approached me, and she was like, 'How are you? What are you addicted to?', he said. "I went, 'Oh, I'm sorry. I'm addicted to cookies, ice cream. It's an ice cream shop.'
"We almost had a connection but not really."
The idea for Sweet Addiction stems from Comastro Creighton's memories of growing up in Las Vegas. She would frequent the now-defunct Thrifty drugstore at Decatur Boulevard and Vegas Drive.
"We'd ride our bikes, and I'd get a double scoop of mint chip," she said.
Key to Sweet Addiction's popularity is carrying Rite Aid's private brand, Thrifty Ice Cream. Now that Rite Aid stores are closed in the Las Vegas Valley, the Thrifty brand is difficult to find. Another element that adds to the nostalgia factor is the authentic Thrifty scooper, which looks like an oversized gun barrel.
"It brings back memories," Creighton said of the ice cream. "I mean, every day we'll get some (new customer) who says, 'I ate this as a kid.' And they'll ask if you have the ice cream scoop … that Thrifty always used."
His wife estimated that half of Sweet Addiction's customers are true-blue Thrifty Ice Cream fans, which she said harkens back to a more leisurely time in American life.
"A lot of people who didn't have a lot of money, those parents could treat their kids to this ice cream," she said. "Back before my time, it was a nickel, 10 cents, I mean very, very affordable. So, when people see it, they have nothing but good memories."
The ice cream brand may be what brings people in, but the cookies cement the deal. Open the door of the Sweet Addiction, and an aroma akin to a grandmother's baking is immediate. Comastro Creighton said she always felt at home in the kitchen as a baker and now uses her favorite cookie recipes, baked fresh on site each day.
The bookend cookies that make up the ice cream sandwich can be mixed, with peanut butter on one end, for example, and chocolate chip on the other. There are hundreds of possible combinations. Examples of Thrifty Ice Cream flavors are Chocolate Mocha Crunch, Strawberry Cheesecake, Mocha Almond Fudge, Birthday Cake and Medieval Madness.
Cookies include white chocolate macadamia, oatmeal raisin, chocolate chip, chocolate brownie and snickerdoodles. Seasonal choices also pop up, such as pumpkin cookies for Thanksgiving. There are also gluten-free choices. Customers are welcome to mix and match them.
But some patrons are so enamored with their "tried-and-true" combination that they order the same thing every time, never wavering.
"I try to get them to try a different flavor, but they know what they like," Comastro Creighton said.
"I saw the Thrifty sign outside," said Dimas Martinez, a first-time patron who grew up in Southern California. "I'd go to Thrifty as a kid. I love Thrifty Ice Cream. I live just around the corner, so I constantly see it (the store's sign) and wanted to stop in."
Comastro Creighton said she often puts in 12- to 15-hour days but that the long hours don't bother her because she doesn't miss her former profession as a school counselor.
Randy Creighton is a lawyer by day, so his involvement is behind the scenes, where he takes care of the business end.
"I'm a Type A personality, and she's a Type B, so it's perfect," he said.
The pair spent two months looking at possible locations before settling on the 1,190-square-foot spot just off the Tropicana Avenue exit of the Las Vegas Beltway. It seats about two dozen patrons.
Half of the space is devoted to the kitchen. The customer area is bright with a geometric pattern, lime accent and white chairs.
"Not the smartest, " Comastro Creighton said of the chairs' color. "They get cleaned often."
Besides ice cream, Sweet Addiction carries frozen yogurt to spur even more choices. But most patrons —- an estimated 70 percent, Comastro Creighton said —- prefer the ice cream.
"Homemade cookies, what could be better with ice cream?" said first-time patron Sandra Lavine, who was there with her husband, Alan.
Sweet Addiction is open from 11 a.m. to 10 p.m. Monday through Thursday, 11 a.m. to 11 p.m. Friday and Saturday and 11 a.m. to 9 p.m. Sunday. For more information, call 702-570-6993 or visit facebook.com/sweetaddictionlv.
Contact Summerlin/Summerlin South View reporter Jan Hogan at jhogan@viewnews.com or 702-387-2949.
Sweet Addiction, Cookies & Ice Cream
Sweet Addiction, Cookies & Ice Cream, 5165 S. Fort Apache Road, Suite 160, is open from 11 a.m. to 10 p.m. Monday through Thursday, 11 a.m. to 11 p.m. Friday and Saturday and 11 a.m. to 9 p.m. Sunday.
For more information, call 702-570-6993 or visit facebook.com/sweetaddictionlv.