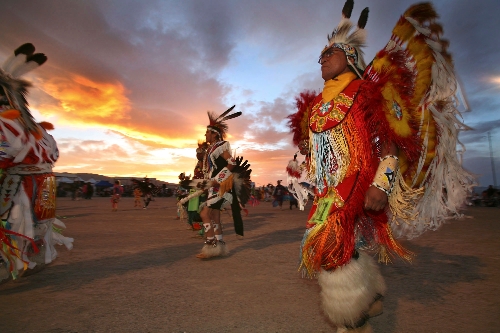 Hundreds of spectators, dancers and memories made will be called back to the beat of the gourd this weekend at the 23rd annual Snow Mountain Pow Wow at the Las Vegas Paiute Tribe's Snow Mountain Indian Reservation.
Festivities are set to begin at 5 p.m. Friday and culminate at 10 p.m. Saturday. About 150 dancers from the tribe and those from as far as Canada are expected to regale crowds in the main arena at 7 p.m. both days.
Heritage dancers will vie for prizes, and a veterans' salute to the nation is expected, said Marcia Mahone, Tribal Council chairwoman and Pow Wow coordinator.
The open-air event is planned to go on rain or shine and will be led by a master of ceremonies, who sets the tone and directs the crowd in protocol as dancers move in the arena.
Judges hand out honors to dancers ranging from the Tiny Tots category to adults and seniors.
The Pow Wow has been welcoming tribes from around the country and visitors from around the Las Vegas Valley for more than two decades, but the event isn't native to the Paiutes, said Tonia Means, tribal chair woman.
"This is not a traditional thing for us as Paiutes," she said. "We adopted it as a people."
Means said the tribe was more known for its traditions of gathering pine nuts together and sharing hunting yields. Mahone added the tribe adopted protocol of pow wows that originated in the Plains area.
But it has taken on a special life of its own, the women agreed.
Generations of tribes watch each other grow up and pass milestones at the annual event. Means remembers a special moment when she was blessed at the first Paiute Tribe-planned Pow Wow after her U.S. Indian Police Academy graduation.
"You can't put a dollar amount on that feeling," she said.
Events have been fuller and longer in recent years, but most of the sights and activities are still the same, Mahone said.
Vendors selling jewelry, pottery, flutes, traditional Indian music and baskets are alongside Pow Wow staples such as fried bread and Indian tacos, Mahone said.
Festivities coincide with Memorial Day, and members of the Southern Paiute Veterans Association are set to perform a Native American salute with a unique version of the traditional military song "Taps" during the noon grand entry set for Saturday. A Veterans Honor Dance Contest is scheduled to follow.
"We as Indian people honor our veterans continually," Means said. "We come from a warrior society . That's why it means so much."
Pow Wow grounds of the Las Vegas Paiute Tribe's Snow Mountain Indian Reservation are near U.S. Highway 95 at exit 95 and across the tribe's petroglyph-covered overpass. Daily admission for adults is $5, and a weekend pass is $7. Children 12 or younger are admitted free, and parking is free.
No alcohol, pets or fireworks are permitted. For more information, visit lvpaiutetribe.com/powwow, email powwow@lvpaiute.com or call 386-3926.
Contact Centennial and Paradise View reporter Maggie Lillis at mlillis@viewnews.com or 477-3839.