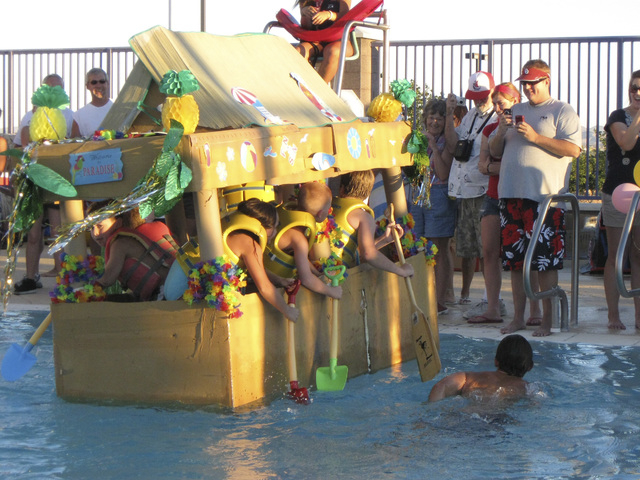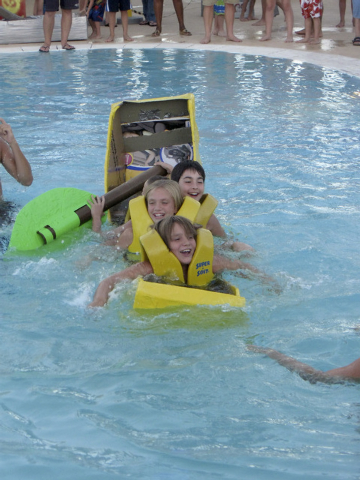 We may live in the desert, but residents can still sail the high seas.
Clark County's annual Cardboard Boat Regatta is set for 5 to 8 p.m. July 25 at the Desert Breeze Aquatic Facility, 8275 Spring Mountain Road.
Families are invited to use their imaginations to build cardboard boats with duct tape. Then, they can launch their watercraft and compete before a cheering crowd. It's not conducted as a race, per se.
"The boats go across one at a time, and we time them, so that's how we determine winners," said Jessica Laguna, program supervisor at Desert Breeze. "We do a couple of awards, like the fastest across. But then, we also do the fastest sinking, and that one is sometimes like, one second."
The boats need to travel about 15 yards in the water. Laguna estimated that only 25 percent make it all the way across. There are usually about 20 entries. There is no cap as to how many people can compete.
"Last year was mostly kids, but in the past, we've had adults race boats," Laguna said. "Lots of times, it's a family boat-building event so, like, dads build and the kids race."
She said many boats use appliance boxes, but a variety of boxes have been used.
"You'll see the kids who made their own without help, and their boxes are usually smaller and less intricate," Laguna said, "and we do have big themed boats that two or three people can ride in. … Last year, we had a really cute boat with a 'Despicable Me' theme with little minions on it."
Timothy Cummings and Heather McCarth's children, James, 11, and Cate, 9, first entered a boat in 2011.
"They got various boxes and taped them up poorly," Cummings said, adding that it did not prove float-worthy. "We almost got the Bismarck award. We missed it by one second."
The following years saw Dad more involved, research for better designs and another child, Susannah, 5, joining the fun. The family made their boats wider, so they were not as apt to tip over. They also make the sides low, about 10 inches, with clearance space to accommodate rowing.
Last year's entry "was all black, and we put bits of color tape all over it," Cummings said. "We went to Rocket Fizz Soda Pop & Candy Shop and got some huge lollipops, and we were the Good Ship Lollipop."
For 2014, Cummings plans to compete on his Silver Surfer as an individual entry. The children saved last year's boat and are revamping it for a new theme: the Beatles' "Yellow Submarine."
Boat registration is set to begin at 5 p.m., with races starting at 7 p.m. Admission to the regatta is $3 for adults, $2 for children ages 3 to 17 and $1 for seniors 55 or older. Children 2 or younger are free. All boats must register by July 23.
The rules are simple: Boats must be constructed of only two materials: cardboard and duct tape. Inflatable devices or buoyant additions will disqualify entries, as will using a water repellent product such as Rust-Oleum's NeverWet.
"The boats that make it across the pool, once they get out, they're pretty done," Laguna said. "Most of them ended up in the trash."
Any additional material can be used only for aesthetic reasons. Colored duct tape is allowed as are items such as ribbon, streamers and permanent marker decorations.
Boats can be no longer than 8 feet. Boat riders must remain inside their watercraft during the race; life jackets will be provided. Lifeguards will be in the pool as a precaution. Regatta building guidelines can be obtained from the Desert Breeze Pool cashier.
Prizes will be awarded for the Most Creative, The Bismarck and the Fastest Ship.
If families choose not to race, they can swim from 5 to 7 p.m. and enjoy water games and music. Regular fees apply. Families are welcome to bring a picnic dinner and snacks, although alcohol and glass bottles are not permitted.
For more information on the Cardboard Boat Regatta, visit clarkcountynv.gov/parks or call 702-455-7798.
Contact Summerlin Area View reporter Jan Hogan at jhogan@viewnews.com or 702-387-2949.