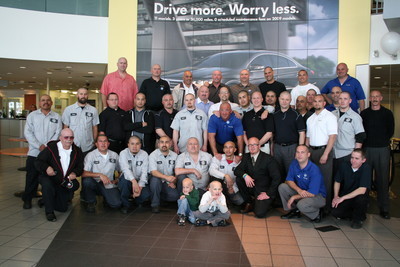 In an effort to raise funds for the St. Baldrick's Foundation, the staff at Desert Volkswagen hosted its first annual head-shaving charity event on March 7. Honoring St. Baldrick's yearly fundraising event, the dealership recruited anybody and everybody willing to shave their head for childhood cancer.
With four seats and several volunteers, General Manager of Desert Volkswagen Shane M. O'Hanrahan began shaving employees, customers, community members and even his own two sons' heads. Five days later, $8,000 had been raised and 48 people, including 38 Desert Volkswagen employees, proudly showed off their bald heads.
The St. Baldrick's Foundation is the world's largest volunteer-driven fundraising organization dedicated to raising awareness and funds for children with cancer. Each year, the foundation raises money to fight childhood cancer by shaving heads. Year after year, thousands of brave volunteers show up to have their heads shaved, becoming walking billboards for cancer. Since the first event in 2000, St. Baldrick's volunteers have raised more than $50 million for research.
Desert Volkswagen is located at 6375 W. Sahara Ave. Call 942-4042 or go to www.desert volkswagen.com.
For more information on St. Baldrick's Foundation go to www. stbaldricks.org or call 888-899-BALD (2253).