Despite a lower profile, Oscar Goodman is as happy as ever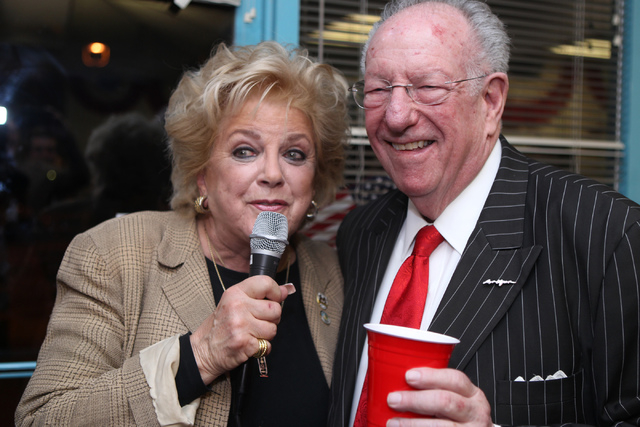 He traded the expansive office at City Hall that overlooked downtown for a cramped afterthought in a Las Vegas Convention and Visitors Authority annex. But there's no mistaking this is Oscar Goodman's place.
Its walls festooned with photographs and ephemera, the space is so laden with paparazzi pics and celebrity grip-and-grins it feels loud even when no one is speaking. It's there in the soft light Goodman spends his mornings drinking coffee and preparing for the next call to service the great Las Vegas promotions machine.
You know Goodman's schtick. It seems half the world does. It's the martini glass big enough to bathe a baby, the showgirl on either arm and the Tommy-gun's fusillade of exclamation points about Las Vegas as the greatest party town on the planet.
It's indefatigable Oscar, the mob mouthpiece-mayor-mascot and six-million-martini man. He's Vegas Vic with an iron liver, that guy. Played himself in Scorsese's Vegas gangster epic "Casino," he did. Had the audacity to turn a historic federal courthouse into a mob museum, of all things.
He was so popular, in fact, that when term limits drove him from office after a dozen years he essentially handed the keys to the mayor's job to his wife, Carolyn Goodman, who is now in her second term and carving her own path.
But on this morning, with neither a crowd nor martini in sight, Goodman looks every bit of 76. He looked like he'd taken a bad beat on a slate of basketball bets. Although he left office more than four years ago, rumors circulate almost every election cycle that he's considering another run for something that might challenge that formidable intellect and feed that insatiable showman's ego.
Politically, Goodman was always easy to pick apart. He was popular, a political science professor or pundit might say, but politics is about policy — not popularity. Just don't tell that to Donald Trump. On a local level, the unabashed Goodman had a similar appeal.
Because nothing fades faster than a politician's popularity once he's out of office, I've wondered whether Goodman could have pulled off a run for statewide office. Although gin and showgirls communicate a universal language all their own, it's hard to believe Goodman's persona would play in Winnemucca. So despite signs of interest, there was no run for governor or the U.S. Senate.
But Goodman remains the irrepressible Oscar in Southern Nevada, where he upstages entertainers and generate smiles from tourists who probably still think he's the boss of City Hall. Earlier this month, a Zogby Analytics survey of 601 registered voters with a 4.1 percentage-point margin of error showed Goodman, a registered independent, could still create a stir four years out of office. In a horse race poll measuring prospective U.S. Senate candidates, Goodman actually bested the field in Clark County with 32.3 percent. He was cuffed around outside the county, no surprise there, and still isn't considering taking his show on the road.
When he spoke, he sounded more like a song-and-dance man looking for one last spotlight than an enormously successful attorney and politician entirely comfortable with his current role.
"Life is short, and nobody knows it better than we do," Goodman said. "In 35 years practicing law, it wasn't work. It was all fun no matter how serious the case, no matter how difficult the trial. In 12 years as the mayor, working every day, seven days a week, every day I had fun."
And now?
"Since that time, I'm over here and I'm glad," Goodman said. "You have to have some place to go in the morning. I love meeting people, but it's not a job for a brain surgeon. I'm not advancing my curriculum vitae by going out with two beautiful women every morning and having a martini. There's no telling how much gin is consumed in one day."
Trouble is, the timing is all wrong. Not just for politics, but for life's truly important things. There's Carolyn, the kids and now the grandkids. They're the essential parts. And there's life's clock itself to consider.
"I'd love to run for something again," he said. "I love the race, the pace, the handshaking and back-patting. I love all that."
But the heavy lifting of government service? That's real work that, despite its legion of critics, is withering for those who take it seriously. As mayor, Goodman was vilified for many things but not for failing to put in long hours.
"The truth is, I love Carolyn," he said. "It's a real love affair. I love Las Vegas. It's a real love affair."
After all the applause has faded and all the crowds have gone home, that's more than enough for the man who will always be remembered as the happiest mayor Las Vegas ever had.
John L. Smith's column appears Sunday, Tuesday, Wednesday, Friday and Saturday. Contact him at 702-383-0295 or jsmith@reviewjournal.com. On Twitter: @jlnevadasmith