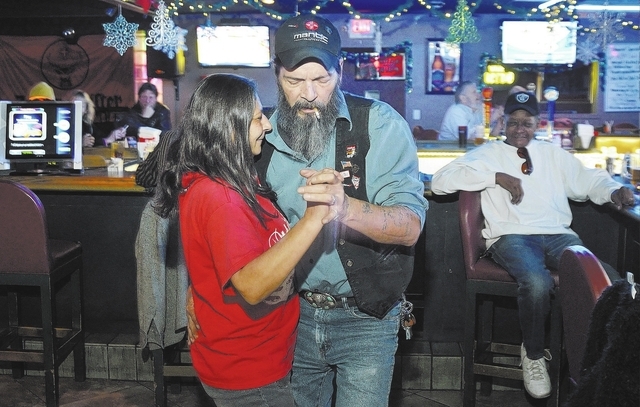 Hidden behind a dark front off Pecos Road, Double Shots Bar is better viewed from within its closed doors. The bar, mostly quiet during the daytime, offers a variety of people a relaxed and welcoming environment.
The bar has been around for approximately 28 years. It's gone through about seven name changes, most recently changing its moniker from Hot Shots Bar to Double Shots Bar.
"The crowd is very diverse," bartender Kami Bowman said. "We have people who come in here that like country, hip hop, pretty much everything."
The bar, 3430 E. Tropicana Ave., draws a large Baby Boomer crowd during the day and a younger and more industrial crowd during the night, Bowman said.
The bar hosts karaoke from 10 p.m. to 3 a.m. every Monday and Wednesday through Saturday,
The bar also offers an open mic comedy night hosted by comedian Jeremy H. Flores from midnight to 3 a.m. every Monday.
Flores, who has hosted the event for almost two years, said he has gained a large following.
"Everyone who knows me knows that I've been in the game for a long time," Flores said. "I've gathered a large following that varies from locals to people from out of town. It's really one of the best nights at the bar."
The bar also hosts a trivia contest at 7 p.m. every Wednesday when winners can win a bar tab and food.
Kelly McClintock has been working at the bar for four years. She has a large following that seems to enjoy her company almost as much as their drinks.
"I have a good relationship with all of my customers," McClintock said. "This is a good bar. It's a lot of fun to work here."
Earl Shelton has been coming to the bar off and on for about 20 years. He said he has recently been coming more often because of his favorite bartender, McClintock.
"This time they got their staff right," Shelton said. "All of the bartenders are friendly and cool, but Kelly is definitely the backbone of the bar."
Bowman said the bar is going through a transition period as it gets ready to change owners next year.
The bar has a happy hour from 2 to 7 p.m. daily when $5 pitchers, $1.50 draft beers and $1.75 well drinks are available.
Although the bar does not sell food, customers are welcome to bring it from Taco y Taco, a Mexican restaurant next door.
For entertainment, the bar has pool tables, a jukebox, slot machines and video games.
McClintock has even started a pool league with the regulars.
Although the bar has been in the neighborhood for almost 30 years, it has not gone through financial difficulties, McClintock said.
"We have had our ups and downs, though," McClintock said. "We've had good owners and bad owners. It's the customers that keep us coming back."
Customer Frieda Williamson has been a regular for four years. She found out about the bar while waiting at a nearby bus stop.
"My husband and I have been coming here for years. He calls Kelly his other wife," she said, laughing. "We've all gotten really close. We're like our own little family. We even have potlucks during football Sunday."
Williamson added that unlike other bars, where cliques tend to keep to themselves, the regulars at Double Shots Bar enjoy meeting new people.
That is why Robin "Tennessee" Horton has been coming to the bar for years. It was one of the first bars he came to when he moved to Las Vegas from Tennessee.
"It reminded me of the bars at home," Horton said. "I didn't know anyone when I moved here. The bar introduced me to the community."
Horton enjoys the bar because it is the type of place where "you can dance with your wife if you want to or just sit back and enjoy a beer and a shot of Jack (Daniel's)."
While there are people who prefer to stay to themselves, it seems most of the regulars do not make strangers feel intimidated. The welcoming environment quickly eases any tensions.
The bartenders claim there are few fights at the bar.
"It ain't super high class, but I wouldn't call it a dive bar, either," McClintock said. "It's somewhere in the middle."
(This is the fourth installment in a Sunrise/Whitney View series exploring area dive bars. To suggest a bar, contact reporter Sandy Lopez. The next installment is scheduled to run Jan. 28.)
Contact Sunrise/Whitney View reporter Sandy Lopez at slopez@viewnews.com or 702-383-4686.