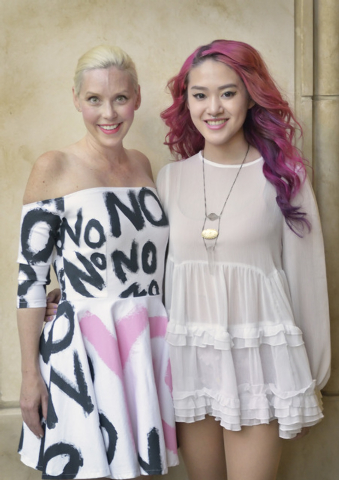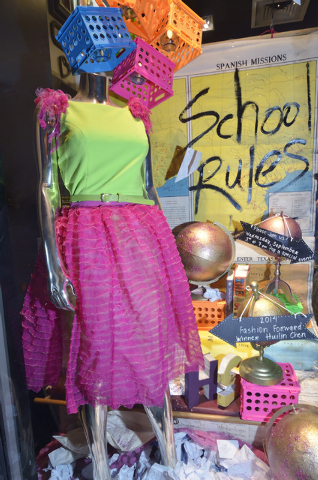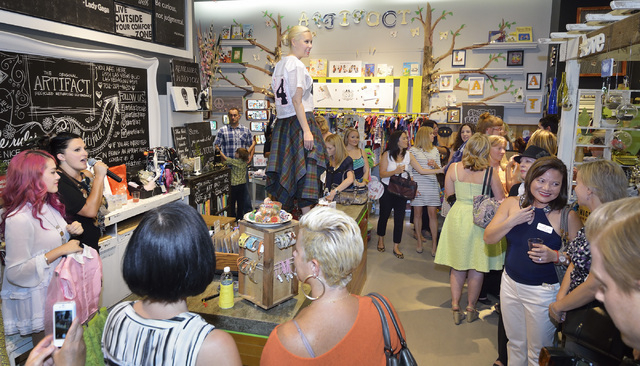 People underestimate Las Vegas, according to Molly Gaddy-Walters, owner of the ARTIFACT store at Town Square Las Vegas.
"As a Las Vegas native, I find that more often than not, so few people think of Las Vegas as creating talent like you see in a major metropolis like Los Angeles or New York, and what I'm finding is that the talent is here and it is our job as Las Vegans to nurture it, cultivate it and to grow it," Gaddy-Walters said. "That's why Fashion Forward is so important, because it cultivates great, young talent."
The Fashion Forward Challenge, established by the Junior League of Las Vegas, has taken place for the past six years to provide Clark County School District students in fashion and design programs the opportunity to showcase their design and creative talents.
"The program is really for those students who want to do fashion for the rest of their lives," said Fashion Forward co-chairwoman Dalisa Cooper. "From the time it started, it has had different components, so that apart from it being a fashion challenge, the program also has an educational component."
The theme for the 2014 award was Vintage Vegas. Nine schools and 234 students started out in the competition, but it was narrowed to 50 students who each modeled their piece on the runway March 22 at the Fashion Show mall.
The winner was Southwest Career and Technical Academy student Huilin Chen, 17.
"It felt amazing when I won," she said. "It was really exciting for me as a designer because it meant that my piece was special and that I did a good job."
"When I was interviewing her, I found that she had the type of point of view that all artists have," Gaddy-Walters said. "She has that something unique that is very special among all artists."
Gaddy-Walters said Chen won because she had taken inspiration from other artists.
"Based on her interview I had with her, that really set her apart, her inspiration," Gaddy-Walters said. "Also, when she walked on the runway, she had a level of confidence and poise that not a lot of 17-year-old girls have, and it showed that she was proud of her piece."
As Fashion Forward's grand-prize winner for 2014, Chen received a photo shoot with Alt f Photography, a sewing machine and a dress form. She also received the Artist in Residency package provided by ARTIFACT that included a mentorship by Gaddy-Walters for Chen to create a small collection and have it displayed at ARTIFACT. The prize also included a $100 store credit at ARTIFACT and an event on Sept. 3 in which Chen's collection was auctioned off, allowing her to keep the proceeds.
"Since the point of ARTIFACT is to display local artists and give them a platform to show their art, it was a perfect marriage for Huilin's clothes to be displayed here," said Fashion Forward co-chairwoman Jenn Kratochwill. "We felt it was a great idea to have the collection here, and it has been a really good experience for Huilin."
Chen said having a collection on display has meant progress in her aspirations.
"I want to do fashion design when I get out of high school, so this is amazing for my portfolio since it shows I have experience," Chen said. "It has been an amazing experience for me overall because I've gotten to experience different aspects of being a designer and having a mentor."
Gaddy-Walters helped Chen through designing and creating the collection, which included 11 pieces. Chen said Gaddy-Walters' mentorship was intrinsic to her finishing the collection because she helped her organize her time and become more responsible.
"She has been an amazing mentor," Chen said. "I've been really lucky to have her to guide me, and I've learned a lot from her."
After creating the collection and having it displayed at ARTIFACT for a month, the Sept. 3 event to premiere Chen's collection allowed the public to purchase it for the first time.
"The event is really to celebrate Huilin's win from this past year," Kratochwill said. "It is about her designs and opening her up to the Las Vegas community, as well as promote Fashion Forward."
Chen made about $750 the night of the event through the sale of her clothing collection.
"Being able to have a collection has been amazing," Chen said. "I've known I wanted to be a fashion designer since I was in middle school."
Gaddy-Walters said she sees success in Chen's future.
"I think that people that are successful, they have a certain spark, and I think that Huilin has that spark. She is definitively representative and indicative of the up and coming Vegas time, and we are all extremely proud of her and look forward to her very bright future."
Contact reporter Maria Agreda at magreda@reviewjournal.com or on Twitter at @mjfagre.