Dunhill's Luxury for Less sales event to end Sept. 30
September 24, 2011 - 1:02 am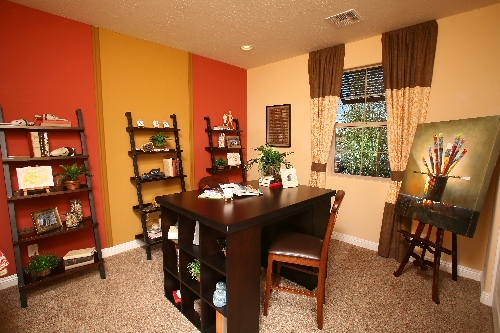 Southern Nevada home shoppers have an opportunity to save as much as $17,500 on a new home at two master-planned communities. Through Sept. 30. Dunhill Homes is offering the incentive worth thousands on dozens of homes at its Rhodes Ranch and Tuscany Village neighborhoods.
"This is by far the best incentive we have offered this year, and it won't last much longer," said Ryan Soucie, director of sales for Dunhill Homes. "Up to $17,500 is available with new-home purchases and can be used towards upgrades, closing costs or a combination of both."
More than two dozen floor plans are available in the two communities, both of which include 35,000-square-foot recreation centers, championship golf courses, guard-gated entrances and dozens of other luxury amenities for prices starting at $129,990.
Among Dunhill Homes' modern floor plans are its single-story designs at Tuscany Village.
"Single-story homes are very popular with a variety of new-home shoppers," said Marietta Manayan, sales agent at Tuscany Village. "Many people can't or don't want to climb stairs, and some like the layouts that single-story plans offer. They generally have an open feeling, especially those that have higher or vaulted ceilings."
The single-story plans at Tuscany Village range from 1,215 to 2,700 square feet, offering several options.
"Whether you want space for your family, dual masters for a roommate or need a quiet home office, there are dozens of options to choose from at Tuscany Village," Manayan said.
One of Dunhill Homes' popular single-story plans is Roma 2173 at Tuscany Village. This home measures 2,173 square feet with as many as four bedrooms and three full baths with a two-car garage. Designed with the owner's suite separated from the secondary bedrooms, Roma 2173 includes a gourmet cooking island and nook in the kitchen and bonus storage space in the garage. Flexible space can be used to build an owner's sitting room, home office or additional bedroom between the owner's suite and great room. A three-car garage is also available with this home.
"Both our single and two-story homes were designed as the most energy-efficient we have ever built," said Soucie. All 13 floor plans in Tuscany Village have been certified by Energy Star and NV Energy's Energy Plus program. Tankless water heaters, radiant-barrier roofs, dual pane low-e argon gas vinyl windows and other energy-efficient elements are included as standard features in the homes.
"They are normally offered as an upgrade or not available at all in other communities. Those two items alone can save you hundreds on your energy bills every year," Manayan said.
Dunhill Homes' commitment to the environment earned the builder a 2011 Energy Star Leadership in Housing Award for its work to promote energy-efficient construction and help protect the environment.
"We have committed to requiring no LIDs or SIDs (improvement district fees), which are standard at most planned communities, at either Rhodes Ranch or Tuscany Village," Soucie said. "This will save you additional thousands over the lifetime you own your home."
For more information, call or visit Rhodes Ranch and Tuscany Village. Floor plans are available to view online at dunhillhomes.com. To visit Tuscany Village, take Lake Mead Drive in Henderson heading east. Follow the signs to the community and turn left on Mohawk Drive to the main entrance. Tuscany's sales office is located at 1549 Olivia Parkway and is open daily from 10 a.m.-6 p.m. Call 873-7287 for details.