Exploring a new path for off-roaders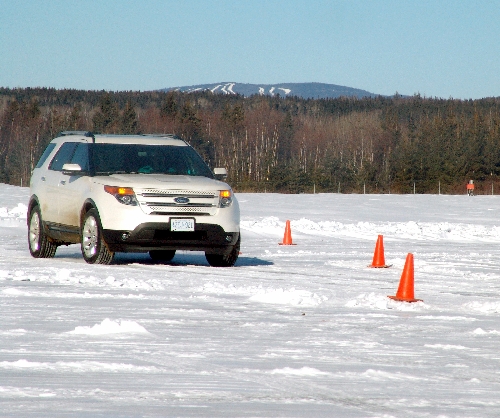 They once roamed the Earth in vast herds too numerous to count. Then one day, it seems, they were gone.
Were they wiped out by a giant asteroid the size of Texas that even Bruce Willis was unable to blow up with his band of misfit oil drillers? Was there a sudden ice age where only the talking animated animals – especially the squirrel — survived? No?
Well then, where did all the sport utility vehicles go?
According to Ford, if there was an asteroid, it plowed into automotive landscape with "fuel economy" written all over the side of it. That's why the Ford Explorer, once the darling of Suburbia, went from hero to zero in a few very short years.
Cost had finally beat out being cool.
But in case you hadn't noticed, the Explorer is back for the 2011 model year as an all-new vehicle. So, what does it do so much differently than the outgoing model that Ford thinks it can survive?
Clearly, fuel economy was the main issue, which was addressed through a raft of small changes to bring about a more-than-20-percent increase in the rating. At a recent media drive for the Explorer, Ford was adamant that fuel-economy gains had to be revolutionary as opposed to merely incremental to give the brand a fighting chance.
But that really began with a wholesale change in philosophy about what a modern sport utility vehicle needs to do.
The days of a rough-riding, body-on-frame 4×4 Explorer are basically over with because Ford is no longer as concerned about the tiny fragment of the population that goes off-roading since they clearly can't support the franchise all by themselves.
But the beauty about the new Explorer and others like it is that you would never really know that they weren't true-blue off-roaders. In fact, many buyers will continue to think that the Explorer is a true off-roader since they've never actually gone "off-roading" to understand the difference. It'll appear like a much better Explorer that stretches a tank of gas substantially farther.
Although now on a carlike unitized (frameless) platform that not only drives and rides on the highway with incredible quietness, control and ride, the Explorer maintains the bulk of its off-road-y-ness thanks to an effective suite of traction- and stability-control electronics. Gone is the hard core two-speed transfer case (with a low range) that no one in suburbia ever used, replaced with a four-position knob that the driver sets according to the deep stuff they're in, whether sand, rutted mud or ice and snow. Far more useful to keep the masses out of harm's way, yet plenty off-road worthy for the unlikely-but-possible trip along a steep, slippery and sloppy spring path in search of whatever. And getting back down is just as uncomplicated with hill-decent control that's designed to prevent a runaway situation.
Dialing back the rough-and-tumble off-road bravado means that, inside, the new Explorer has a fit and finish that rivals some luxury vehicles – seriously — and seats up to seven people. The extra-quiet cabin is great for actually hearing what people way in the back are telling you, which will likely be how great the stereo sounds or how good the optional leather seats smell.
Although the Explorer is touted as much improved in the fuel-economy department, you can quickly destroy all hope with poor driving habits, so don't be fooled into thinking you can drive like a maniac on 10 cents worth of gas. Any savings are just as affected by the way you drive as how the vehicle was built.
The 3.5-liter V-6 is obviously smaller than the outgoing 4.0-liter V-6, but makes about 40 percent more peak power (290 total). Unlike the previous Explorer, there is no V-8. The new and old Explorers weigh about the same, which seems odd considering the drastic change in platform, yet the stronger 3.5 still has to work pretty hard on steep grades. Chalk up improved economy to the new six-speed transmission, better engine electronics, less driveline drag and a profile that cheats the wind a little better.
And there you have the recipe for a new generation of sport utility vehicle.
Off-road fanatics will likely say the new Explorer is watered down – it can even be had with a four-cylinder engine and front-wheel drive, for goodness sake — but like the dinosaurs that apparently morphed into birds to survive, the Explorer has transformed into something that will likely satisfy more buyers to help keep money rolling in the door for Ford. This is a business that might not be necessarily the survival of the fittest, but certainly the survival of the most popular.
Rhonda Wheeler is a journalist with Wheelbase Media, a worldwide supplier of automotive news, features and reviews. You can e-mail her by logging on to www.wheelbase.ws and clicking the contact link.