January 30, 2014 - 1:45 pm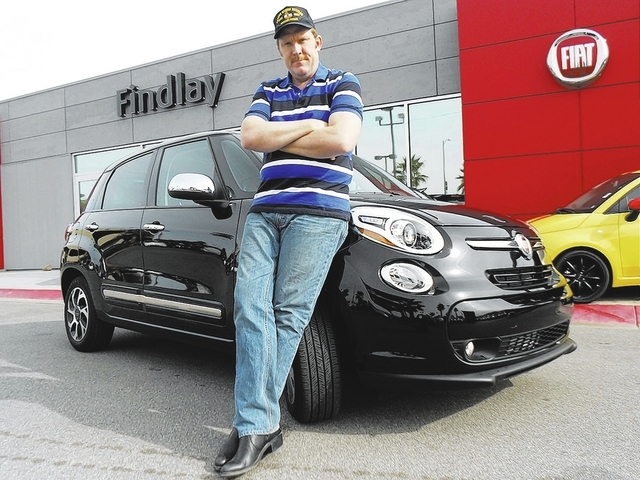 At 6-foot-5, longtime Las Vegan Michael Smith is a big man. However, he fits comfortably into a 2014 Fiat 500 L purchased from Findlay Fiat in the Valley Automall.
"The seats are not low seats," said Smith, a Las Vegas resident since 1992. "You sit up very high and there is great visual with an unobstructed view when driving."
Smith said he has had bigger cars but he prefers the Fiat 500 L. He is a disabled U.S. veteran from Operation Desert Storm, which was fought in the early 1990s.
"I gave up a Ford F150 truck for this car," said Smith, an Air Force brat who grew up all over the world. "We checked out the safety ratings of the vehicle and it was rated very high. In addition, it gets more than 30 miles to the gallon easily on the highway."
Smith's Fiat 500L is powered by a 1.4 liter dual turbo with a six-speed automatic transmission with a dual clutch system and a manual option.
"It has great punch," said Smith, 50. "If you need to hit the accelerator, it kicks in and it goes. When you're passing a semi on the highway and need more oomph, there is no problem. There is no shortage of power, that's for sure."
Smith has been used in Fiat commercials in which he told the story of his height.
"I have plenty of head room and the leg room is also great," he said.
During his many years growing up overseas in countries such as Germany, France, Denmark and Greece, Smith saw the Fiat countless times.
"Over there, people want a smaller car because the roads are narrower than American roads," he said. "That said, it's important to have a vehicle that not only gets good mileage but also makes sense. And the Fiat has the European feel to it. I'm not worried about trying to find a parking place or the price of gas with this car."
Fiat was founded in July 1899 in Italy.
Findlay Fiat, at 310 N. Gibson Road, is part of Findlay Automotive Group, which has automobile dealerships in Nevada, Utah, Arizona and Idaho. It's headed by general manager John Saksa. Call 702-982-4888 or visit www.findlayfiat.com.