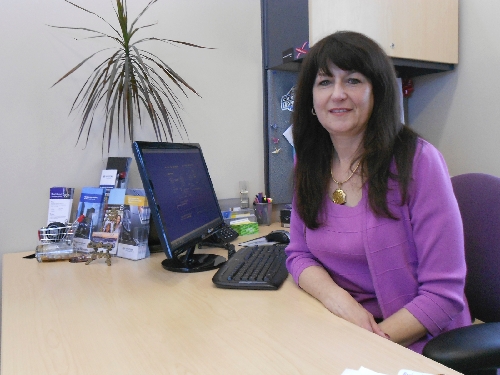 The finance department of any automobile dealership is important to its success, so when Planet Hyundai Sahara was purchased in 2010, management immediately sought to keep Finance Manager Stacy Datlof.
Considered a valued member of the Planet Hyundai team, Datlof first entered the automobile industry in 1987.
A wife and the mother of 12-year-old triplet sons, Datlof grew up in Arizona and Colorado. She now finds herself seldom slowing down, concentrating on her family and the car business at the same time.
"Every day is a little bit different and you meet a lot of very interesting people," said Datlof, who joined Planet Hyundai almost 10 years ago. "In general, the car business has always provided a way to make a living while also helping others."
Datlof said Hyundai has done an incredible job of becoming one of the most respected automobiles in the world.
"Hyundai has made its cars safe and reliable with unequalled warranties," she said. "The car is beautiful thanks to the many changes Hyundai has made over the years. The customer gets a lot of vehicle for the cost. This is a very value-priced vehicle with an incredible amount of amenities like Bluetooth, navigation, power door locks and Blue Link.
"For instance, you can get an Elantra with everything including alloy rims for an amazingly affordable price. Hyundai has really put together cars with a lot of features and benefits while keeping them reasonably priced. That's why Hyundai has risen so quickly in the market. A buyer doesn't have to spend thousands of dollars more on amenities."
Datlof said the Hyundai warranties are unmatched for a buyer segment that includes all age brackets.
"These are amazing warranties. In today's market, it is very important to take care of the customer especially considering how many options there are today. People want to enjoy the process of buying a car and that's where we must all work together to make it happen," she said.
Datlof draws high marks from others in the dealership.
"When we purchased the dealership, we evaluated all of the employees," said General Manager Jason Tamburro. "Stacy was a key component, especially considering that many car buyers are women and she complements the relationships between our buyers and the dealership."
Sales Manager Jesse Leon added, "She is our backstop. She makes certain that every single document that she touches is filled out correctly. Most importantly, though, is the fact that Stacy works hard to make certain that every single buyer gets the best possible financing rate."
Tony Fisher, a sales consultant who, like Datlof, has been with the dealership since 2002, praised her.
"We have had many customers that have requested dealing specifically with Stacy," Fisher said. "She has incredible expertise, kindness and professionalism that combine to help make customers feel comfortable in the car-buying process."
Planet Hyundai also includes Planet Hyundai Centennial, 6200 Centennial Center Blvd.
For more information, call 938-1400 (Sahara) or 483-2200 (Centennial), or visit www.planetlv.com.