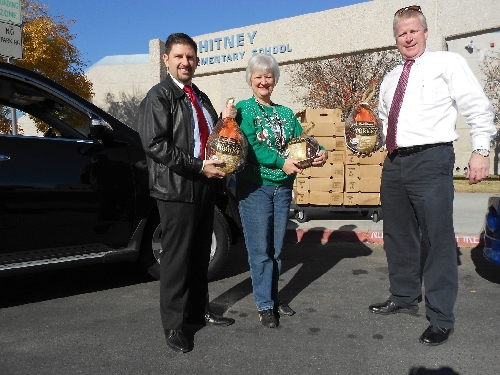 Findlay Acura Internet/Marketing executive Jim Donohue won't likely forget the delivery of 100 turkeys to Whitney Elementary last week.
The school needed the donation to make certain that all families are able to celebrate the holidays with turkeys that weighed 12-14 pounds.
"We have been delivering turkeys for three years," said Donohue, who brought the turkeys to the school in a 2011 Acura MDX SUV. "I'll never forget how cold the turkeys were. I had the heater on full blast all the way to Whitney."
The effort also included help from other automobile-related companies including Rick Glenn of Findlay Toyota, Mary Jo Baker of Cars.com, along with Tony Lee of Auto Trader and Nevada State Sen. Mark Manendo of Collision Authority.
"This is always a team effort," said Findlay Acura General Manager Kevin Hicks. "We love helping Whitney Elementary."
Findlay Acura also donated a van to the school about three years ago. The van is used specifically to transport students at Whitney to doctors' appointments throughout the year.
Whitney Principal Sherrie Gahn said the turkeys were needed badly in order to fulfill an annual commitment to the students and their families of the school. An estimated 85 percent of Whitney's students are homeless, thereby creating a need.
"We needed this very badly," said Gahn, sporting a huge smile after the delivery was made. "We had heard that Findlay was going to help us, but we didn't know for sure when the turkeys would be delivered. This is a godsend."
Manendo, who has been helping the cause with the Findlay stores for the past three years, said the ongoing effort to help Whitney is very fulfilling.
"Collision Authority partnered with the Findlay stores to help purchase the turkeys," said Manendo, whose senate district encompasses the area in which Whitney is located. "The turkeys given to Whitney will most certainly help make the holidays a happy period and we're proud to be a part of this."
Whitney Elementary is situated at 5005 Keenan Ave., just southeast of Boulder Highway and East Tropicana Avenue.
Further information regarding Findlay Acura and its product line can be found at www.findlayacura.com or by calling 982-4100.
Situated in the Valley Automall, Findlay Acura is part of the Findlay Automotive Group of dealerships founded in 1961 by the late Pete Findlay, whose son, Cliff, now spearheads new and used car operations in Utah, Nevada, Arizona and Idaho.
Anyone interested in helping Whitney can do so by calling 702-799-7790.