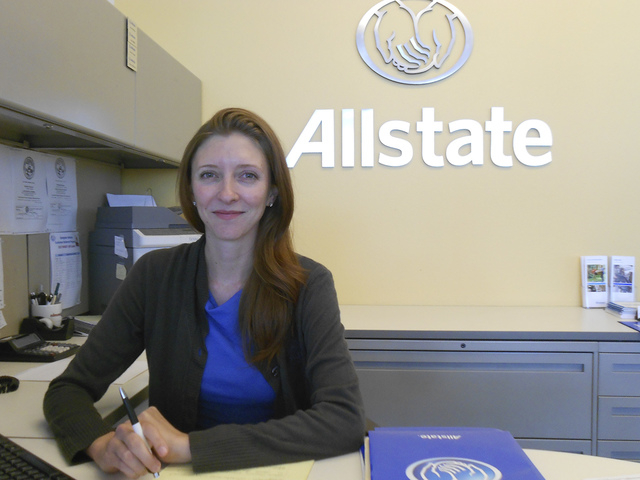 When Findlay Toyota added Allstate Insurance to the dealership at 7733 Eastgate Road in the Valley Automall three years ago, the move was considered a cutting-edge decision all over the nation.
Heading into its third year in November, the full-service insurance company Eastgate Insurance Agency has become a huge success while also sending strong signals to other automobile dealerships that have taken notice since it was opened in 2011.
The idea of an on-site insurance company inside an automobile dealership has been more than mildly successful; it has been a home run while also serving as a trend-setting business move. Spearheaded by native Las Vegan and Agency Manager Kristin Vargas, the agency has been a great addition from the first day.
According to dealership co-owner and general manager Rich Abajian, the addition of Allstate provided invaluable services to the dealership and to the customers. Especially beneficial to Findlay Toyota's customers, the Allstate office also offers the availability of personal lines and commercial insurance products that include auto, home, life, boat, motor home, recreational, umbrella and commercial coverage.
"The Allstate agency has been a big hit for our customers," Abajian said. "Kristin and her staff make everyone feel so comfortable, and the service they provide is unmatched."
"Allstate is expanding its effort to pair agencies at auto dealerships nationwide," Vargas said. "There is a real value to an insurance company being inside a dealership. It's a valuable opportunity to market its products to dealership clientele while also allowing the dealership to deepen its relationships with vehicle-buying customers."
Because of the fact that car dealerships are open for long hours, Eastgate Insurance Agency is also open 84 hours a week from 7 a.m. until 9 p.m. Monday through Saturday.
"Being that we have the great opportunity that we are housed in an auto dealership, we gladly accommodate the hours of a dealership each week with licensed producers who are on staff at every hour to help with customer needs," Vargas added.
"That includes everything from answering a question about your bill to assisting you about a claim for disaster."
Having immediate access to insurance when purchasing a vehicle protects the dealership and the customers from the risk of being uninsured.
Vargas also said that she often hears from customers who like the convenience of having an insurance company within the dealership for many other reasons.
"For instance, during Labor Day weekend, most if not all traditional agencies were closed while the producers at Eastgate Insurance were all working hard to help our customers protect their new vehicles."
The concept has been so successful that Findlay Automotive Co. is expanding the Allstate Insurance presence to other Findlay dealerships. The next location will be in Findlay Cadillac and is expected to open before the end of the year.
Further information regarding Eastgate Insurance can be found by calling 702-567-3700.
Findlay Toyota and Eastgate Insurance are part of Findlay Automotive Company founded more than 50 years ago by the late Pete Findlay, whose son, Cliff, now oversees automobile operations in Nevada, Utah, Arizona and Idaho.