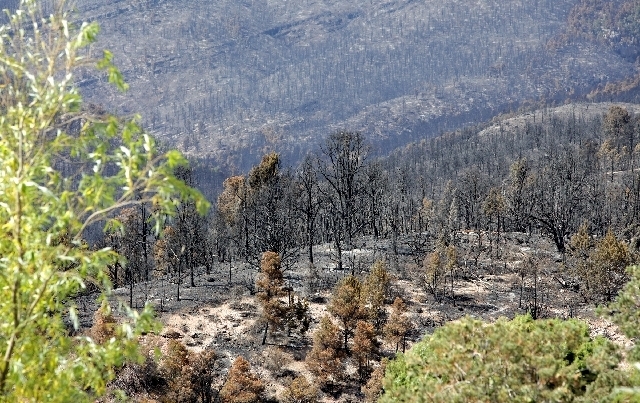 First came fire, then the flood.
The thirsty residents of Trout Canyon were just days away from getting water again for the first time since the Carpenter 1 Fire left them high and dry in early July. Then a series of flash floods over the weekend washed through the burned forest and destroyed what was left of the community's water system, including repair work completed just hours earlier by the Las Vegas Valley Water District.
"The indications I have is the whole doggone thing is gone," said Dan Tarnowski from the Nevada Rural Water Association, which was coordinating the repair effort. "As far as pipe being moved, yeah, I think it moved to Arizona."
Don Kubinski, who has lived in the canyon full time for 15 years, said the flood damage is "scary."
"There's pipe twisted around trees. There's pipe sticking straight up in the air. There's pipe gone," he said.
Over the past 50 years or so, the collection of about two dozen vacation homes and full-time residences drew water through a gravity-fed system connected to a mountain spring about three miles away.
The 28,000-acre wildfire all but destroyed the above-ground water pipe, mostly made from metal, World War II-era munitions canisters.
As a temporary fix, a repair crew from the Las Vegas Valley Water District spent about two weeks patching the old pipe using donated materials. That work was finished late last week.
"We had water flowing down the pipe Friday night, and we were flushing it out," Tarnowski said. "We were getting ready to disinfect it and turn it on."
Said Dennis Walker, who has owned a place for weekend getaways in Trout Canyon for the past 10 years: "It feels like you're getting kicked in the stomach."
Water district spokesman J.C. Davis said the flooding, which reportedly reached depths of 17 feet in some places, erased that work and, with it, any real hope of reconnecting the old pipeline.
Davis said the effort cost the water district approximately $35,000 for labor. Though the canyon lies well outside its service area, the valley's largest water utility was brought in to help by the Nevada Rural Water Association through a little-known and rarely used mutual-aid program for small water systems.
"We are certainly disappointed that the crew's efforts went for naught, but back-to-back natural disasters in the same spot proved too much to overcome," Davis said. "We sympathize with the residents of that area and what they've had to endure."
Since early July, homeowners in Trout Canyon have had to haul water up the mountain on 11 miles of dirt road just to wash dishes, take baths or keep their fruit trees and other landscaping alive.
Their only remaining short-term option might be to install more storage tanks and keep hauling in water with tanker trucks.
Before last weekend's flood, homeowners also were working on a permanent solution to their water woes. They were in the process of forming a nonprofit association so they could apply for federal grant money to fund a replacement — most likely a buried pipe — for the old water system.
Such a project could cost $10 million or more and would have to be built to current standards for safe drinking water.
Based on pictures of the damage he has seen, Tarnowski is not convinced that even a well-engineered, buried water­line could have survived such a flood.
With the trees and underbrush burned away, there was nothing to stop stormwater from scouring away the soil as it rushed down Trout Canyon. A series of floods washed out the dirt road leading up the canyon and sent enough water, mud and debris across nearby state Route 160 to close the highway between Las Vegas and Pahrump.
Tarnowski said a bulldozer was brought in a few weeks ago to cut a new access road above the homes in Trout Canyon in preparation for the pipeline repairs. The road was good enough for a passenger car to use, he said. "Now there's no sign of it."
Kubinski is trying keep a positive outlook on life in Trout Canyon. He may not have running water, but he still has shelter, power, Internet access and "a refrigerator full of beer."
"You know what I'm calling it now?" he said. "This is four-star camping."
Contact reporter Henry Brean at hbrean@reviewjournal.com or 702-383-0350.