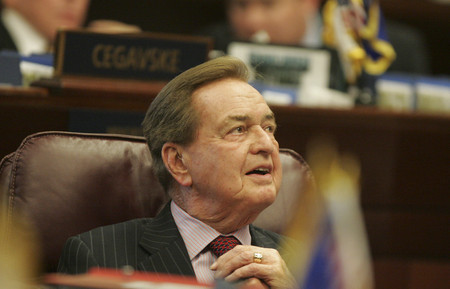 Jim Uster is no longer the chairman of the Clark County Republican Party, but he proved he's still capable of delivering a political message. Uster today came to the defense of state Sen. Bill Raggio, who is being criticized by Republican challenger Sharron Angle's campaign following his Thursday endorsement of Senate Majority Leader Harry Reid.
Uster said in a news release: "As the former Chairman of the Clark County Republican Party, I experienced firsthand Senator Bill Raggio's dedication to the commonsense values and principles that represent mainstream Nevadans. However, Sharron Angle's unmitigated attack on his character and track record was a clear indication that she is too far outside mainstream — so much so that she would be unable to represent Nevada effectively in the US Congress. As Nevada voters continue to learn about Sharron Angle's extreme views, they will see that Senator Raggio is ultimately right about Angle's dangerous agenda and vote for Senator Harry Reid."
Raggio narrowly defeated Angle in a nasty 2008 primary and made it clear Thursday he believed she was an ineffective four-term legislator and would make an ineffective U.S. senator. He reluctantly endorsed Reid.
It would be smart for Angle's allies to leave the Raggio issue alone. Despite what conservative acolytes are saying, Raggio's political credibility is hard to match in Nevada.