Former Henderson resident recounts many jobs as she turns 100
February 5, 2016 - 3:00 pm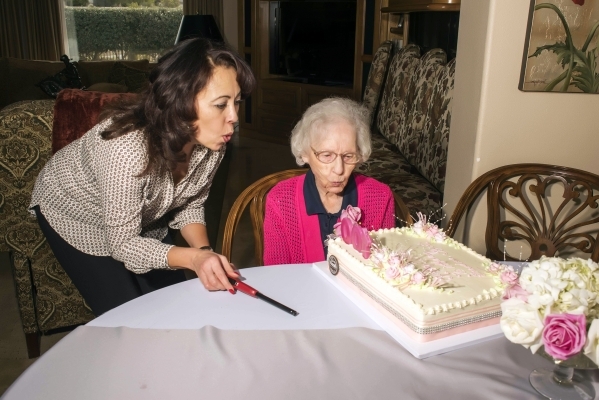 She's been around for a century, but Bertha Smith said she has no special formula for her longevity.
"It's just by chance," she joked recently.
The Texas native and former Henderson resident celebrated her 100th birthday on Jan. 16, when family members threw her a party that was expected to be packed with relatives: Smith has three grandchildren, nine great-grandchildren and 13 great-great grandchildren.
"She's got a grandson who is coming from Boston, and she's got another grandson who's coming from Southern California," said Smith's only son, Ed Smith, who hosted the event in his Summerlin-area home.
Despite residing at an assisted living facility, Bertha pointed out that she is in good health and can get around without problems.
"I don't take any pills," she said. "I use the walker thing just as a precaution, but I can walk."
Also, although she no longer drives, she still has a license, said her grandson, Greg Smith.
"She actually drove until she was 98," he stated in an email. "Although she is currently in assisted living, she has all soundness of mind and walks around unassisted."
Her assisted living facility is in Spring Valley, but her local ties are in Henderson, where she lived for decades. Also, she and her late husband, Louis, ran a grocery store there from 1950-1960.
"I was a checker," Bertha said. "I did the check-in. I never did anything like that before in my life. It was long hours, but I enjoyed it. To get the store started was difficult. He (Louis) would drive into town with enough groceries for maybe a few days because we didn't have money to buy very many."
"She's a very social person," added Ed, who also worked at the store while he attended Basic High School, 400 Palo Verde Drive. "That's why she liked it."
After the store closed, Bertha eventually began working at a family-owned wedding chapel near the Riviera, Greg said.
"In the mid-1970s, my dad owned the Candlelight Wedding Chapel," he said. "My grandmother managed the photo department there, into her 60s. This is how I managed to get into the wedding chapel business with The Little Church of the West (4617 Las Vegas Blvd. South). My grandmother was in charge of the photo processing there until she was 92. This was when we went completely digital, and grandma then completely retired."
Bertha said she was in charge of sending the photos out to get developed and then sending them to the customers.
She also worked for a defense plant during World War II when she lived in Long Beach, Calif., Ed said.
"I always had a job of some kind," Bertha added.
— To reach Henderson View reporter Cassandra Keenan, email ckeenan@viewnews.com or call 702-383-0278. Find her on Twitter: @CassandraKNews