Former police officer still spreads word about safety
February 10, 2015 - 4:15 pm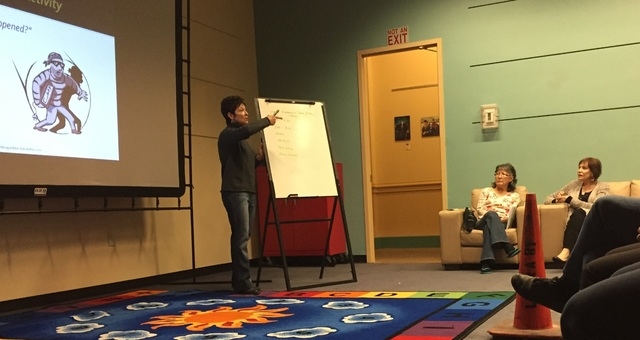 After serving the valley for more than 20 years, former Metropolitan Police Department officer Debra Gauthier continues to advocate for safety and motivate residents to "live fearlessly."
"My reason for having workshops is to serve and protect my community," she said. "As a police officer, I couldn't just walk into a situation and have things escalate. I had to negotiate and work smart."
Gauthier spoke with residents in a free workshop Jan. 10 at the Green Valley Library, 2797 N. Green Valley Parkway. Through a series of safety tips, Gauthier taught attendees how to declare W.A.R. on F.E.A.R. by watching, being aware and responding.
"F.E.A.R. is just false evidence appearing real," Gauthier said. "In other words, the battle is in our mind. As soon as you let fear win, you're locked down."
Gauthier said individuals should "watch" their surroundings as they walk, check elevators and their car before getting inside and park in attended lots.
"We've got to unplug (from technology)," Gauthier said. "When you are moving from Point A to Point B, I want you to watch what's going on. If you're paying attention, people are not going to bother you. They're going to victimize someone who's not watching, who's vulnerable, who's not a threat."
Individuals should also be "aware" of people asking for directions, avoid lingering at the entrance of their residence or car door and pay attention to their gut instincts.
"If you're confronted with a dangerous situation, yell, 'Fire,' because people will look," Gauthier said. "Bad guys sense fear, so get crazy. If you can get really crazy, you're going to scare them. Your biggest threat out there is to be aware and proactive."
Individuals should "respond" to potential threats by standing their ground, making eye contact and controlling the distance between themselves and danger.
"Do you have to be a black belt in martial arts to defend yourself? No," Gauthier said. "When I used to be a police officer, they used to call me the "Mace Queen." I didn't get in fights; I just sprayed everyone."
In 2013, the FBI's website reported that a violent crime occurred every 27 seconds and a property crime every four seconds in the United States.
"We avoid becoming a statistic by raising awareness, knowing self-defense and taking the time to get informed," she said. "The key to all of this is productivity."
Las Vegas resident Esteleen Westby said she attended the workshop with her friend Teresa Johnson to make sure it wasn't "part of a fright game to scare people into feeling a certain way."
"According to the FBI statistics, crime is lower than it has been in 30 years due to new technology," Westby said. "That's not to say crime doesn't happen, though, so it's important to be smart and safe."
Westby said she learned new safety tips, such as parking her car so the driver's window faces the entrance of a building so security cameras and witnesses might have a better angle if anything happens.
"I also like that she says to act crazy," Westby said. "I feel like people might target someone who is more docile than someone who they think might be a problem."
Gauthier said she was the first female officer hired by Metro under the same standards as men in 1980. She wrote the book "Bright Lights, Dark Places" as an inside look at her career.
"We're negotiators, we're communicators, and we work smart," Gauthier said. "With those skills, anyone is just as qualified as any police officer to be street smart and stay safe."
For more information, visit debragauthier.tateauthor.com.
Contact Henderson View reporter Caitlyn Belcher at cbelcher@viewnews.com or 702-383-0403.