French childhood inspires restauranter's culinary vision
October 16, 2015 - 4:02 pm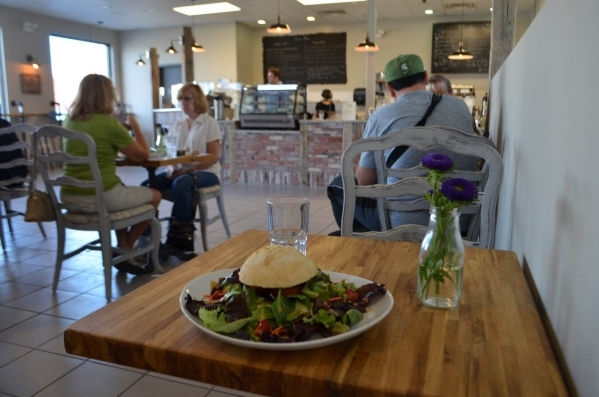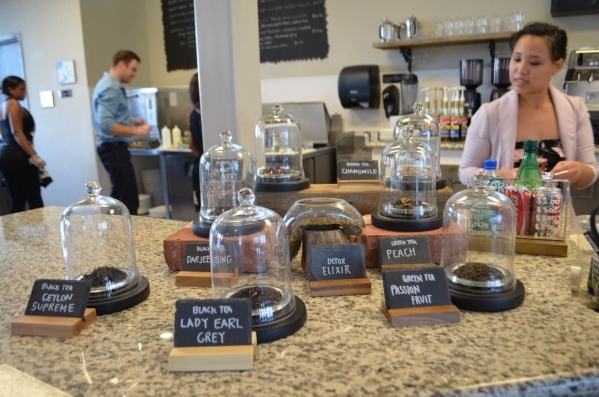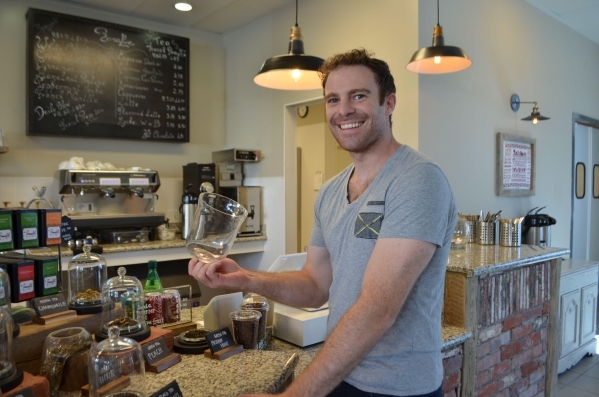 Think you've had a croissant before? If it came cased in plastic at a grocery store, you're probably wrong. Those croissants bear little resemblance to the lightly buttery, many-layered, slightly-crispy, flakey-on-the-outside, soft-on-the-inside wonders at Rosallie Le French Cafe, 6090 S. Rainbow Blvd.
Owner Jonathan Pluvinet starts the dough for each day's croissants the night before and carefully crafts it into the classic half-moon shapes. After they spend the night rising, he bakes the pastries in the morning.
The Summerlin resident's attention to detail doesn't stop there. He spent more than a year searching for the best coffee, trying 40 to 50 types of beans before he found a few favorites.
Pluvinet said business has been great since he hosted his grand opening in early September, which is a fine payoff for all the work he put into the cafe. It took almost two years of searching to find just the right spot and five months of labor and jumping through permit hoops to transform it into a restaurant.
In addition to crafting a menu filled with dishes inspired by his childhood home in southern France, the chef constructed almost everything in the cafe — a former 7-Eleven — himself.
He built the front counter using bricks he found on Craigslist and weathered reclaimed wood from a crane company. He picked up chairs from a recently closed restaurant and refinished and upholstered them using fabric ordered from eBay. Tables were made from reclaimed and restored metal bases topped in butcher block. Shelves for a library area were purchased from a Kenneth Cole store as it was closing.
Pluvinet grew up in the restaurant industry helping out in the family business from pretty much the time he could walk. His cafe is named for the restaurant his parents ran in France. Rosallie was the name of the landowner who sold the farm house that would become the restaurant to his family.
"The name brought a lot of luck to my parents, so I wanted to name the cafe here with that name," he explained.
Pluvinet has been in Nevada for more than a decade.
In France, he was a world champion cross-country skier, competing for the French National Team. As the 2006 Olympics in Torino, Italy, approached he was faced with a choice: Join the Olympic team — which he said is a full-time job in France — or pursue a college education. Education won. He was wooed by several universities in the United States and chose to ski for the University of Nevada, Reno out of love for Lake Tahoe.
When he graduated with a degree in business management, he knew he wanted to stay and found work in Las Vegas at the Wynn. After six years in Las Vegas, he knew it was time to launch his dream, Rosallie Le French Cafe.
So far, the restaurant is open for morning coffee, pastries and breakfast and lunch, with an assortment of sandwiches, salads and soups.
A lounge area with a library welcomes patrons to linger, and a small conference room is available for companies to have private meetings.
Staff member Nebby Teffera said the place is great and unique.
"I love it," she said. "It's different. I had never had French food before."
One thing they don't serve is french fries. Most sandwiches come on a bed of mixed greens.
"I'm always looking for a healthier, better way," Pluvinet said, adding that, whenever possible, he chooses organic ingredients and uses olive oils.
His biggest emphasis is on the coffee and tea experience. Coffee is made fresh throughout the day, and every cup of tea is individual brewed from whole leaves using a French press. Even chilled teas start out hot with ice added after the brew, one cup at a time.
"It takes us a little more time, but they get the full flavor, and there is no bitterness in the tea," Pluvinet explained.
Samples of the teas are displayed in decorative containers near the register so patrons can see and smell the leaves before ordering.
"I don't like tea bags," Pluvinet said. "They crush the tea, and most of the flavor is gone when you crush the leaves. With full leaves, you keep all of the flavor of the tea."
He hopes to expand offerings soon with more breakfast items and the addition of a liquor license so he can serve wines and small bites for dinner. Also in the works is an overheard television to play instructional videos of Pluvinet preparing croissants and other specialty pastries.
For now, the cafe is open from 7 a.m. to 6 p.m. daily. Visit rosallie.com or call 702-998-4121.
— Contact View contributing reporter Ginger Meurer at gmeurer@viewnews.com. Find her on Twitter: @gingermmm.
Rosallie Le French Cafe
6090 S. Rainbow Blvd.
7 a.m. to 6 p.m. daily
rosallie.com
702-998-4121