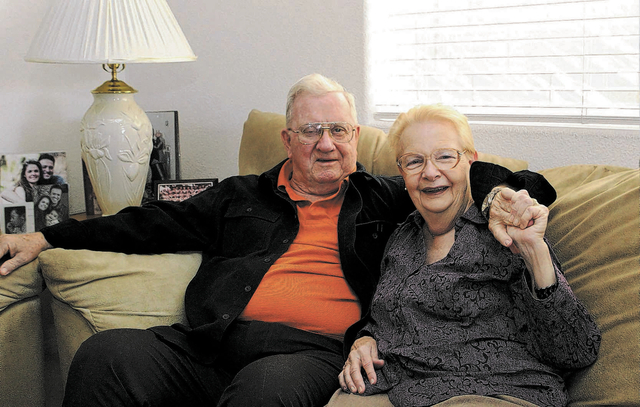 After 53 years of marriage, Liz and Dave Dameron don't think the romance is gone, but it sure has changed over time.
"As you get older, the definition of romance changes," Dave said. "It becomes about the way we know each other and depend on each other."
The Henderson couple have been learning the lessons of love since they first met in a French class in college.
"I almost flunked," Liz said.
She was distracted by Dave, who kept wiggling his ears.
"I couldn't resist," she said. "Every time he would do it, I would just giggle."
They had a few conversations — all in English — and became friends.
Liz went off to Brown University for her master's while Dave went to Cornell University. They stayed in touch through postcards and letters.
They planned to reconnect to go see a show together.
"It was 'The Taming of the Shrew,' " Liz said. "We have probably watched that show two dozen times throughout our relationship."
She joked that Dave still hasn't tamed the shrew.
Finally, they decided to start a relationship.
While dating, Liz realized that Dave was the one.
"I took a train to Providence (R.I.) and was talking to a guy on there," she said. "I told him, 'I think I'll marry this guy' (referring to Dave). "
Dave causally asked Liz to marry him not long after that. Her mother had invited the couple over for dinner.
Fearing her own divorce had adverse effects on her daughter, Liz's mother was adamant about making sure her children were open to marriage.
After Liz told Dave her mother's fears, he simply told her they should get married.
They will never forget their wedding day.
"It was the day after Christmas in a blizzard," Liz said.
Because it was snowing so hard, Liz and her father decided to postpone the wedding for 30 minutes so late guests had a chance to arrive. However, someone forgot to tell Dave.
"I thought they were stuck somewhere," he said.
But everything worked out in the end.
Dave moved to Rhode Island while Liz finished her master's. She then moved to New York while he finished his degree at Cornell.
Their secret to a lasting marriage: They each had a successful career.
"And we weren't always together," Liz said. "We each had our own things going on. When we would come together at night, we had things to talk about because we both had active lives."
The one thing they enjoyed doing together was attending theater productions and shows.
Through their time, they have learned marriage is give and take.
"The one big problem we had was we both snore," Liz said. "So we sat down and said, 'We are both rational adults. Let's just sleep in separate bedrooms.' "
With that, their problem was solved.
Because their anniversary was the day after Christmas, they said they have never had a typical celebration.
"By the time we get there and are done with the holidays, we are done with having cake," Liz said.
After 30 years living in New York, both retired around the same time.
They packed up and decided to travel.
When they were ready to settle down, they decided to move to Henderson, where Dave's family had moved several years before.
They still enjoy the show life in Las Vegas — mostly attending off-Strip productions.
"We are notorious to attending the opening nights of events," Liz said. "People say they worry if they don't see us at an opening night."
They have recently returned to the classroom together to co-teach a class in the continuing education program at UNLV.
"He talks about the history of Shakespeare," Liz said. "I tell the class about all Shakespeare's missteps while creating his productions.
Even though the lessons from their French class have faded, the romance that started there remains.
"I can't speak any French," Dave said. "I can still wiggle my ears though."
Contact Henderson/Anthem View reporter Michael Lyle at mlyle@viewnews.com or 702-387-5201.
FOR MORE LOVE STORIES
View readers from all over the Las Vegas Valley responded to the call to share their love stories in time for Valentine's Day.
Reporters interviewed a woman who met her future husband as he was slipping her daughter french fries at a restaurant, actors who met in a production of "Fiddler on the Roof" and got engaged on stage, octogenarians who perform together in a local dance troupe, skiers who met future spouses on the slopes, a couple who met when she found his lost cat and more.
To read additional stories and watch a video featuring Henderson residents Liz and Dave Dameron and other local couples, visit reviewjournal.com/life/love-stories.