Friendly Ford earns award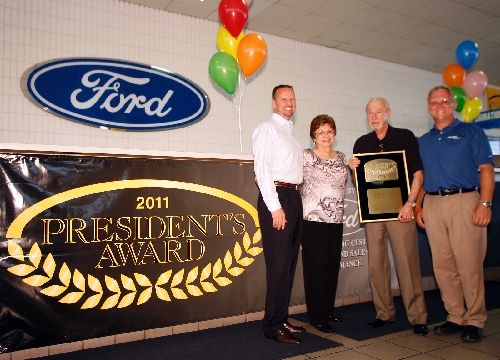 Friendly Ford is among an elite group of Ford dealerships to be recognized with the 2011 President's Award by Ford Motor Co. The prestigious award honors dealerships that have excelled in automotive retailing in 2011 by providing exceptional customer service and satisfaction.
"Earning this award is a reflection of our entire staff and vendor commitment to delivering the best customer experience possible," said Ed Olliges, chairman of Friendly Ford. "This is your award. You won this, all 181 of you, and it is even more special since it comes from the people we value most - our customers. They're the reason you were able to achieve this award."
The President's Award was established in 1998. Dealers become eligible through survey responses from customers about their sales and service satisfaction.
"In order to achieve the President's Award, dealers must exceed customer expectations every day in every department. Dealerships can't buy this award; it is given to you by your customers. This prestigious award salutes those top-performing Ford dealerships achieving the highest levels of customer satisfaction in both sales and service," said Mark Whitthar, regional manager, Phoenix region, Ford Motor Co.
Friendly Ford has won the award 13 times.
Friendly Ford is at 660 N. Decatur Blvd. For more information, visit http://friendlyfordlv.com or call 702-870-7221.