From symphonies to theater to sculpting, Henderson offers residents a range of arts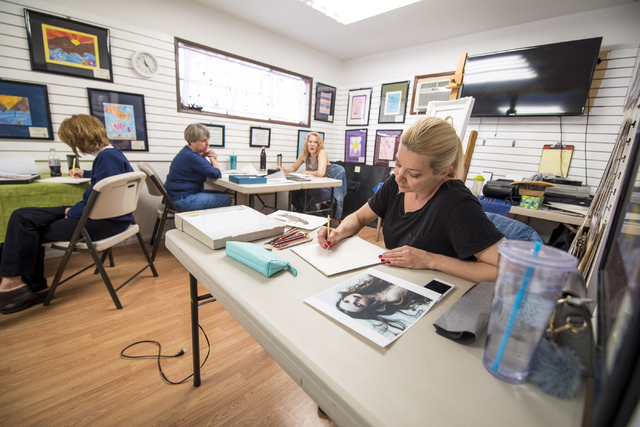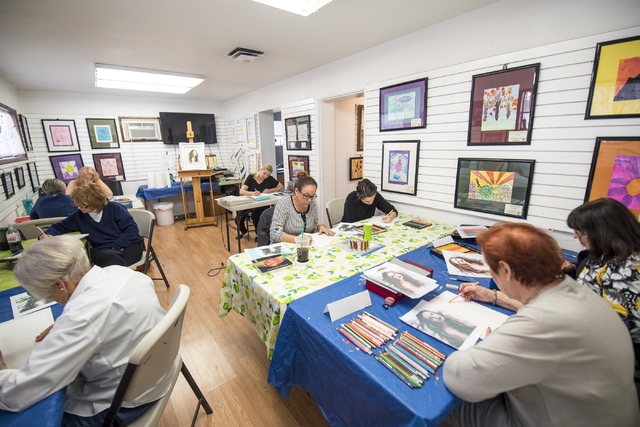 City Lights Art Gallery is tucked away on Army Street in downtown Henderson, but the paintings and drawings created by its members and students get around town on a regular basis.
Their work is displayed year-round at several sites, including the Galleria at Sunset mall, 1300 W. Sunset Road; St. Rose Dominican Hospital's Rose de Lima campus, 102 E. Lake Mead Parkway; and Henderson City Hall, 240 S. Water St., said City Lights gallery director Ed Klein.
"Our goal is, we want to help bring and enhance art in the local community and in the local schools," Klein said.
The nonprofit co-op at 3 E. Army St., one of various groups and organizations helping to bring culture to the Henderson area, also holds fundraisers for its City Lights Scholarship Fund, awarded annually to graduating high school students who are exceptionally proficient in art. The gallery awarded $3,600 last year and hopes to increase that to $5,000 this year, Klein said.
Residents can help raise money for the fund at City Lights' Art Train event, featuring a ride aboard a Nevada Southern Railway train. The event is planned from 5:30 to 9 p.m. April 9, with boarding scheduled at the Nevada Southern Railway, 601 Yucca St., in Boulder City. Tickets cost $30 and must be purchased in advance by calling 702-260-0300.
Classes and workshops are offered at the gallery, too, for oil, acrylic and watercolor painting, as well as drawing. Driving from different parts of the valley, four students were at the site March 8 to take a morning watercolor class led by Klein. He said the sessions are particularly beneficial for older students.
"A lot of seniors find that art is therapeutic," Klein said. "It gives them a place to be and a thing to do on a regular basis that they can count on."
Student Nancy Buford, 67, agreed.
"When you're retired or when you live alone, it's good to have a schedule in your life because you could feel isolated," Buford said. "A lot of women end up alone, and this is a social thing."
The gallery was busy that day switching out art to prepare for its juried show, set to run through March, featuring works in a variety of mediums. The gallery holds two juried shows annually.
"It's been growing every year," Klein said. "This is our biggest show yet. We took in 159 entries, and 145 were accepted."
Visit citylightsartgallery.com.
Henderson art venues seem to be tough to find, said local artist Eugene Lang. He said he is in the process of seeking out venues in Henderson where he can show his work but spends most of his time in his studio.
"Like all artists, I'd rather stay home and paint," the 73-year-old Henderson resident said.
Meanwhile, Lang has a show called "New Year, New Paintings: The Geometric Art of Eugene Lang" at the gallery inside the Green Valley Library, 2797 N. Green Valley Parkway, showing through March. The show features Lang's geometric acrylic paintings.
Visit hendersonlibraries.com.
TAKING THE STAGE
Those who prefer the stage over the easel can audition for Theatre in the Valley productions, where no experience is required. Residents can get involved as cast members or behind the scenes.
"We don't have a core group of actors," said Rick Bindhamer, vice president and technical director for the troupe. "We like to try to give everybody a chance to perform. At auditions, whoever shows up, we have to cast from that. We're geared toward being community theater in the traditional sense — for people who live in the community who want to try theater. Some of our actors who have been in the shows have never done it before, and some are seasoned veterans."
The troupe's upcoming production is the comedy "2 Across" by Jerry Mayer, planned from 8 to 9:45 p.m. April 8, 9 and 15, 16, 22 and 23 and 2 to 3:45 p.m. April 10, 17 and 24 at Theatre in The Valley's Playhouse, 10 Pacific Ave. The cost is $15 for adults, $12 for seniors and $10 for children.
Bindhamer said the performances are offered in an intimate setting.
"You're not 100 feet from the stage — you're right there where the action is going on," he said. "And with theater, part of it is social, and part of it is the fun of seeing live-action productions as opposed to sitting on a couch and watching television."
Visit theatreinthevalley.org.
Other theater groups in Henderson include The Speeding Theatre — Over 55, a nonprofit troupe for seniors offering theatrical performances, outreach shows and workshops. Visit speedingtheatre.org.
CLASSICAL CONCERTS
The Henderson Symphony Orchestra is among musical groups offering regular concerts in the Henderson area, primarily at the Henderson Pavilion, 200 S. Green Valley Parkway.
The group aims to promote culture and classical musical appreciation and education, as well as develop local talent.
"The wonderful thing about our orchestra is it offers a very family-friendly environment," said Bethany Stone, interim director of operations. "People bring their families with young children, and there's young children running through the grass. It's also a great way to introduce your family to classical music and the instruments."
Performances are typically free, with the exception of a concert planned for 8:30 p.m. June 10 at the Henderson Pavilion, which will likely cost $15, Stone said. Musicians will provide accompaniment to the classic silent film "Metropolis" at the event. Meanwhile, a free spring concert is planned at 8 p.m. April 15 at the pavilion.
"What's wonderful is the people who are in the orchestra want to play, and they love to play, not because it's a paying gig," Stone said.
Visit hendersonsymphony.org.
Other Henderson-area musical groups include the Young Artists Orchestra, which helps youths ages 12 through 22 perform at a higher level and pursue music as a career; and Opera Las Vegas, which offers opera productions and shows throughout the year, using a combination of local singers and established performers. The websites are lvyao.org and operalasvegas.com.
CITY OF HENDERSON PROGRAMS
The city of Henderson offers a variety of cultural programs for youths at six recreation centers: Black Mountain, 599 Greenway Road; Downtown, 105 W. Basic Road; Henderson Multigenerational, 250 S. Green Valley Parkway; Silver Springs, 1951 Silver Springs Parkway; Valley View, 500 Harris St.; and Whitney Ranch, 1575 Galleria Drive. Cultural programs also are offered for older residents at the Heritage Park Senior Facility, 300 S. Racetrack Road, and the Downtown Senior Center, 27 E. Texas Ave.
Classes at the sites are offered in subjects such as ballet and tap dancing, acting and drama, arts and crafts, and music. At the senior centers, groups also take trips to see performances at area venues, such as The Smith Center for the Performing Arts, 361 Symphony Park Ave., and the Nevada Conservatory Theatre at UNLV, 4505 S. Maryland Parkway.
City-hosted performances and other events also are offered at the Henderson Pavilion and the Henderson Events Plaza and Convention Center, both at 200 S. Water St.
Visit cityofhenderson.com.
OTHER OPTIONS
Residents looking to polish their pen can get involved with the Henderson Writers' Group, a nonprofit that provides a networking and critiquing forum for writers of all skill levels, along with resources for education and craft development. Upcoming meetings include ones planned from 2 to 4 p.m. March 24 and 31 at National University, 2850 W. Horizon Ridge Parkway, Suite 304. Visit hendersonwritersgroup.com.
Those who want to pursue sculpting can take part in ceramics classes and workshops at Mission Hills Pottery, 9480 S. Eastern Ave., Suite 160. Visit missionhillspottery.com.
Workshops and classes in arts and crafts for all ages are planned at Create, which offers a craft studio at 1570 W. Horizon Ridge Parkway, Suite 170. Visit createhenderson.com.
Art Train
The nonprofit co-op City Lights Gallery, 3 E. Army St., plans to host Art Train from 5:30 to 9 p.m. April 9 to raise funds for its City Lights Scholarship Fund, awarded annually to graduating high school students who are exceptionally proficient in art. The event will feature a ride aboard a Nevada Southern Railway train, with boarding scheduled at the Nevada Southern Railway, 601 Yucca St., in Boulder City.
Tickets are $30. Call 702-260-0300.