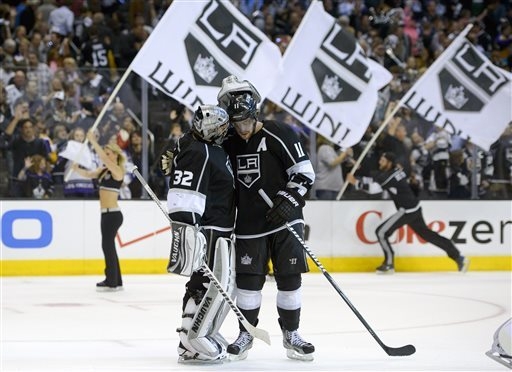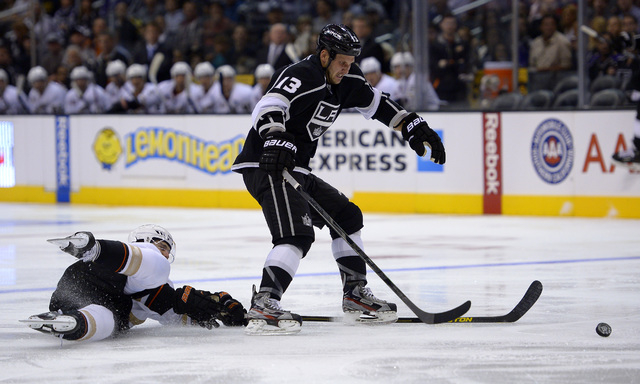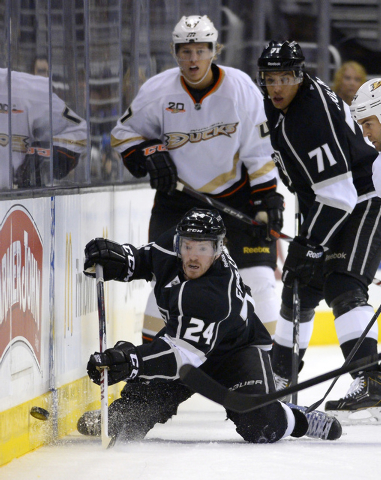 There's preseason hockey games, then there's preseason hockey games that feel like regular-season games.
Then there's "Frozen Fury," which feels like a playoff game.
The Los Angeles Kings missed their annual trip to the MGM Grand Garden last year because of the NHL lockout. Worse, they missed coming to Las Vegas as defending Stanley Cup champions. To make up for it, the Kings scheduled two games this year — tonight against the New York Rangers and Saturday vs. Colorado, their longtime Frozen Fury foe.
"We always look forward to the Vegas trip," Kings captain Dustin Brown said. "It's a unique atmosphere. The fans are really into it and it's not your average preseason game, which is good because, as a veteran, preseason can be a little tough. For the players, this weekend is a great way to finish up (preseason) as we get ready to start the regular season."
The 28-year-old right wing has missed the entire preseason after injuring his hamstring on the first day of training camp Sept. 12. Brown won't play tonight against the Rangers but hopes to play Saturday against the Avalanche and get a little ice time before the regular-season opener Thursday against Minnesota. The Kings are 2-2-1 in the preseason.
"It's frustrating," Brown said. "But if there's a good time to get hurt, I guess it's now."
In nine NHL seasons, all with the Kings, Brown has developed into a hard-nosed two-way player who can find the net while imposing himself physically all over the ice. A first-round draft pick of the Kings in 2003 and taken No. 13 overall, the Ithaca, N.Y., native has 181 goals and 388 points along with 452 penalty minutes. Brown has always played with an edge and sometimes his opponents think he crosses the line. But Brown doesn't believe he's a dirty player.
"I just play hard every shift," he said.
He's also talented enough to represent his country. Brown was a member of the United States squad that lost 3-2 to Canada in the gold medal game at the 2010 Winter Olympics in Vancouver. It remains his most disappointing moment in hockey as the U.S. team battled back in the final seconds to tie the game on Zach Parise's goal and send it into overtime.
"We probably wished we could have stayed out on the ice and kept playing. We had all the momentum," Brown said, recalling the emotions going through the team in the locker room as OT loomed. "But the Olympics are a unique experience. You're playing against your (NHL) teammates and you're playing for your country. There's a lot going on."
When Sidney Crosby scored to give Canada the gold, Brown and his U.S. teammates left Vancouver knowing that, despite the defeat, they had helped continue to grow the sport back home.
"Obviously, 1980 was huge for hockey in the U.S.," he said referring to the "Miracle On Ice" team that won the gold medal at Lake Placid. "But when you look at what we did in 2002 (in Salt Lake City) and 2010 where we took silver both times, those are certainly big moments for the sport and we need to capitalize on that."
The Winter Olympics in Sochi, Russia, are only a few months away and Brown expects to be part of the team that will contend for gold come February.
"Last time, we did a very good job of identifying roles and we were able to surprise people," he said. "This time, everyone's expecting us to compete for the gold so it's important we take the 20 right players, not necessarily the 20 best players when we go to Russia."
But as disappointing as losing the 2010 gold-medal game in Vancouver may have been for Brown, winning the Stanley Cup in 2012 over the New Jersey Devils will remain his greatest moment in hockey.
"What I'll always remember was the fans cheering with three or four minutes left and we're up 6-1," Brown said of the clincher in Game 6 at the Staples Center. "There was no drama. We knew we were winning the Cup. I'll never forget seeing the guys on the bench, hugging each other, enjoying the moment, being able to soak it all in. I wouldn't change anything about how we won it."
Each player gets to spend a day with the Stanley Cup. For Brown, that meant returning to Ithaca with his family and sharing it with friends and the people who helped launch his hockey career.
"It went smoothly," he said of his day, which included his three sons drinking chocolate milk out of the Cup. "To share the experience with everyone and see the faces of all the kids in town is something I'll never forget."
Contact reporter Steve Carp at scarp@reviewjourrnal.com or 702-387-2913. Follow him on Twitter @stevecarprj.
FROZEN FURY XV
■ WHAT/WHEN: Los Angeles Kings vs. New York Rangers, 7:30 p.m. Friday; Los Angeles Kings vs. Colorado Avalanche, 7:05 p.m. Saturday
■ WHERE: MGM Grand Garden
■ TV: Tonight, NHL Network (Channel 316); no TV Saturday
■ TICKETS: $104.15, $61.10, $44.55 each night