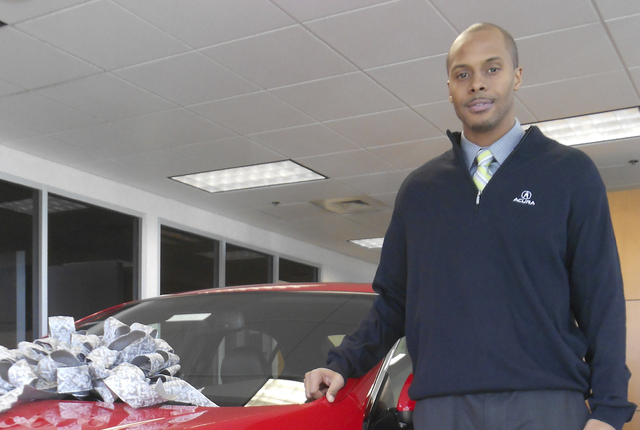 In the past 10 years in the car business, new Findlay Acura General Sales Manager Allen Montalvo said he has seen his share of changes; and he really likes the changes he has seen with Acura in the past couple of years.
"As it relates to luxury automobiles, this dealership has captured more of the luxury vehicle market in Southern Nevada," said Montalvo, who spent almost five years in the U.S. Marine Corps before beginning a new career in 2003. "Our reliability rating is tremendous, so the buyers of the Acura brand can rest assured in knowing that the vehicle is dependable.
"I can honestly say that I have peace of mind in knowing that my customers will enjoy their years with their Acura," said Montalvo, who is from Queens, N.Y. "We sincerely worry about customers and with the Acura, that worry is virtually eliminated."
In addition, there is great history in the Acura name that intrigues Montalvo.
"When I joined Findlay Acura about 2½ years ago, there wasn't any product available because of the tsunami that hit Japan," Montalvo said. "There was a huge demand for the vehicles and it took a good seven months before we got the natural flow of the Acura models.
"During that time, we had to concentrate on quality Acuras," Montalvo said. "The setback actually made us better people because we had to work harder. We reached out to our customers working our database concentrating on customers who were in leases."
The transition period enabled lease customers to trade in their leased vehicles for newer ones, especially since the Acura brand retains its value so well, he added.
"We also had to count on used vehicles during that time," Montalvo said. "Back then, we had a great used-car manager in Matt Nichols who combed the auctions to find quality used vehicles that could be featured on our lot."
Nichols has become general manager at Reno Land Rover. He and Findlay Acura General Manager Kevin Hicks joined forces in previous years at Findlay Acura to lay the foundation for the business.
"With Findlay Automotive Group, we have about 2,000 vehicles to choose from when you consider all of the dealerships under the umbrella," Montalvo said.
"When one of our customers tells us what kind of vehicle they would like, we have many choices for them when you consider what's available and we'll work hard to find that vehicle."
The car business is not an easy profession, but the work involved can lead to longtime friendships.
"I have absolutely gained a lot of friends through the car business over the years," Montalvo said. "We are No. 1 in residual value of all brands. Take the appreciation and the maintenance with the Acura, and you can enjoy the luxury of the vehicle (but) you're paying for a nonluxury vehicle."
Findlay Automotive Group was founded more than 50 years ago by the late Pete Findlay, whose son, Cliff, overseas new and preowned vehicle dealerships in Nevada, Idaho, Utah and Arizona.
For more information, call 702-982-4100 or visit www.findlayacura.com.