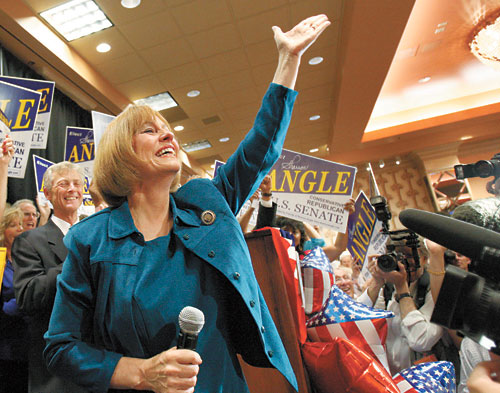 Sharron Angle better get it together quickly if she hopes to do battle in the Big Leagues against the likes of Sen. Harry Reid.
Take Friday, for example. The unemployment numbers were due out and everyone waited in anticipation.
The numbers came out. Nevada was the worst in the nation and responses from stakeholders came fast and furious. National Democrats and Republicans were quick to respond in this age of the Internet. Sen. Reid also commented as did Shelley Berkley. But Sharron Angle was no where to be found.
The state's largest and most influential newspaper, the Las Vegas Review-Journal, had to go to press with this from its Washington correspondent Steve Tetreault:
"While Sharron Angle, Reid's Republican opponent in the fall race, was preparing reaction through her campaign, she remarked on her Twitter account: 'Nevada now leads the nation in unemployment. Is there any doubt we're heading in the wrong direction with Harry Reid?'
The Angle campaign response finally came in one minute before midnight … and it was pathetic.
It did not even come from Angle. It came from "Angle spokesman Jerry Stacy." whoever that is.
The Angle camp needs to get it together better, and faster, than that. When you can't get a comment to the press on a planned news event for an entire day, and when you do get something out, it's not even from the candidate, well, that could spell trouble for a candidate in a knock-down-drag-out race such as the one she is in.
It won't take long before we know whether this was a glitch or not.
Here's the press reaction they sent out at 11:59 p.m. June 18:
For Immediate Release
ANGLE CAMPAIGN: REID STATEMENT ON UNEMPLOYMENT SHOWS DISCONNECT
Reno, NV – U.S. Senate candidate Sharron Angle today said she is dismayed by the latest unemployment figures for Nevada and said they reflect "the utter failure of the Reid approach to the U.S. economy."
The newest numbers showed Nevada's unemployment rate at 14 percent, the highest in the nation.
During a Senate speech earlier today, Harry Reid stated that the Nevada economy "is getting better but not good."
Angle spokesman Jerry Stacy responded by saying things are not getting better but getting worse.
"Reid's response reflects just how out of touch Harry Reid is with the plight of Nevada families," Stacy said. "It is now clearer than ever that the Obama/Reid agenda of increased government spending, oppressive regulation of business and the uncertain effect of Obamacare and a massive tax increase when the 2001 tax cuts expire in 2011 is only adding fuel to the fire. We need proposals to help, not hinder, businesses from hiring new workers and give them certainty on taxes and regulation."
Stacy said that Sharron Angle will go to Washington and be a voice for lower taxes, less government spending, and giving families more of their money back to help get Nevada moving again.