Gumball 3000 charges into Las Vegas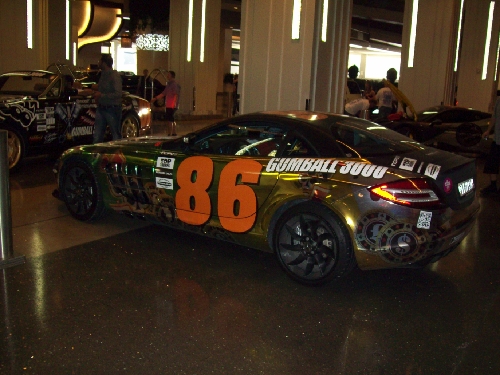 Las Vegas and the Gumball 3000 were made for each other. Exotic super cars, rock 'n' roll, fashion, rebellion, comedy, side bets, no speed limits, radar detectors, highway patrol, glamour, endurance, audaciousness and a nonstop party.
A cluster of about 100 supercars were racing from New York to Los Angeles May 25-31. They drove on Highway 93 across the Arizona-Nevada border May 30 to gather at The Cosmopolitan of Las Vegas on the Strip.
I waited for them near Hoover Dam in a parked Chevrolet Volt that Findlay Chevrolet had generously loaned me to participate in an ecofriendly part of the event. I really didn't know what to expect, so I brought along my knowledgeable friend Monte Barber to help me chronicle the exotic vehicles that would be flashing by.
Just a sample of the field included a Bugatti Veyron 16.4 Grand Sport; Lamborghini Murcielago LP 670-4 SV, Aventador LP 700-4 and Gallardo LP 560-4 Spyder; Ferrari California, 599 GTO and 458 Italia; Mercedes-Benz SLS AMG as well as an SLR 722 McLaren wrapped with poker chips and a roulette wheel on its hood. American "muscle" also turned out, including a 1957 Chevy Bel Air, a Camaro SS, Corvette, Ford Shelby Cobra and a 1972 Oldsmobile Cutlass driven by a female racing team from Florida.
The first Gumball road rally began in the United Kingdom about 14 years ago. Maximillion Cooper gathered dozens of friends, who were also sports car owners, to join him on a road trip to Italy. There were no rules to the event; the idea was, "Just drive fast and get there as soon as possible." These rallies soon became international with more than 100 drivers showing up, eventually spawning a worldwide corporation that now features a recognized Gumball brand and also sponsors philanthropic causes like the Make-A-Wish Foundation.
The Gumball 3000 drew inspiration from the 1976 movie "Gumball Rally," which popularized outlaw cross-country road races in the United States like the Cannonball Baker Sea-To-Shining-Sea Memorial Trophy Dash, also known as the Cannonball Run. These no-rules, no-speed-limit road races sprang up in response to the Emergency Highway Energy Conservation Act of 1974 that sought to impose a national maximum speed law of 55 miles per hour on all interstate highways.
This mandatory conservation effort by the U.S. government was in response to the Organization of Petroleum Exporting Countries' oil embargo of 1973, which diminished the U.S. economy's supply of imported crude oil. The resulting shortage caused panic at local gasoline pumps as prices for refined gasoline spiked. Frustrated consumers waited in long lines to get their chance to refill their gasoline tanks. Since then, the highway speed cap has been lifted, but automotive fuel efficiency requirements have been raised during the last 40 years.
This year, the Gumball 3000 returned to the United States from Europe. Actor David Hasselhoff welcomed the international participants to the U.S. at the starting grid in New York City's Times Square and kicked off the race by waving an American flag.
Cooper was the first driver out of the pack in a Cobra sports car, which honored the late Carroll Shelby. Team Habibeez from Dubai, United Arab Emirates, drove several Rolls Royce Phantoms with its team dressed in Arabian headgear. The Dudesons, a comedy stunt team from Finland, drove a Baywatch rescue truck with surfboard attached.
After leaving New York, the Gumball route turned north to Toronto, back south to Detroit, then Indianapolis (just in time for the Indianapolis 500 where Gumball Team Barracuda came in 12th place), St. Louis, Kansas City, Mo., Santa Fe, N.M., and Las Vegas, before completing the rally in Los Angeles.
Karta Healy, another longtime Gumballer, embraced the mission of his family's business, Kettle Foods, to advocate for good stewardship of the planet's resources during Gumball 3000 events. He focused his own wealth on improving transportation, particularly in the bicycle industry.
This year, he initiated an electric car relay to escort the Gumball 3000 drivers by using a sequence of electric car drivers at specific locations, eliminating the need to recharge along the way. Healy got the EV relay under way in New York by driving a Fisker Karma during the initial part of the journey.
Jon Hallquist, vice president of the local Las Vegas Electric Vehicle Association, also participated in the EV relay's Nevada leg of by driving an electric Pontiac Fiero conversion. The next day, Jon and I followed the Gumballers up highway 160 to Pahrump, en route to Death Valley National Park near the California border and onwards to their final destination in Los Angeles.
From "no limits" excess to enlightened alternative fuels to generous philanthropy, Las Vegas and the Gumball 3000 were definitely made for each other.
Stan Hanel has worked in the electronics industry for more than 30 years and is a long-time member of the Electric Auto Association and the Las Vegas Electric Vehicle Association. Hanel writes and edits for EAA's "Current Events" and LVEVA's "Watts Happening" newsletters. Contact him at stanhanel@aol.com.