Guy McAfee credited with branding the Strip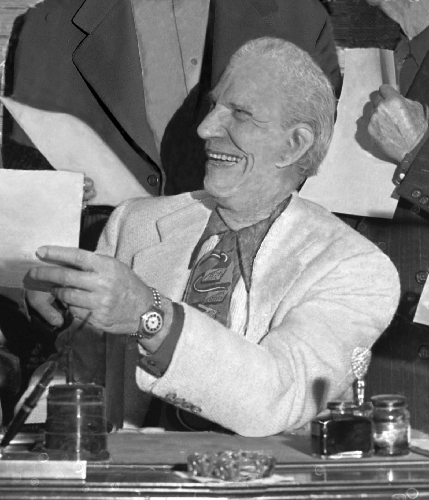 He very well may be the Guy who gave one of the world's most renowned streets its famous nickname.
Guy McAfee helped define the high-end watering hole in Las Vegas and changed the face of Fremont Street by opening the Golden Nugget, but he may be best known for unofficially naming Las Vegas Boulevard "the Strip."
McAfee cruised into Las Vegas in 1939 on a road paved by his reputation of crooked dealings as a Los Angeles police officer. He was in the department's vice squad and became a power player in its purity squad, which took aim at an outlawed trio of offenses: alcohol, gambling and prostitution.
McAfee cleaned up, in his way. He accepted bribes from illegal business owners and even married a brothel madam at one time, said Patrick Gaffey, cultural program supervisor for Clark County Parks and Recreation Department.
He and a growing gang of thugs, mostly fellow law enforcement employees, had their hand on the purity pulse and in the illegal services' purses.
The group included Los Angeles politicians, most notably a mayor named Fletcher Bowron, who often made things tumultuous for McAfee.
McAfee's connections kept him mostly out of trouble, aside from various investigations and a rumored 1931 connection to the murder of two rival businessmen. McAfee was never charged with a crime.
He ran the Clover Club on the Sunset Strip in Los Angeles and catered to wealthy patrons. It was during Prohibition, and the club was outfitted with reversible gambling tables in case of raids.
McAfee often was referred to as the Overlord of the Gaming Tables, said Dennis McBride, historian with the Nevada State Museum in Las Vegas.
The bookends of his life shine a bit brighter than his seedy Los Angeles days.
McAfee was born in Winfield, Kan., on Aug. 19, 1888, and was orphaned young in life. He moved to Seattle in his early 20s. He married a woman named Ava and had a daughter named Alice. McAfee severed ties with them to become a firefighter in Los Angeles. His relationship from then on with his daughter was estranged, and she was intentionally omitted from any share of his estate, McBride said.
McAfee became a police officer after being a firefighter. His second marriage, to the madam, left him a widower. His third marriage to Hollywood starlet June Brewster had staying power. He adopted her daughter Kathleen Elizabeth McAfee, McBride said.
The family enjoyed wealth and had homes in Las Vegas and Los Angeles, where June Brewster McAfee liked to fly privately back and forth, Gaffey said.
When McAfee moved to Las Vegas, rumors abounded that he was either run out of Los Angeles or was broke, McBride said.
"He had such a reputation down there," he said. "People in Las Vegas knew who Guy McAfee was before Guy McAfee made his advent there."
McAfee laid out his intent in an undated Las Vegas Review-Journal article in roughly 1939.
"I came to Las Vegas because I'm happily married, have a great sized stake and have decided to operate in a community where my business of gambling is a legal proposition," McAfee said. "I'm not saying the Bowron administration made it too hot for me, for that wouldn't be strictly true. I've cut myself a slice of a new kind of life. Get this straight, no one ran me out of Los Angeles. I'm pulling out because I want to and no other reason."
McAfee's first business endeavor in Las Vegas was to purchase the Pair O'Dice Club and Casino on Highway 91, which is now Las Vegas Boulevard. He changed the name to the 91 Club and entertained the high-end clientele he treated at the Clover Club.
"He wanted to be legitimate," Gaffey said. "He was tired of being investigated and fodder for the scandal sheets. He came here because gambling and selling alcohol were legal."
McAfee eventually sold the club to R.E. Griffith, McBride said, and the businessman built the Frontier around Club 91.
McAfee set his energy to business on Fremont Street.
He opened the Frontier Club and a swanky bar called the Mandalay Room adjacent to it.
The bar also was a stab at appeasing his wife, June, Gaffey said.
"June Brewster hated Las Vegas," he said. "She had been a star in a New York in a sexy revue and went to Hollywood. She was really into nightlife and the big city, and even Hollywood was a step down for her from N.Y.C. (Las Vegas) was a dump as far as she was concerned."
Despite her woes, her husband kept expanding his business empire.
McAfee assisted in opening the Pioneer Club.
His largest undertaking was opening the Golden Nugget in 1945.
"At the time, that was the brightest sign in the world and the biggest sign in the world," McBride said.
He sold the property later for an undisclosed sum.
McAfee's had a hand in the El Rancho, the first Strip hotel and casino, The Green Shack, a historic restaurant in the east part of town, and other clubs.
"He had a piece of all kinds of places all over town," Gaffey said. "He dominated this city for quite a while."
He had nicknames of "Mack," which was both for his last name and a French word meaning pimp, or "Slim," and was known for a "sardonic sense of humor," Gaffey said.
"I've seen a lot of photos, and he usually has a sly look to him," he said.
McAfee did a lot of charity work and was a supporter of the Elks Club's Helldorado Days.
"He also seemed to mellow a lot as he got older," Gaffey said. "He turned into more of a human being at the end of his life."
As an older man, McAfee endured health problems after a fall from a horse while hunting in Elko in the early 1950s, Gaffey said.
McAfee died in January 1960 at Sunrise Hospital of "complications resulting from surgery," McBride said.
His obituary was front-page news in the Las Vegas Review-Journal. It was the same paper where his wife was later credited with saying McAfee nicknamed Highway 91 "The Strip." The moniker was a nod to his beginnings on the Sunset Strip.
Gaffey said the nickname represented what McAfee saw in the young city.
"I think calling it the Strip was a joke, but there was some seriousness to it," he said. "He decided the highway system was getting serious enough that it was possible for people to drive here from L.A. He could see a real future."
Gaffey has been compiling information about McAfee for a book.
"If you read any history of Las Vegas, you'll see two or three lines about him," he said. "It will basically say he was a cop on the vice squad and he came here and started a whole bunch of casinos. That seemed so inadequate. I wanted to know the rest of the story."
Contact Centennial and Paradise View reporter Maggie Lillis at mlillis@viewnews.com or 477-3839.