Heller says Trump not good for Nevada
September 18, 2015 - 6:57 pm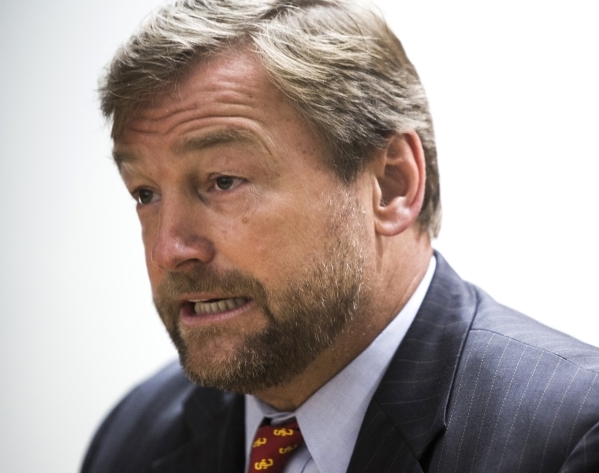 U.S. Sen. Dean Heller says Donald Trump isn't good for Nevada.
The Republican Nevada senator, who is supporting Jeb Bush's run for president, made the comments while meeting with the Review-Journal's editorial board Friday.
"I don't think Donald Trump is good for Nevada," Heller said of the billionaire businessman and GOP front-runner in the presidential race. "I think he's digging us a deep hole."
Trump, running in a field of more than a dozen Republicans, has attracted criticism for a range of controversial comments on such topics as immigration and the appearance of fellow GOP candidate Carly Fiorina. In a Rolling Stone story, Trump said "Look at that face!" when watching her on television. Trump called undocumented immigrants "rapists" when he announced his bid for president.
"I think he reinforces some of the stereotypes about Republican candidates and this war on women and everything else," Heller said of Trump.
As for Bush, Heller said the former Florida governor's work as reformer in a large state, his belief in states' rights and his Spanish-speaking ability are all assets.
"I think that's a great package for the state of Nevada," Heller said.
Heller's wide-ranging nearly one-hour visit touched on several topics, including banking, immigration, the proposed Yucca Mountain nuclear repository and infrastructure needs in the United States.
Heller is poised to become Nevada's senior senator after Sen. Harry Reid's successor is elected in November 2016. Reid, D-Nev., isn't running for re-election. Heller said that he is prepared to take on that role and he is not interested in running for governor in 2018, when Republican Gov. Brian Sandoval's term is up.
Heller said much work remains to be done on the economic front, noting that the nation has the highest corporate tax rate in the world, which is spurring companies to relocate abroad.
"We cannot be competitive if we have the highest tax rate in the world," Heller said.
The United States also needs to heavily invest in infrastructure, including roads and bridges, Heller said. But he said he doesn't favor increasing the fuel tax, noting that an increase would run counter to the push toward electric and hybrid-powered vehicles.
"I support Tesla. At the end of the day, I want people driving Teslas," Heller said, referencing the electric car producer that is building a huge battery factory in Northern Nevada.
Instead, Heller said he supports allowing corporations to voluntarily repatriate capital located overseas to pay for infrastructure growth.
He said the nation needs to make comprehensive immigration reform that extends beyond border security.
He is bracing for an uphill battle on some aspects of immigration reform with a Republican-controlled Congress after his ally on the other side of the aisle, Reid, retires from the Senate.
As Nevada's new senior senator, Heller plans to take the anti-Yucca torch from Reid and carry it by persuading colleagues to support the Nuclear Waste Informed Consent Act bill that he and Reid introduced in March.
"I'd like to maintain that opposition but at the same time pass meaningful legislation that will allow states to decide themselves," Heller said.
Much will depend on who is elected president in 2016, and Heller admits he's "leery about some of the Republican candidates."
"The problem is this: If you had a vote today in the House of Representatives on Yucca Mountain, there might be — might be — 50 votes against it, Republicans and Democrats," with most other states tilting in favor of building a repository at Yucca Mountain "because it's not in their backyard."
Contact Ben Botkin at bbotkin@reviewjournal.com or 702-418-6089. Find him on Twitter: @BenBotkin1. Contact Keith Rogers at krogers@reviewjournal.com or 702-383-0308. Find him on Twitter: @KeithRogers2.