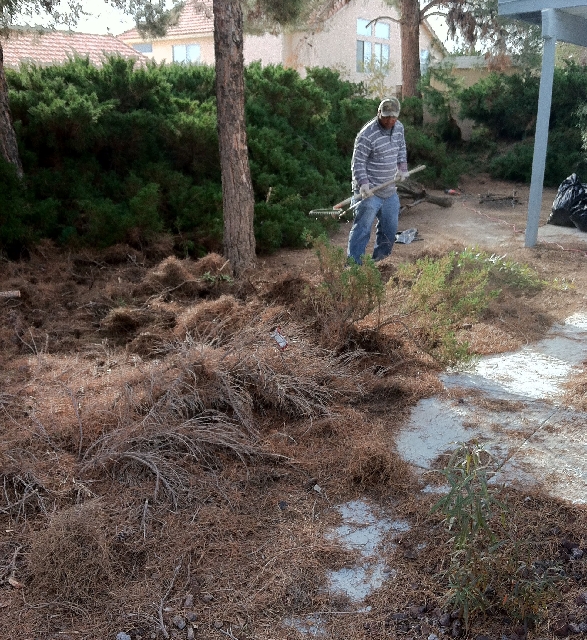 Normally, Rachelle Carter doesn't see herself as the type of person to get involved.
But knowing Rich Lively, she couldn't help herself.
"Rich doesn't ask for help," Carter said. "But when someone is sick or in need, you help."
Joe Cotterman, another neighbor to Lively who has been in the same neighborhood near Windmill Lane and Eastern Avenue more than 20 years, said that's what makes the community different.
"Our area is unique," he said. "We watch out for each other."
Carter, Cotterman and many other neighbors in the Henderson community have rallied to take care of Lively, a retired military veteran who hasn't been able to move around easily after having hip surgery.
The group's most recent project Feb. 9 was cleaning up Lively's backyard. Even with neighbors sick or out of town, people did whatever they could to help.
"We had people come over who were sick," Carter said.
When they decided to hire people to do the main work — since much of the neighborhood is older — the community members pitched in $40, $80 or $100 to get workers.
"One lady made soup for the workers," Carter said. "Someone helped with the signs (asking for help)."
Starting early Saturday, it took the group five hours to clean the yard.
"We had 129 Hefty garbage bags," Carter said. "It took us five hours to clean and Republic Services 10 minutes to pick up."
Cotterman added that there is a significant difference from what the backyard looked like before to what it looks like now.
"He has his patio back so he can sit out side and enjoy it," he said. "Now his dog has more room to run around."
"It looks a lot better now," Lively said. "It just had a bunch of dead bushes, and I couldn't get back there to take care of it."
Lively said on top of the work, Carter brought him a table and chairs so he could enjoy his new surrounding.
"Now I can go out there and sit with my dog," he said.
Carter said this isn't the first time neighbors have helped Lively.
In September, the neighborhood worked together to clean his front yard. Cotterman said most of the grass had died when a pine tree fell down.
"The acid in the pine needles just killed his grass," he said.
With racks, leaf blowers and other yard tools in hand, the community pitched in to transform the front yard.
"But that took us awhile, so we couldn't make it to the backyard yet," she said.
They planned to do the backyard but didn't know when.
Looking out for Lively has extended to other matters as well.
When she noticed Lively getting thinner around the holiday season, Carter encouraged neighbors to bake extra casseroles or cookies for him.
"He looked about 70 pounds soaking wet," Carter said.
Neighbors complied and sent over food and treats.
"I saw him out, and he said, 'This holiday has been great. I have hardly had to cook,' " she said.
When Lively slipped and fell because his walker was inadequate, Carter went in search of a new one.
"It was one of those old ones that has the tennis balls on the bottom," she said. "I went on Craigslist and found a Cadillac of walkers."
She made her case to see if people would sell items discounted, since it was going to someone in need.
"I found one mother who was selling (a walker) after her husband died," she said. "She sold it for $20."
The walker was a new model and came with brakes.
After picking it up, she called Lively to come outside.
"He opened the garage and said, 'Oh, no, Rachelle. What happened?" Carter said.
He didn't realize it was for him.
Carter and her husband made sure Lively got the hang of the new device before leaving him.
Later, Carter got in touch with a woman willing to sell a mobility chair at a discounted price.
She and her husband drove to Boulder City to pick it up and realized two wheels were missing.
"So I went into a shop where they do repairs," she said.
The owner of the shop gave her the wheels. After fixing the chair, they called Lively out again.
"He was standing over the chair, and I noticed something was on the seat and I couldn't tell what it was," she said. "Then I realized it was tears. He was crying. He said to me, 'I'm going to get my life back.' "
Lively, who has lived in the neighborhood since 1998, is thankful to have his neighbors.
"I think it's great," he said. "I'm pretty much disabled and can't take care of my yard. I wish I could do something for them."
The neighborhood plans to continue to rally around Lively — perhaps tackling work inside his house next.
"He has been very grateful for everything we've done," Cotterman said.
Contact Henderson/Anthem View reporter Michael Lyle at mlyle@viewnews.com or 702-387-5201.