Here's how 'sinful' Las Vegas is compared to other major cities
February 3, 2016 - 8:47 pm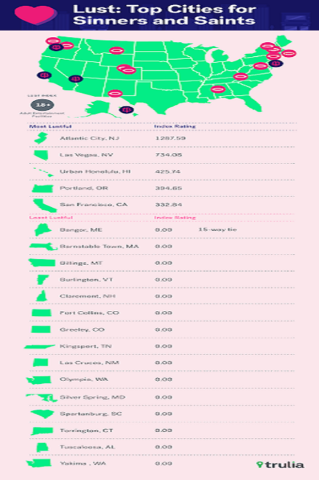 Las Vegas may be known as "Sin City," but how truly sinful is it?
According to a new report by real estate site Trulia that ranked major cities on how likely they are to indulge in the cardinal sins — lust, gluttony, greed, sloth, wrath, envy and pride — Las Vegas isn't actually the most sinful city.
Trulia created the rankings using these categories: adult entertainment, obesity, drinking, smoking, gambling, violent crime, salons and inequality.
Provo, Utah, earned the prestige of being the "least sinful city" in the U.S. New Orleans was awarded the title of "most sinful city," and Trulia only ranked Las Vegas eighth on the list.
Even with the prevalence of buffets in Las Vegas, the city didn't claim a spot among America's most gluttonous cities, which was determined using CDC data.
Las Vegas claimed a spot in the top ten for three of the sins: lust, wrath and greed.
Lustful cities were ranked using Yelp-defined adult entertainment establishments per 10,000 households. Las Vegas fell behind Atlantic City, with 1.61 adult entertainment venues per 10,000 households, compared to Atlantic City's 2.81.
Las Vegas was ranked third for greed, with Billings, Mont., and Lexington, Ky., as the two cities coming in first and second.
Falling right below Las Vegas was "the biggest little city in the world" — Reno.
With 678 violent crimes per 100,000 inhabitants according to Trulia's use of FBI crime statistics, Las Vegas ranked fifth under "wrath."
In addition to gluttony, Las Vegas didn't earn a top 10 finish for envy, pride or slothfulness.
Cities were ranked for envy by examining the difference between the 25th and 75th percentiles of housing listing prices as a proportion of the median listing price in each metro area.
Pride was ranked based on Yelp-defined beauty and tanning salons, as well as plastic surgery offices per 10,000 households.

Slothfulness was ranked using Metro-level CDC data on the proportion of residents who reported having not exercised at least once in the past 30 days.
Obviously, this isn't exactly scientific, but it's a fun insight into what the city would look like if our reputation were formed based purely on Yelp.
Contact Caitlin Lilly at clilly@reviewjournal.com. Find her on Twitter: @caitielilly_