Holly Madison recounts Playboy lifestyle, Goss expands collab with Sharon Stone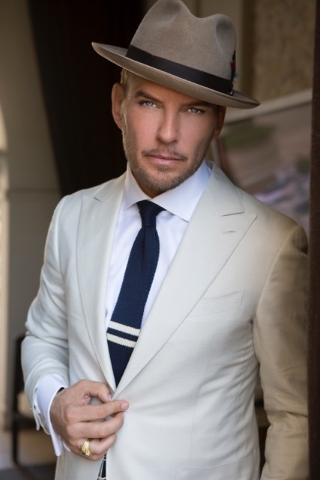 Life in Hugh Hefner's hutch was far from the popular image, according to Holly Madison's memoir, "Down the Rabbit Hole: Curious Adventures and Cautionary Tales of a former Playboy Bunny."
There's no love lost between Madison and "Girls Next Door" co-star Kendra Wilkinson. And Hefner enjoyed his role as the master manipulator, Madison wrote.
"Kendra was the fakest person I've ever met," wrote Madison, who released the exclusive excerpts to Us Weekly.
Wilkinson, who was 19 when she arrived at the Playboy mansion, was standoffish and tried to form "her own 'team,' " Madison wrote.
"Despite my attempts to befriend Kendra, she continued to push me away," Madison wrote.
"Kendra desperately tried to make each new Playmate who arrived at the mansion her friend — and her friend alone," Madison added.
Madison recalled that Hefner offered her a Quaalude the first time they met in August 2001.
"Hef did not miss a beat: 'OK, that's good,' he said, nonchalantly. 'Usually, I don't approve of drugs, but you know, in the 1970s they used to call these pills thigh openers.' "
Later, Madison said she learned "Hef was the manipulator, and he pitted us against each other. I realized I wasn't treated well. I'm done being afraid of people. I don't have any loyalty to Hef. I haven't talked to him in four years, so there's no reason to reach out now. Besides, it's the truth."
Madison claimed that when she got fed up being Hef's No. 1 bunny, he tried to keep her by offering her $3 million in his will. "I actually pitied him for stooping to that level. I couldn't help but be offended. Did he really think he could buy me back?"
GOSS, STONE TEAMING UP
Actress Sharon Stone and Caesars Palace headliner Matt Goss, who have been making beautiful music together for a number of years, are currently shopping one of their songs.
" 'Rain' is my favorite song we've written," Goss said. They wrote it at his house in Los Angeles.
The Scottish rock band Big Country is "looking at it," he said.
Stone, best known in these parts for her gritty role in "Casino," joined Goss onstage Friday at his Caesars showroom.
"She's very fun to work with and look at," Goss said. They were introduced about eight years ago through a mutual friend and started teaming up on songs.
"She's a great lyricist," Goss said. "She has an extreme love for music. She's very emotional about music, and so am I. One of the things she said (Friday) was, 'Let's make more music.' "
Goss' music and business empire has been expanding rapidly, so much so that he's moving to Las Vegas after making Los Angeles his home for years.
He has entered a partnership with Siegfried and Roy's longtime manager, Bernie Yuman. "It's called called MBM for Matt Bernie Management," said Goss, who owns a number of companies. "We've decided to join forces to create opportunities."
Goss, who has been involved in 25 hit songs, was commissioned to write the main love song and finale for "Cleopatra in Paris," which turned into the No. 1 show in France.
"It's the story of Cleopatra and Mark Antony. It sold 600,000 tickets and toured the whole of France," he said.
Goss and producer-songwriter Emilio Estefan, a 19-time Grammy winner, had lunch Saturday at the Mansion inside the MGM Grand to discuss their album collaboration.
REMEMBER GANDOLFINI
Steve Schirripa's favorite photo of James Gandofini shows members of "The Sopranos" cast cracking up as they sang karaoke.
"We're all laughing because we're such terrible singers," Schirripa said.
Almost daily, something reminds Schirripa of the "The Sopranos" star who died June 19, 2013, in Rome.
"I often frequent the same restaurant and bars where we hung out. Sometimes you glance back at someone who looks like him," said Schirripa, who was in town to attend his 10th Keep Memory Alive "Power of Love" gala Saturday at the MGM Grand Garden.
Gandolfini attended the 2012 gala on crutches, keeping a promise to Larry Ruvo, who was honoring Muhammad Ali with a 70th birthday celebration.
"Jim had hurt his knee and couldn't fly, so he took a limo," Schirripa recalled.
The former Riviera entertainment director said his latest film offers a role reversal.
"It's called 'Chasing Yesterday.' I play a priest, finally not a mobster," said Schirripa, who grew up in Brooklyn.
Schirripa is busy pushing a food product near and dear to his heart.
It's an organic pasta sauce called Uncle Steve's. "It's my mother's recipe, and we made it healthier."
"We've got it in almost 2,000 stores in 34 states," he said by telephone.
"Soon to be in Nevada," he added.
SIGHTINGS
Andrea Bocelli, singing "Ave Marie" at a "Power of Love" reception Friday at the Cleveland Clinic Lou Ruvo Center for Brain Health. … At Lavo (Palazzo) on Friday: Madison, celebrating her book launch with a group of friends after taking in Suzanne Somers' show at Westgate and dinner at Lavo (Palazzo). The party included Madison's gal pal Tanya Popovich, Zar Zanganeh, Alex Acuna, Mike Snedegar, and Josh Strickland. … TJ Ward of the Denver Broncos, at Tao nightclub (Venetian) on Friday. … Richard Sherman and Kam Chancellor of the Seattle Seahawks, former teammate Golden Tate, who is now with the Detroit Lions, and former NFL player Sidney Rice at Marquee (Cosmopolitan). … Matthew Perry of "Friends" fame, with friends at the pool venue Friday at Caesars Palace and later going for a spin on the High Roller. He ended up at Giada at The Cromwell for dinner. … Brittany Snow of "Pitch Perfect 2," at the Foundation Room (Mandalay Bay) on Thursday. … Reba McEntire, browsing at Rotella's Gallery Thursday at its new location inside Appian Way at Caesars Palace.
THE PUNCH LINE
"Three astronauts returned to Earth today from the International Space Station after spending more than 200 days in space. Said one of the astronauts, 'Bill Cosby did what?' " — Seth Meyers
Norm Clarke's column appears Sunday, Monday, Wednesday and Friday. He can be reached at 702-383-0244 or email him at norm@reviewjournal.com. Find more online at www.normclarke.com. Follow Norm on Twitter: @Norm_Clarke