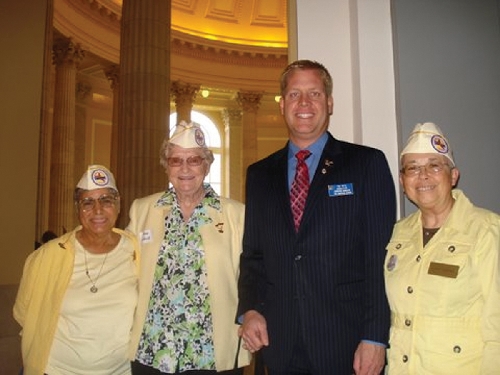 Try as we may, it seems there will always be the homeless among us, and many of those homeless are veterans.
There are many organizations and individuals that help those less fortunate whenever and wherever they can. One such local group is US VETS, which stages stand-downs to provide free services in a friendly, non-confrontational environment. At the March stand-down, event chairperson Shalimar Cabrera noted, "The veterans being served were there for us when our country called – now they need us."
Such events allow attendees to get medical examinations, dental checks, clothing, blankets and set face-to-face meetings with representatives from numerous outreach organizations, both government and private sector groups. They range from the Department of Veterans Affairs to congressional delegations to such groups as Goodwill Industries. In some cases, local court and law enforcement officials can provide needed assistance to individuals who may have been involved in minor past offenses.
The stand-downs also provide showers, haircuts and free lunches. For some veterans who have fallen on particularly hard times, the gathering is like Christmas morning.
This year the stand-down numbers are especially impressive. Cabrera reports that out of approximately 620 veterans and 100 of their guests, 13 moved to housing directly from the event, 135 housing appointments were made, 94 got job interviews and 12 applications were taken by the Las Vegas Metropolitan Police Department for crossing guards. She said one court closed 95 warrants, and other courts are still counting their successes.
Goodwill stocked a "store" at the event with free clothing and other free items, and 513 veterans went shopping inside. It's all pulled together by volunteers – 425 this year.
Cabrera noted that the stand-down brings the community into the solution and provides hope, information and needed services. For more information, or to consider being a sponsor at the next stand-down, call 429-7294.
On a separate note, the Gold Star Wives trekked to Washington, D.C., to meet with legislators and discuss the possibility of eliminating financial offsets for military widows who haven't remarried. Private meetings and a "Welcome to Washington Breakfast" allowed the women to discuss their cause with several legislators. "It was a stimulating and rewarding morning," said Las Vegan and Gold Star widow Janet Snyder. "It was a great opportunity to be a part of the Gold Star Wives delegation."
Gold Star Wives can be reached at groundhog71@gmail.com.
Journalist and author Chuck N. Baker is an Army veteran of the Vietnam War and a recipient of the Purple Heart. He is the managing editor of Nevada's Veterans Reporter newspaper and the host of the "Veterans Reporter Radio Show" on KLAV (1230 AM) from 8-9 p.m. Thursdays and the "Veterans Reporter News" at 2:30 a.m. Fridays on VEGAStv KTUD-Cable14).