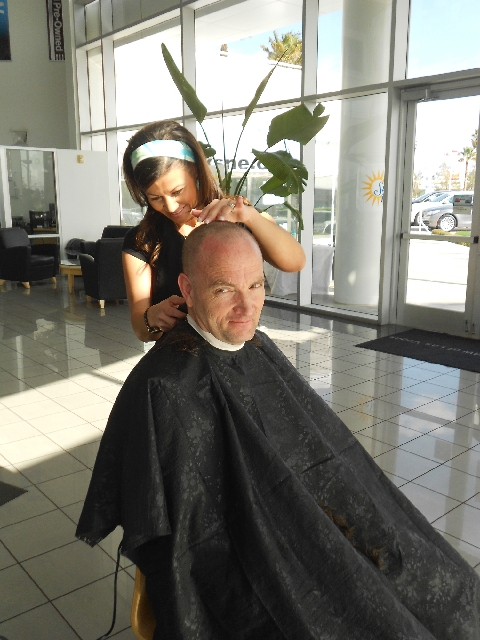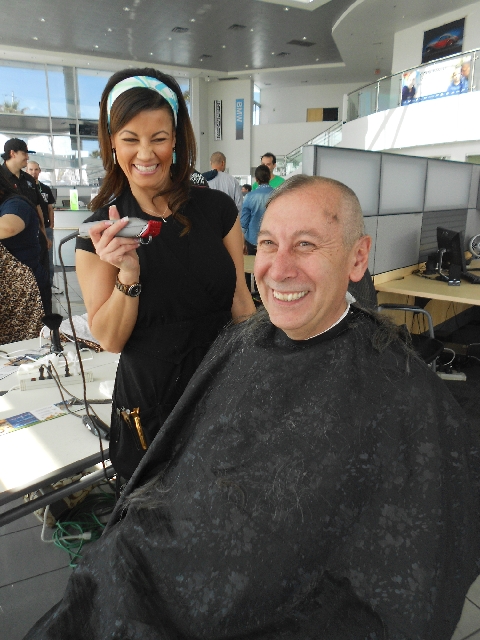 Desert BMW took a huge step to help conquer childhood cancers earlier this month with a benefit for St. Baldrick's Foundation. The event drew several hundred supporters and brought greater awareness of the organization and its efforts.
"We have worked with St. Baldrick's before," said Shane O'Hanrahan, dealership general manager. "We love what the organization represents especially as it relates to helping children."
O'Hanrahan's son, Sean, had his head shaved earlier in the month.
"I participate in this because it's such a great cause as all of us join to defeat cancer," said 8-year-old Sean, a second-grade student at Faith Lutheran Academy. "My friends were really surprised when they saw that I had my head shaved but I love helping St. Baldrick's. My brother's (Ryan) baseball team is also going to have their heads shaved."
O'Hanrahan said about 70 percent of the dealership's 75 male employees had their heads shaved. More than $15,000 was raised for St. Balderick's.
Desert BMW technician Donald "Chip" Conrad was one of the first to have his head shaved. He has had several family members die of cancer.
"I did this to help support St. Baldrick's," said Conrad . "It's a great cause."
Tom Chase, program director for Sunny 106.5 KSNE-FM, had a personal reason for attending the event.
"Last year, I was diagnosed with nonHodgkin's lymphoma," said Chase, who also helped promote the event. "I know how chemotherapy made me feel and I just cannot imagine what it's like for little kids. In my case, we caught it early and my doctor said that I'm cured."
Chase's friend Phil Montminy, a bartender at Chris's Place on Warm Springs Road and Spencer Street, also participated.
"I saw Tom through his treatment," Montminy said. "You never know who is going to get hit by cancer."
Dominick Conteduca, 10, was among the many young people who had their heads shaved.
"The librarian at our school (Cornerstone Christian Academy) had her head shaved," said Dominick's mother, Monica, who attended with her husband, John. "Dominick came home and said he wanted to have his head shaved, too. He called a lot of family and friends and emailed some people, too. He raised $1,330 and we are so proud of him."
"This is the first time I have had my head shaved and I think it's really cool," Dominick said. "I'm going to do this again."
St. Baldrick's began as a head-shaving event and continues to be the signature event of the foundation. Those getting their heads shaved ask friends and family to make donations. According to the foundation, shaving their heads is a way people can show their solidarity with children fighting cancer.
Statistics worldwide show that a child is diagnosed with cancer every three minutes; of those, one in five children will not survive and two out of three will suffer long-term effects from the treatment.
Desert BMW is at 6900 W. Sahara Ave. The dealership specializes in new BMW vehicle sales and service.
For more information, call 702-871-1010 or visit www.desertbmwoflas
vegas.com. O'Hanrahan can be reached at sohanrahan@autonation.com.