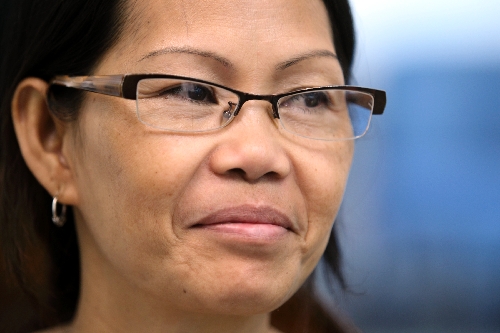 With the Fourth of July mere hours away, it's important to note that rights such as freedom of speech and religion should not be taken lightly. Visiting a Saturday civics class for those in the Las Vegas Valley hoping to become naturalized citizens illustrates how important those rights are.
A NEW LIFE IN AMERICA AFTER LEAVING
THE PHILIPPINES
Erninia Bancheri lives just north of Summerlin with her husband, Angelo. They came to America in 2001. She was born and raised in the Philippines, one of eight children. Her father eked out a living as a fisherman, and her mother was a "live-in" housemaid, working hundreds of miles away from their family for two or three years.
Angelo Bancheri explained that people in the Philippines are rich or poor. There is no middle class.
"They have schools for children, but the children have to provide their own pencils and papers, but they're so poor, they don't even have that," he said. "A lot of times, the parents will need them to work on the farm or go fishing, so education is sporadic."
Erninia Bancheri fell into that group and never graduated. Instead, she began working in a restaurant at 16. It was there that she met her husband. She said she was motivated to become an American citizen so she could have her opinion count.
"I've lived here 10 years and, before, I did not have the passion to become a citizen," she said. "But now I hear all the news about the economy, and I work, so … the government is (deciding what to do) with the taxes I pay. I want to vote so I can express myself and what position I want" the country to take.
Her husband is retired from Southwest Gas and is now working at a postal business. She works as a housecleaner.
What does Erninia Bancheri like about America?
"I like the freedom and the opportunity," she said. "You can express yourself."
She takes four-hour classes at Congress of Racial Equality (CORE), 730 W. Cheyenne Ave., Suite 140, each Saturday. Besides the 10-week citizenship classes, she is also going to Desert Rose Adult High School in North Las Vegas to learn English better and get her GED.
"I'm very happy I'm here," she said. "I want to become a citizen, and one day maybe I can bring my family, my niece, here."
When people sign up for a civics class, CORE determines if they need English classes.
"If they don't know the language, they don't pass" when they go for their citizenship interview, CORE director Jackie Ramos said. "An immigration officer will tell them to go back, and they don't want to go back because they will waste $680. … Many of them sacrifice to put the money together."
But some show up at CORE after submitting an application. In those cases, they undergo intensive training in a separate room.
"We use flashcards, and we start drilling them like crazy," Ramos said.
This particular Saturday, the room was filled to capacity with about 50 students. David McKeon was teaching, mixing Spanish and English. He spent two years in Spain. His father is U.S. Rep. Howard "Buck" McKeon, R-Calif.
"Having a father in Congress gives you a unique view of the government," he said. "And being on a mission (for The Church of Jesus Christ of Latter-day Saints) where I learned Spanish also breaks down barriers."
Niger Innis, a national spokesman for CORE, said roughly 1,500 people go through its citizenship classes annually. It's a misconception, he said, that they ducked across the Mexican border.
"We have folks from South America," he said. "We have folks from Central America … You can't take the class unless you are here legally."
McKeon said the aspect that students find most astounding is that the law in the U.S. is supreme and not a single man and that "they can participate in it. That, for them, is eye-opening."
Ramos agreed, saying, "Many of them are from Cuba, and they don't know any other system of government. I have men tell me, 'I've been in jail just because I said I don't like this (or that).' … one lady came from where … they mutilate the private parts … and she was like, 'My husband had the right to beat me up.' … It's a relief (for them) when they come here."
FROM EL SALVADOR TO THE US
Summerlin-area resident Gloria Jurado was born and raised in El Salvador. She came to the U.S. in 1988 when she was 27.
"This was the country of opportunities," she said. "To get the job (in El Salvador), it's really hard, especially for a woman. The ladies have to be professional to have a good life. In this country … if you like to work, you can have anything you want."
Jurado works as a housekeeper at The Venetian while preparing for her naturalization test by taking classes at the Stupak Community Center near the Stratosphere. The class covers American history, federal government and how a bill becomes law.
"It was hard for me to get the permanent resident's card," she said of the documentation that allows foreigners to stay and work in the U.S. "I waited for 17 years … They gave me a work card for one year, and when it expired, I had to pay $120 every year to extend it. This is a country of opportunities but, unfortunately, in this moment, too many jobs have been lost. It's hard, but the economy is coming back to normal. But I will stay here and work hard."
The economy means Jurado's husband, Allejandro, works in South Lake Tahoe, Calif., and can come home only sporadically.
The city offers citizenship classes year-round. Students can choose classes from 6 to 8 p.m. Mondays, Tuesdays and Wednesdays for $25 per month, or Saturday classes from 9 a.m. to 1 p.m. for $15 per month.
It's a juggling act for Jurado to raise her son, 14-year-old Alexander, work full time and take the classes. She gets off work at 4 p.m., and to come home before class at 6 p.m. means possibly being late, so she grabs her dinner – a hot dog at 7-Eleven – and phones home to ensure that Alexander is all right by himself. On class nights, she doesn't get home until 8:30.
She said sometimes she's so tired from a hard day that it's difficult to be attentive in class.
"I go to the bathroom and wet my face so that I open my eyes … I almost fall asleep," she said.
She said she loves America and loves living in a quiet area that's good for children.
"I feel more secure here, more than in my country," she said. "My country is the same like Mexico. I don't know if you see the bad news, but they kill many people there (in Mexico) … in my country (El Salvador), it's almost the same.
"When I go to bed and make sure my door's closed, I go to sleep. But over there, people can't sleep because they always think somebody's going to (break) down the door and they will get killed."
Jurado also has an adult daughter who is still in El Salvador. "I call her every day, and I prayed to God to take care of her," she said. "I hope one day she can come here, and she can be an American citizen."
Contact Summerlin/Summerlin South View reporter Jan Hogan at jhogan@viewnews.com or 387-2949.
Where to find citizenship and English classes
The city of Las Vegas has English and citizenship classes. For more information, visit lasvegasnevada.gov/Find/21254.htm.
The Las Vegas-Clark County Library District also has classes. For more information, visit lvccld.org/cardsservices/call.cfm#classes.
Congress of Racial Equality (CORE) has citizenship preparation classes. For more information, visit congressofracialequality.org/citizenship-program.html.
For more information on U.S. Citizenship and Immigration Services and its programs, visit uscis.gov or call 800-375-5283.